California College of the Arts
SEIU 1021 staff and member leaders are working hard to safeguard your health at work during the COVID-19 pandemic. Click here to find employer-specific information, details, and documents to learn more about what's happening in your worksite during this outbreak.
SEIU 1021 and Faculty Forward in recent years have organized about 13,000 people at 50 colleges across the country. Over 1700 faculty at seven colleges in the Bay Area have organized with SEIU 1021. Faculty Forward is organizing nationally to improve conditions for teachers and students in higher education. Your organizing drive of CCA staff is the first time SEIU Local 1021 has organized non-faculty staff to join adjuncts together in one union.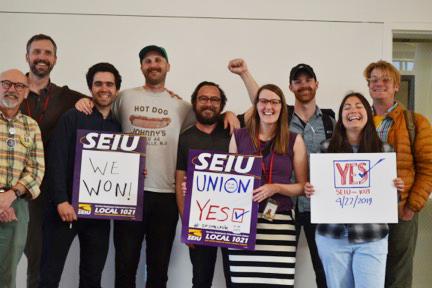 On Monday, April 22, California College of the Arts (CCA) non-faculty staff voted overwhelmingly to form their union with SEIU 1021.