History and Vision
Service Employees International Union (SEIU) Local 1021 represents over 60,000 employees in local governments, non-profit agencies, health care programs, and schools throughout Northern California.
SEIU Local 1021 is a diverse, member-driven organization with members who work to make our cities, schools, colleges, counties, and special districts safe and healthy places to live and raise our families. We nurse our sick, educate our children, clean our schools, and care for our seniors and developmentally disabled.
Our mission is to ensure that all workers and their families have a voice in our Union, as well as our workplace, government, and communities. We envision a society where all workers and their families live and work in dignity and respect.
Through strength, unity and member support our Union works with the communities we serve, our labor allies, and employers towards our common goals.
Through our collective voice, we achieve justice, empowerment, and respect in every workplace.
Through alliance building and social responsibility, the visibility and influence of working people in our communities is strong.
Working people engage in the democratic process and exercise their collective voice at a local, state and national level.
The communities we live and work in support and advocate for the critical public services we provide.
View our Vision for Power, developed by and voted on by our members, which details how we aim to achieve our vision.
In March 2007, Local 1021 united SEIU members from ten locals in Northern California, from San Joaquin County in the central valley to Del Norte County on the Oregon border.
We're proud to be part of SEIU, North America's fastest growing union. With more than two million members, we're united in our commitment to building a fair economy, providing workers a voice on the job, fighting for equality and ensuring that all working people can live with dignity.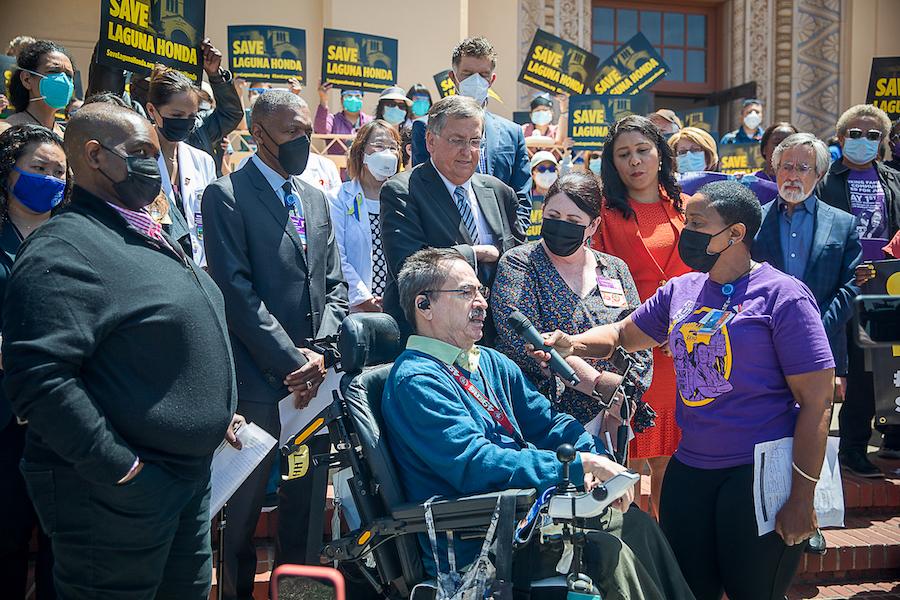 The situation regarding Laguna Honda Hospital's certification status with the Centers for Medicare and Medicaid Services (CMS) has been stressful for us all—patients, staff, and community members alike. After notice had been given that CMS was going to be terminating their Medicare and Medicaid funding, the hospital was required to begin transferring patients. If the hospital failed to begin those transfers right away, they were told their funding would be cut off immediately.