California College of the Arts Staff Vote Overwhelmingly to Join SEIU 1021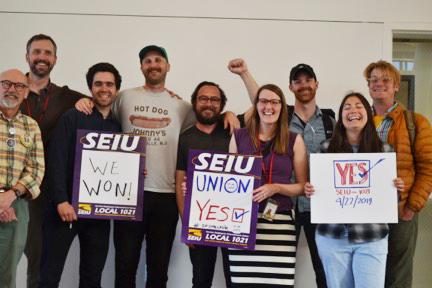 On Monday, April 22, California College of the Arts (CCA) non-faculty staff voted overwhelmingly to form their union with SEIU 1021.
CCA currently operates two campuses, one in Oakland, and one in San Francisco. The school has announced plans to close the Oakland campus in the next few years and consolidate all operations into the San Francisco campus. The drive to form a union was, in part, motivated by these plans and the school's failure to live up to its own values: "The school had these plans for a long time, and only announced them to us about two years ago. That's not transparent." said Amber Bales, a Library Technician and member of the Organizing Committee that fought to bring their coworkers together to exercise their freedom to join together in a union.
"CCA will be better when the faces that represent it are valued and embraced. All of the long-term workers are why I work at CCA, and they deserve security in their jobs and a fair shake in the midst of these massive changes," said Brian Woods, a User Support Specialist and member of the Organizing Committee.
Bales, who has worked at CCA for more than six years, said "At CCA, the departments have been siloed and even though I have worked here for a long time, I didn't know many of my coworkers. Now there's a real feeling of unity, hearing the similar experiences we have had across the school. I look forward to working with CCA in order to do everything we can to retain our amazing staff and faculty during the move towards campus unification in San Francisco. The stability and retention will help everyone, including the students."
Nearly 150 CCA workers voted on joining the union alongside some 400 faculty members. These newly unionized positions provide a wide range of vital services to the school, from clerical and IT workers to library staffers and artists in the school's studios, including ceramics and pottery.