California College of the Arts Staff Vote by 97% to Authorize a Strike
CCA administration has spent the 2 years since they formed their union stalling, delaying, and violating federal labor law, and union members have had enough.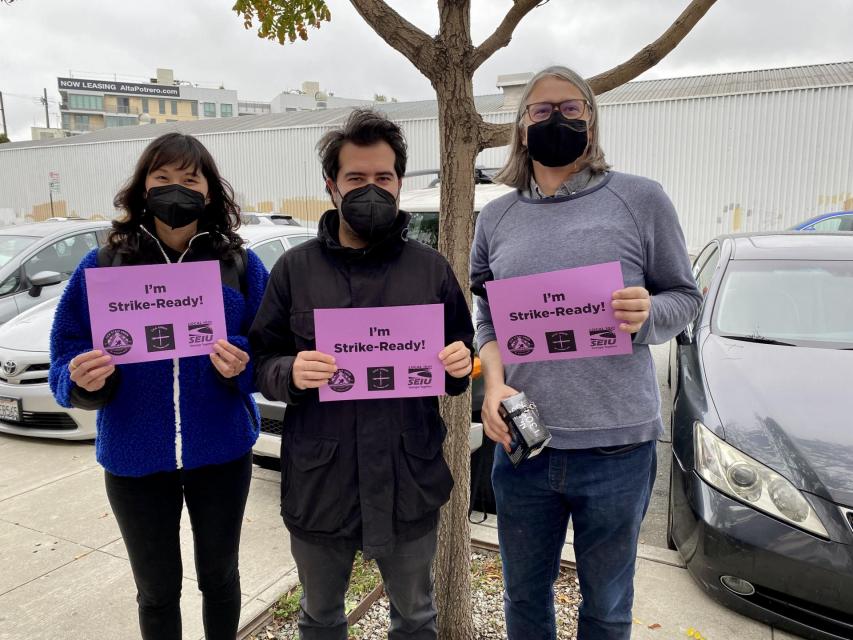 Dec. 13, 2021: In what would be the first strike at a private arts college since 2012–and the latest in a number of strikes in colleges and universities–California College of the Arts (CCA) staff voted by 97% this week to authorize their contract negotiating team to call a strike if administration does not put an immediate stop to violations of labor law and bargain in good faith.
Send a message to CCA administration now!
CCA can literally not function without its unionized staff, who occupy critical positions throughout the college from studio managers to admissions officers to librarians. They voted by 74% to form their union with SEIU 1021 in 2019, several years after adjunct professors at CCA also joined SEIU 1021 and made big improvements in their pay and working conditions in their first contract. Two years later, staff still don't have a contract, meaning none of their needs—livable wages based on Bay Area cost of living, basic job security, and a path for career advancement—have yet been addressed by CCA administration.
"When we started the bargaining process in October 2019, CCA administration said they wanted to settle a contract within a few months. It's clear that was a lie," said CCA Film Studio Manager Brian Woods, a member of the staff bargaining team. "They stall and do everything in their power to keep us from a fair contract. They continue making presentations on boilerplate minutia. They haven't responded to any of our economic proposals, which are our top priority. There's not even an acknowledgment that we've even submitted these–there's been no response at all."
Meanwhile, administration continues to violate labor law, making unilateral changes to working conditions for bargaining unit positions, resulting in an unfair labor practice (ULP) complaint from the National Labor Relations Board (NLRB). "They regularly change working conditions without even notifying the union," said Woods.
Those unilateral changes that resulted in an unfair labor practice charge from the National Labor Relations Board on September 27 include furloughing the CCA staff union president, nine-year employee Matt Kennedy, at the end of the spring 2020 semester. Kennedy was not recalled to work for a full year–even as others were called back. He was called back to work in June of this year—only to be informed his position had been eliminated and his duties reassigned. He was offered a new position with less pay. Kennedy says this was retaliation for his work on the staff union contract negotiations team and as an activist organizing his coworkers.
While CCA administrators play games with staff's livelihoods and careers, they continue paying themselves exorbitant salaries—President Stephen Beal is paid over $600,000 a year, more than any administrator at a private college with a similar budget—and sank $275,000 in 2020 alone on union-busting attorney Mike Vartain, who represents them in collective bargaining. Meanwhile, 40% of CCA staff make less than $55,000, what's been defined as the minimum "self-sufficiency wage" needed to live in the Bay Area.
When administration closed the physical campuses last year, made all classes virtual, and furloughed most staff, the school did not give any breaks on tuition, despite students not having access to the studios and labs many chose CCA for. In fact, students are now required to live at least two years in campus housing—while attending their classes on Zoom—because of a shady real estate deal, whereby the college funnels that housing revenue to developers, with all of its property offered as collateral in a risky plan to sell its Oakland property and consolidate operations in San Francisco.
"CCA talks a good game about social justice and decolonization, but at the end of the day, they are beholden to developers, banks, and their own fat paychecks," said CCA Senior Librarian Technician Amber Bales, a bargaining team member. "Our students deserve better, and so do we. All we're asking for is a fair contract."
Read coverage of the CCA strike vote in the San Francisco Chronicle here.
Send a message to CCA administration in support of CCA staff quickly and easily here.
Follow what's happening in SEIU 1021 higher ed on our website here!