We Won't Be Divided by Billionaire Bullies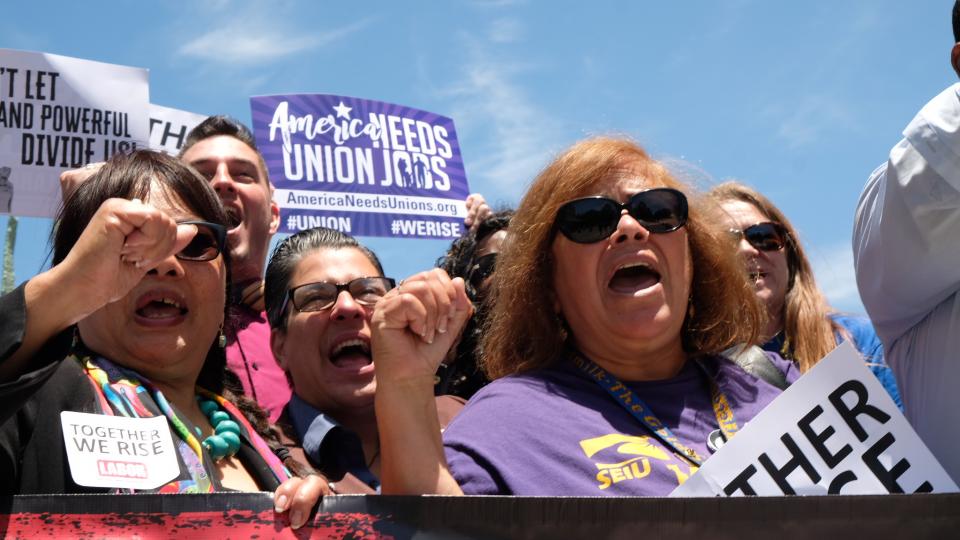 Bay Area Elected Leaders Pledge Support for Working Families Against Billionaire-Backed Assault
Assemblymember Tony Thurmond, Alameda County Supervisor Wilma Chan, and several East Bay elected leaders rallied with union workers today and urged them to stick together in unions. Elected leaders, from Emeryville's mayor to Alameda-Contra Costa Transit Board members, highlighted how workers must stick together to defeat corporations and billionaires' assault on our local communities. By sticking together in unions and protecting union jobs and public services, the elected officials argued, we can ensure that our local communities can thrive.
Carol Fife of the Alliance for California Community Empowerment (ACCE) reminded the crowd, "There are more of us than them. If we stick together, and stay united, we can make it so that their billions don't matter. We have to remember we have the power when we are united."
In the coming weeks the Supreme Court is expected to announce its ruling in Janus v AFSCME, a billionaire-backed lawsuit designed to discourage workers from becoming members and funding campaigns that raise wages, create safer working conditions at their jobs.
Wilma Chan, Alameda County Board of Supervisors President, said "As the Supreme Court considers limiting the freedom of working people to stand together in a union, the Alameda County Board of Supervisors want to make it clear that we want and need more good, union jobs that help families live the American dream. We will fight for working people and make it easier for them to join together for the good, union jobs our communities need."
Working people, together across racial differences, are already fighting back as more people are joining in a union. For example, hundreds of homecare service providers have joined SEIU 1021 in recent months. Working people whether white, black or brown, know they have power as a union, no matter how many Janus and other divisive tactics a greedy few throw at us
SEIU Local 1021 Alameda County General Unit President Tina Tapia said "As a WIC worker, I've seen first-hand the need for our community to have good jobs that allow families to thrive, and as a union member, I've seen the difference a good union job has made in my own family. I'm proud that Alameda County elected leadership is standing with working people."
Working people are stepping up over divisive tactics and sticking with their coworkers in their union. From janitors to home care providers, to college professors, working families know what it means to have a union and they are ready to show their #union pride.
As SEIU International President Mary Kay Henry says: "You can't take us down."
Any day now, the Supreme Court could rule on the last attack on working people. Janus is the latest attempt by anti-worker lobbyists funded by conservative deep pockets to divide us. With or without Janus, they will fail.
"Being a union member allows me to stand with my co-workers and fight for our rights, higher wages, and a more stable way of life. Because I fought for our rights and freedoms, it's incredibly important to me that my rights and freedoms to stand with my coworkers in my union continues to be honored and protected, said SEIU Local 73 Security Officer and military member Monsmo Ortiz.
Check out SEIU 32BJ video now!