San Francisco Newsletter: July 2021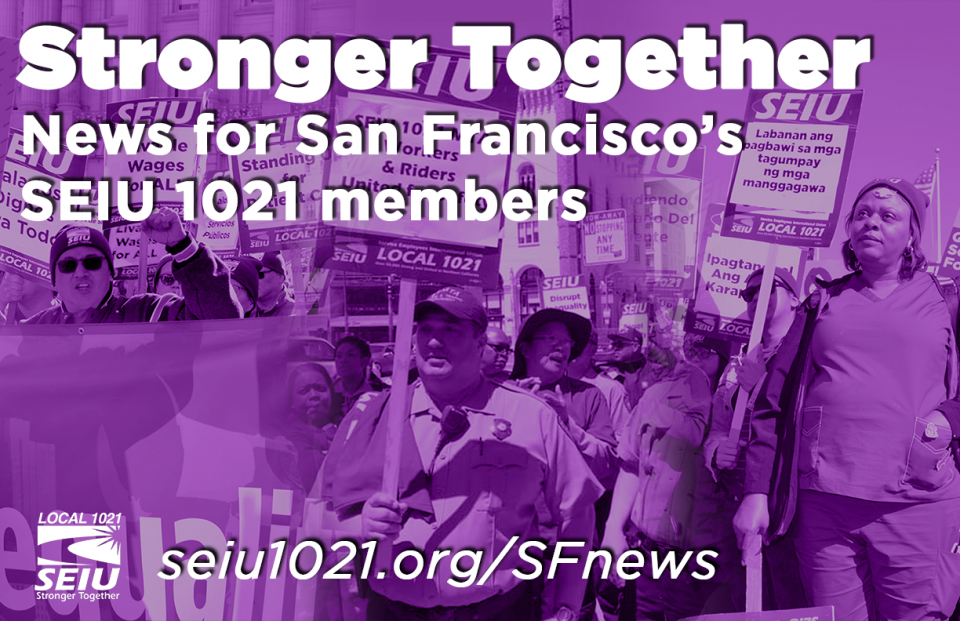 There's a lot of news this month about the upcoming City & County of San Francisco bargaining team elections, but we'll be back to our normally scheduled monthly newsletter next month.
You can stay up to date on news from our union at seiu1021.org/SFnews. Also, please note there will be no regional meeting held in the month of August. Keep reading to see what's new around San Francisco for SEIU 1021 members:
City & County of San Francisco Bargaining Team elections are here!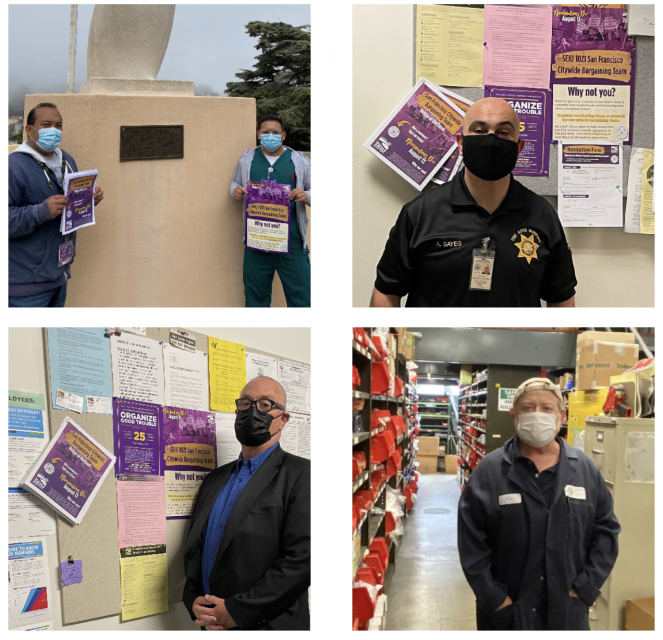 Our contract with the City & County of San Francisco expires on June 30, 2022. That means it's time for us to elect our next bargaining team so that we have ample time for member surveys, training, research, writing proposals, and negotiations.
Bargaining team elections are an important component of our union's democracy. It's a chance for you to select the members who will represent you and your coworkers during our upcoming contract negotiations. Please a moment to make sure that your contact information is up to date to help guarantee that you receive your ballot via email or text and that we can reach you if you are nominated to run.
"Our 2022 negotiations are a chance for us to help guide San Francisco towards decisions that will best benefit workers and residents alike. Who do you want sitting at the negotiations table, responsible for protecting workplace standards, securing funding for our services, and fighting for improved wages and benefits? Do you have a coworker with a strong understanding of the needs of your worksite or department? Are you just the kind of person who likes to learn new things? Nominate them or yourself for our next union bargaining team! Training will be provided, no previous experience is needed, and all are welcome to run," said Theresa Rutherford, SEIU 1021 Vice President of San Francisco.
When we sit down with management from the City and County of San Francisco to begin our next round of negotiations, there will be three teams of SEIU 1021 members bargaining on behalf of the coworkers who elected them. Here's the schedule for nominations for each of those teams:
Citywide (Nominations open now - August 13)
MTA Service Critical (Nominations: August 9 – 27)
Registered Nurse (Nominations: August 9 – 27)
You can find the full details of these elections, along with instructions on how to submit a nomination, on our new campaign website www.SFfight.org. We'll also be sharing future updates on our preparations for bargaining there as well, so make sure you bookmark that page and stay tuned.
Julie Meyers, longtime SEIU 1021 member leader and 3x bargaining team member, reflects on her experience in negotiations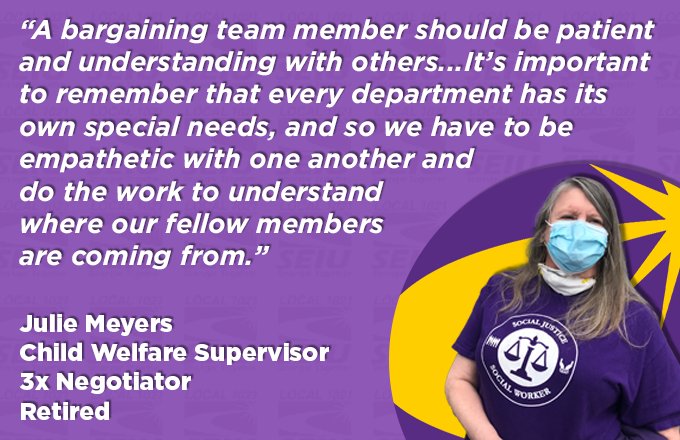 Want to submit a bargaining team nomination or learn about our upcoming negotiations? Visit SFfight.org for the most up-to-date news.
How long did you work for the city and county of SF and what was your job title?

My name is Julie Meyers, and I was a Child Welfare Worker and then a Supervisor with the City and County of San Francisco for just over 31 years.

What first prompted you to want to run for the bargaining team?

I was asked by Larry Bradshaw, who also recruited me to join our local's Executive Board. I would always ask Larry grievance questions or for advice on workplace issues, and he suggested that I run for the bargaining team to really learn the ins and outs of our contract. I had been a steward for some time, but there wasn't a lot of involvement from our worksite on the bargaining team so I decided to go for it. I'm so glad I did—it really made it easier for me to learn about our rights and protections at work and also become more familiar with what was in our contract and how we could enforce it. Ultimately, I served on the bargaining team for three negotiation cycles.

What is one of your favorite memories of serving on the bargaining team?

In my years on the team, we had a couple of great contracts that I'm very proud of it. The first contract I was part of negotiating was probably my favorite. It was all very new and exciting—I didn't know the contract as well, and so it pushed me to learn and know the ins and outs of the agreement. I didn't know anything about bargaining at first, so it was all a learning process. As time went on, I soon felt more comfortable writing proposals and taking on a larger role on the team. We got a great contract that year, and it's because we prioritized working together for the common good. Having our members, both on the bargaining teams and in the worksites, standing together is the most important ingredient for success.

What is the contract victory you are most proud of?

A lot of the city unions will often bargain back-to-back with each other, and I always liked to go first so we could set the tone for all the negotiations. A few cycles back, we didn't go first and had to fight tooth and nail to protect our medical benefits and keep them 100% covered. Some negotiating teams with our sister unions in San Francisco agreed to share part of those healthcare costs with the employer, but we held strong and were able to keep our medical coverage fully paid for, and we still managed to win the same wage increases that everyone else did. After that fight, the City didn't even bother bringing up healthcare costs with us at the table in the next round of negotiations because they knew it would be a nonstarter for us.

What did you find rewarding about being a bargaining team member?

Learning the contract as a bargaining team member was incredibly helpful in my grievance writing and work as a steward, but in general I enjoyed the camaraderie of being on the team. I loved meeting and working with members from other departments and worksites and learning about their issues and goals. It's important for us to know what our fellow coworker around the city are going through, and I loved how being on the bargaining team brought us all together and expanded my perspective.

What are good qualities for a bargaining team member to have?

A bargaining team member should be patient and understanding with others—this is especially important for new team members. Things seem very odd at the beginning, but if you go in with an open mind and ready to learn, you will absolutely catch on. It's important to remember that every department has its own special needs, and so we have to be empathetic with one another and do the work to understand where our fellow members are coming from.

What would you say to someone who is considering nominating themselves or a colleague for the bargaining team?

It's of course important to have people who have some experience on the bargaining team, but it's just as important—if not more important—to have new people get involved. I would 100% encourage anyone who is even remotely considering running or nominating a colleague to do it. It's such an amazing opportunity to learn about our union, our contract, and everything happening around our city.

I just retired this year and the thing that probably made it most difficult for me to step away was knowing that I wouldn't be participating in bargaining at the table any longer. I always enjoyed writing proposals and being at the table advocating for myself and my coworkers. I'd recommend it wholeheartedly to anyone.
HealthRight 360 workers reach historic first tentative agreement in their journey to form their union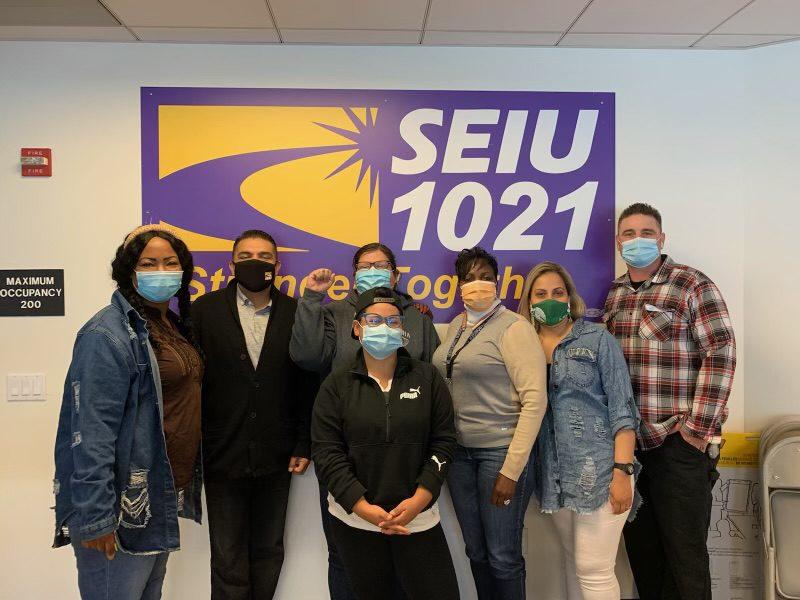 Huge news—incoming SEIU 1021, 721 and 221 members at HealthRight360 officially have a Tentative Agreement for their first union contract! This historic victory for our union and for non-profit workers in California was made possible by solidarity and hard work from hundreds of HR360 workers up and down the state of California.
Workers secured a strong 2-year agreement that includes significant improvements and protections for workers, and the bargaining team is recommending a YES vote on this Tentative Agreement. In-person voting to ratify the contract is scheduled to be held in the coming weeks.
"This first union contract is a huge win for HR360 workers, our clients, and for HR360 as a whole. I am so proud of our bargaining team and of all our coworkers for the hard work that we have put into building our union and raising the standard for workers in our field. Our clients always come first, and our well-being as workers is integral to the care we provide- this union contract is just a first step in strengthening our commitment to the communities that we serve. I proudly recommend a YES vote," said Nakia Holmes-Dominick, an HR360 Health Worker from the Isolation and Quarantine Hotel Site 16 in San Francisco.
Here are the details of the Tentative Agreement below:
Compensation
3% raise for everyone retroactive to July 1, 2021, plus another 3% raise starting July 1, 2022.
If joint political work with SEIU and HR360 succeeds in increasing HR360's contract funding, money gets passed on to workers.
A statewide minimum wage of $18/hour, which will raise up the lowest paid 15% of workers with additional raises of up to 20%.
Fixing bilingual pay so it's transparent, ongoing, and portable.
Holidays and PTO
Adding Juneteenth as an additional paid holiday for everyone.
Double time pay for working on holidays.
Fixing PTO accrual so people accrue PTO while they are on PTO and on admin leave.
An extra day of PTO for everyone with less than 2 years of service.
Job Security
All represented workers have a right to representation in investigatory/disciplinary meetings
HR 360 must use Just Cause standards for discipline; employees are no longer "at will."
Limits on the use of admin leave during disciplinary investigations.
Layoff protections—notice to the union, the right to bargain over the effects, layoff by seniority, right to transfer within the agency.
Strong Union
Establish a Labor-Management Committee where we can work together to discuss and resolve workplace issues with management
Grievance procedures to enforce the protections of our union contract.
Binding Arbitration to ensure independent third-party decision-making on big cases.
Union Security protections for a strong union that includes everyone.
Career Advancement
Preference for internal candidates for vacant positions.
Tuition benefit of $250 for all staff needing CEUs/CMEs, with extra ed leave and tuition benefits for clinic staff.
Congratulations on our newest Chapter officers!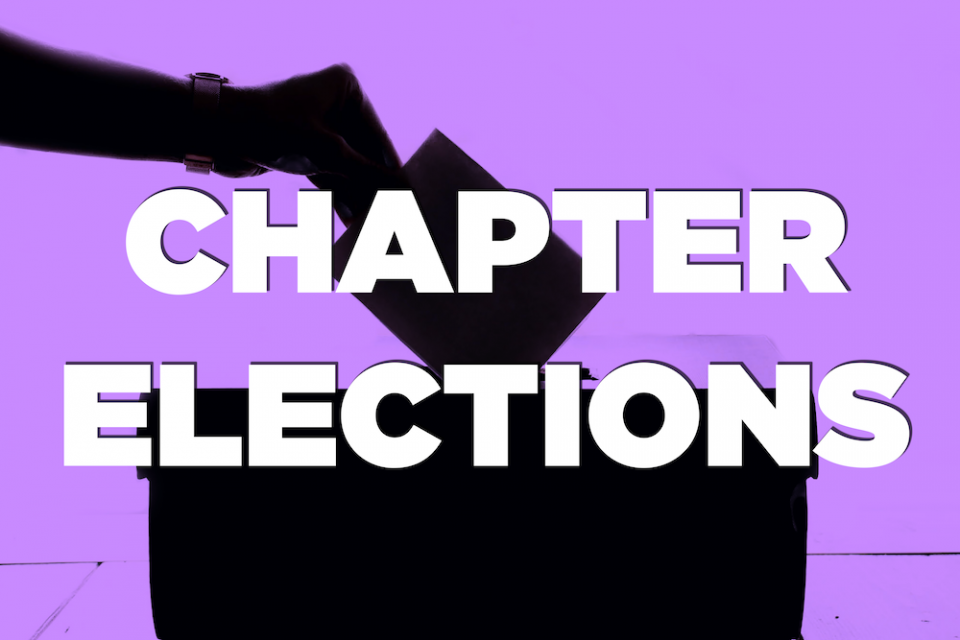 Chapter elections are all about membership democracy in action. They're an important way that we ensure our union is member-led and focused on the priorities of members in a wide range of industries, jobs, and worksites.
Congratulations to all of our recently-elected Chapter officers. If you have Chapter elections on the horizon, make sure that your current contact information is up-to-date so that you receive your ballot in a timely fashion. You can call the Member Resource Center at 1-877-687-1021 to speak with a representative who can assist you.
Department of Homelessness and Supportive Housing

President: Janay Washington

Vice President: Vacant
Secretary: Martha Benioff
Treasurer: Grace Gin
Worksite Captain: Vacant
COPE Coordinator: Vacant

HSA Adult & Children Services

President: Tamisha Mouton
Vice President: Patricia Erin Monahan
Secretary: Numa Aubry
Treasurer: Ana Quintanilla
Chief Steward: Sunsierre Solis
COPE Coordinator (2): Annette Montiel-Eison
COPE Coordinator (2): Cameron Cannon
Classification Rep FCS: Lisa Hines
Classification Rep DAAS: Allen Cohen

California College of the Arts

President: Matt Kennedy
Vice President: Vacant
Treasurer: Piper Alldredge
Secretary: Amber Bales
Chief Shop Steward: Brian Harte
Adjunct Chief Steward: Vacant
Adjunct Political Coordinator: Vacant
Staff Political Coordinator: Paul Navarrete

Superior Court of San Francisco

President: Andres Guadamuz
Vice President HOJ: Benjamin Thompson
Vice President CCC: Kimberly Septien
Secretary: Ateesh Datt
COPE Coordinator: Priscilla Agbunag
Chief Shop Steward: Roland Baylon

HSA Greater Chapter

President: Ms. K
Vice President #1: Champagne Brown
Vice President #2: Vacant
Secretary #1: Darryl Morgan
Secretary #2: Jamila Abner
Treasurer: Trina Harrison
Chief Steward #1: Cesar Love
Chief Steward #2: Jesse Stanton
COPE Coordinator: Jesse Stanton
Worksite Group Captains

170 Otis: Gerald Booker
170 Otis: Mauricio Vega
1235 Mission: Margot Haley
1235 Mission: Sharee Miller
1235 Mission: Tami Bryant
1650 Mission: Velma Gay
3120 Mission: Quenlin Davis
1440 Harrison: Sagrario Medina
1440 Harrison: Tawanna Edwards
160 S. Van Ness: Vacant
1800 Oakdale: Vacant

Classification Representatives

2905 #1: Sagrario Medina
2905 #2: Vacant
2940: Vacant
1426: Vacant
2912: Vacant
2903: Vacant
At-Large #1: Marquitta Collins
At-Large #2: Sagrario Medina

SFO

President: James Maher
Vice President: Jessica Tran
Secretary: Vacant
Treasurer: Robin Gottschall
COPE Coordinator/Delegate: Manuel Castro

Library Guild

President: Nicole Termini Germain
Vice President: Eric Hannan
Secretary: Ximalatl Avalos
Treasurer: Anna Cvitkovic
Chief Steward: Vacant
COPE Coordinator: Vacant

Library Employees Union

President: Yoon Park
Vice President: Vacant
Secretary: Marciel Murphy
Treasurer: Michael Ulrich
Chief Steward: Nzugu Kitenge
COPE Coordinator: Claire Bain
Learn more about our Social and Economic Justice Committee (SEJ) and ways you can get involved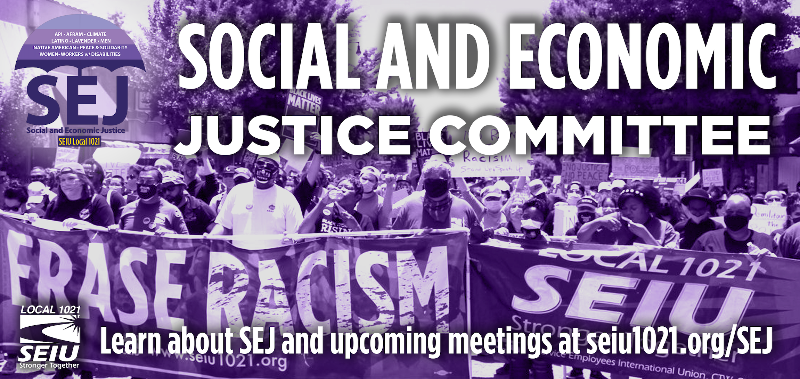 SEIU 1021's Social and Economic Justice Committee (SEJ) is committed to building partnerships with community allies in order to improve opportunities for working people, and in particular workers from under-represented, low-income, and diverse communities. SEJ supports caucuses and sub-committees designed to bring us closer to our mission of achieving a society where all workers and their families live and work in dignity and respect. Check out the full meeting calendar at seiu1021.org/SEJ.
SEJ meets on the 2nd Thursday of every month from 6-8 pm via Zoom. For more information contact SEJ Chair Derrick Boutte at Derrick.Boutte@seiu1021.org or SEJ Secretary Nicole Christian at Nicole.Christian@seiu1021.org.
Below are the sub-committees and caucuses within the Social and Economic Justice Committee. Full descriptions are available here.
African American Solidarity Committee
Asian Pacific Islander Caucus
Climate Justice Committee
Latino Professional Caucus
Lavender Solidarity Committee
Men's Committee
Native American Caucus
Peace and Solidarity Committee
Women's Solidarity Committee
Workers with Disabilities Committee
SEJ Officers:
Derrick Boutte – Chair
Nicole Christian – Secretary
Alyssa Jones-Garner – Programs Director
Raina Johnson – Racial Justice Co-Chair
Jack Bryson – Racial Justice Co-Chair
Lorraine Bowser – Treasurer
Brandon Dawkins – Community Liaison
Harold Powell – Sergeant At Arms