San Francisco Newsletter: March 2021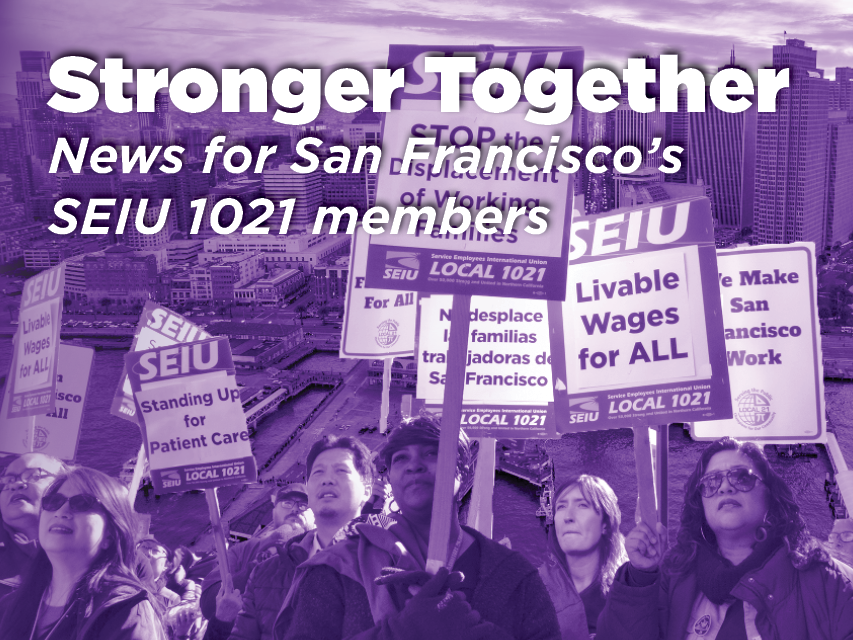 Welcome to the March issue of our new recurring monthly newsletter for SEIU 1021 members in San Francisco. You can read our most recent issue here, or keep reading below to see recaps of the big fights our members have taken on in the last month.
If you have a workplace issue you or your colleagues are dealing with and you'd like help and support from our union, don't forget that in addition to reaching out to your steward or labor representative, you can also contact the SEIU 1021 Member Resource Center at 1-877-687-1021.
Click one of the headlines below to read more about what our union has been up to.
"We must work together to tackle anti-Asian racism in our communities and our workplaces," says Yeon Park, SEIU 1021 VP of the East Bay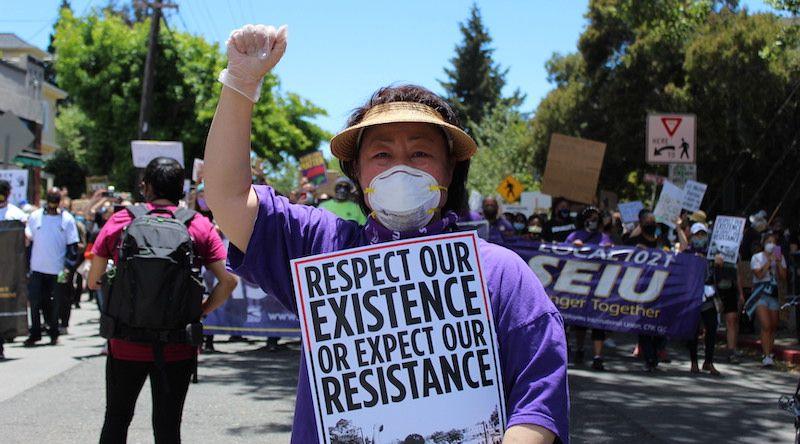 "It has been heartbreaking to see the recent uptick in anti-Asian racism happening here in the Bay Area—and make no mistake, hate and racism are at the root of the violence we've seen in recent weeks.
Throughout history and up to today, the belief that in order for some of us to prosper, others have to suffer is often at the root of racism. As union members, however, we have a different vision. We know that racism, which divides us, is a tool that is deployed to keep us weak. One of the foundational beliefs of our union is that we are stronger together. That's why we are committed to building a multi-racial movement of working people aimed at improving the lives of everyone—at work, at school, in our communities, and beyond.
We need local and state government leaders to fight racism through concrete policies that prioritize compassion, wellness, and the needs of people first, before profit for the wealthiest Americans. We can and should do more with our public resources to care for our elders, who are especially vulnerable both to the virus and to racial violence, and to keep our families healthy and thriving regardless of skin color, immigration status, gender, or how much money we have.
And we need to stand up for each other.
Recently, SEIU 1021 members participated in a national conference call on fighting anti-Asian Racism hosted by APALA (Asian Pacific American Labor Alliance). We shared our perspectives and experience on what it means to heal and feel safe in the current climate and brainstormed ways we could support each other on the ground.
APALA has put together this resource guide for us to get involved in fighting anti-Asian violence in our communities. We must look beyond increasing policing or criminalizing behaviors and instead center our work around building an interracial justice and solidarity movement against racism for all people. I hope you'll join us."
Theresa Rutherford, SEIU 1021 Vice President of San Francisco, said, "When API members of our community are under attack, all of us are. A key principle of the labor movement is 'An injury to one is an injury to all.' Systemic racism affects all of us, and we must band together to fight it in every corner of our society. It doesn't matter who we are or where we come from, we must all stand together across racial, ethnic, gender, and all other lines to condemn this hateful violence."
Healthcare workers are fighting back and calling out the workplace safety crisis created by the Department of Public Health's mismanagement of staffing and working conditions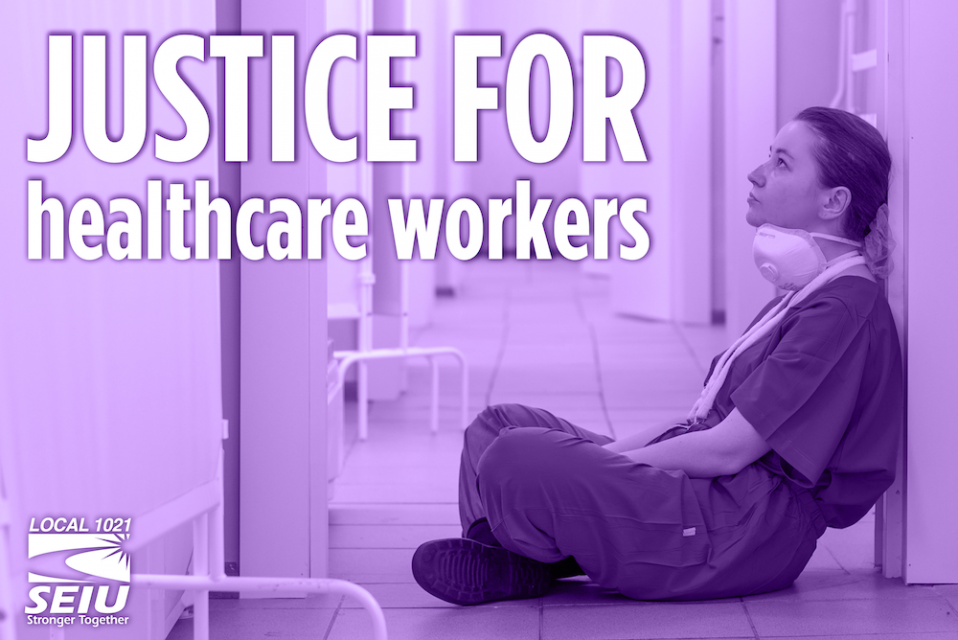 Long before COVID-19, members in the Department of Public Health were there for vulnerable patients in our community despite a lack of adequate staffing and other dangerous working conditions. In the last year, COVID-19 has blown those issues wide open and our city's healthcare infrastructure is in crisis.
We're now a full year into the worst global health emergency in over a century, yet management continues to woefully mismanage our response to this pandemic while long-term issues which impact patient care continue to persist.
"The general public believes that when they come to the hospital, the workers taking care of them are rested, fed, and 100% focused on their care. Instead, we are routinely short-staffed, forced to work through meal breaks, and mandated to work overtime. When you're on hour fifteen of a shift, it's hard to give every patient the care and attention they deserve," said Dianna Yañez, a Labor and Delivery nurse at San Francisco General Hospital. "We have nurses who believe that coming to work compromises their safety. Recently, I saw a visitor physically assault a patient and then turn around and tell me I was next. I had to put a metal food cart In between myself that person. Imagine being a patient, lying in your bed trying to focus on your recovery, only to hear your nurse screaming for help from down the hallway. It's dangerous for staff and patients alike, and it's unacceptable. Nobody should be forced to go to work and feel like their employer is not taking the most basic steps to protect them."
"I have never experienced so much violence and low staff morale in my ten and a half years in PES as we have during this pandemic. We have had to fight for protection against exposure to COVID by sending out emails, speaking at meetings with hospital administration, sharing our experiences with the Board of Supervisors, and reaching out to reporters to have our voices heard," said Shami Engel, a Psychiatric Emergency Services nurse. "Administration should be providing us with the tools and protection to provide high-quality care to our patients, but instead, we are burnt out, working double shifts, many times back to back, being given more paperwork to check off, and on top of this, fighting for safety. We are in crisis, and cannot wait any longer for change."
While these issues spiral out of control, DPH HR has dragged its heels and manipulated its hiring practices in ways that exacerbate understaffing, unsafe working conditions, and a hostile work environment. Management's only response to the staffing deficiencies they've created is to increase the number of temporary (TEX) employees and contractors—neither of which enjoy basic labor rights. This is unacceptable.
Members are calling on the San Francisco Board of Supervisors, the Department of Public Health, and the San Francisco Health Commission to work directly with frontline staff to address these issues. Specifically, we're demanding:
Management accountability.
Permanent civil servants hired to end short staffing.
Reconciliation of hours worked compared to hours budgeted in all of DPH, in order to maintain a permanent safe staffing level.
The creation of three (3) seats on the San Francisco Health Commission specifically for frontline SFDPH nurses and staff members. DPH administration cannot continue to grade its own performance with no checks or balances to the system.
A follow-up meeting to the March 5, 2020, GAO hearing on SFDPH RNs' claims against management. COVID delayed scheduling the follow-up meeting, now is the time.
Take a moment now to sign the petition in support of DPH workers at seiu1021.org/healthcarejustice
What does the American Rescue Plan mean for SF's public workers?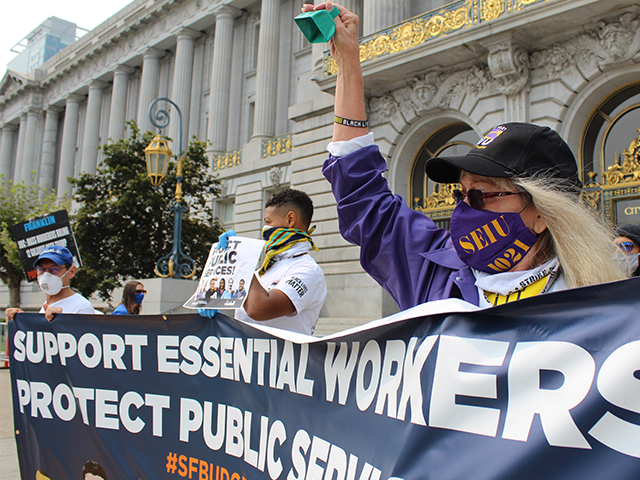 The American Rescue Plan (ARP), which President Biden signed into law last week, will provide desperately-needed relief for Northern California families and the essential services provided by SEIU 1021 members. It's been projected that the ARP will provide San Francisco with enough federal relief to effectively wipe away almost all of the debt that the City and County anticipated accruing as a result of the pandemic's economic impacts.
This legislation will help protect our jobs, contract standards, and the services we provide. It would not have been possible without the work our members did to get out the vote in the last election. Members also called and texted voters in other states in recent weeks to encourage them to contact their elected leaders for support for this bill.
In recent years, the Mayor's office has proposed cuts across the board each time budget negotiations begin. The City also approached workers towards the end of last year asking us to give back the raises we negotiated in our contract, despite the City later reporting a $125 million surplus (partially as a result of our work to pass Proposition I).
We have to stay organized and ready to push back against such proposals in the future. Stay tuned for opportunities to get involved in the City's upcoming budget discussion.
GSA member stands up for herself and wins after management shorts her six days of pay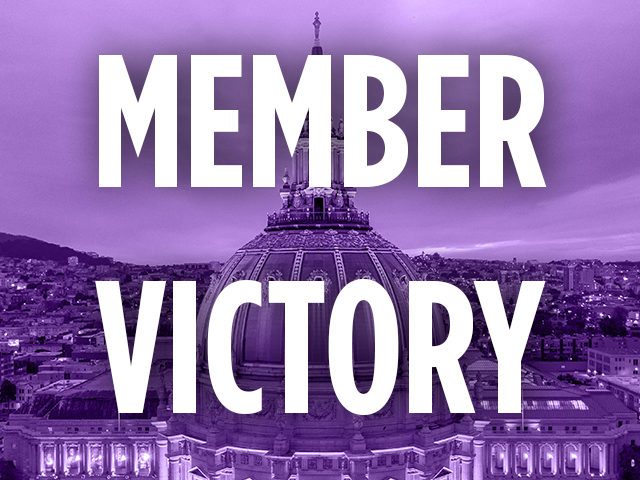 Recently, a member working at San Francisco's General Services Agency learned firsthand how management tries using COVID-19 as an excuse to violate our contract.
The member in question was just coming off an FMLA leave and requested telework accommodations, as they were entitled to do.
Rather than work with our member while scheduling their skeleton rotation in the physical offices, management instead shorted her six days of pay and wrongly claimed that she refusing to come into work.
We filed a grievance and began going through all of the steps. HR offered three days of retro pay but knowing we had a winning case, our union continued to fight. Eventually, we secured all of the backpay this member was owed.
"Situations like this are a good reminder that management and HR are there to look out for the boss, not the workers. We have to know our contract and be prepared to fight for our rights," said Harold Powell, Civic Center Chapter President.
Andrea Grimes, Librarian's Guild Chapter President, shares how library staff are going the extra mile for our community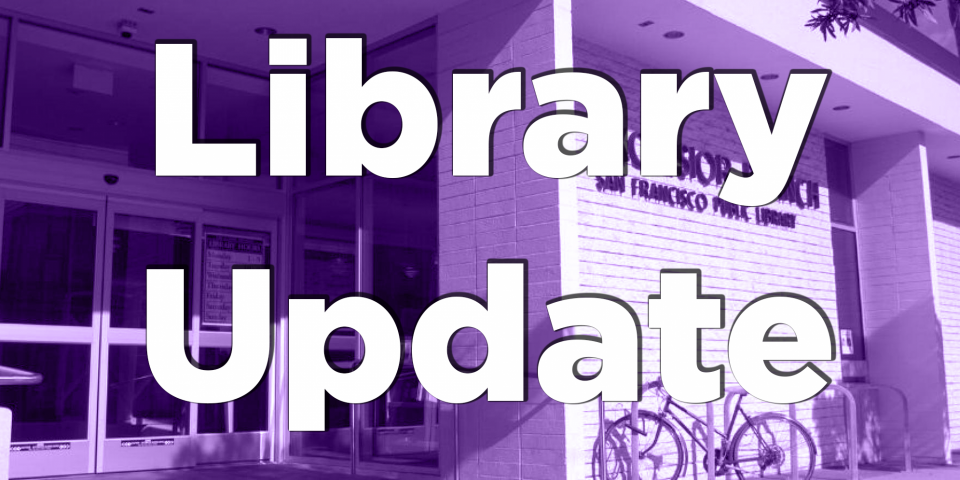 "Whoever said library workers are meek, quiet and shushing, should reset their mindset. The pandemic has demonstrated how library workers in San Francisco work together to empower our community and ourselves; we are stronger together!
From the moment the City put out the call to shelter in place, San Francisco's library workers stepped up together to aid in the fight against the coronavirus. From day one, Library Chapter officers kept the lines of communication open with our members and Library Management, urging transparency and up-to-date information from Management. On April 6, 2020, sixty-four library workers volunteered to help feed the people, working in partnership with the San Francisco/Marin Food Bank.
That's not all—our members worked as Disaster Service Workers everywhere in the City: from the food banks to COVID hotels and testing sites; working in the field to paper the City with current health news, working with the CCC to catalog and document information for the Department of Public Health; acting as translators; working as contact tracers and case investigators; registering members of the community at testing and vaccination sites. Learning hubs were installed at nine library branches for children who have been unable to attend school in-person.
While the emergency work has continued, San Francisco's library workers are determined to reopen our beloved public libraries as safely and smartly as possible. In August 2020, the first San Francisco Public Library To Go curbside service opened for business at the Main Library and Excelsior Branch. By March 2021, twelve libraries are open for curbside service, with three bookmobiles cruising needy neighborhoods. More branches are set to open soon.
Working behind the scenes, librarians manned the telephone information line and kept the patron/librarian conversation going with continued reference service and research by phone, chat, and email.
A collaborative partnership with Library Management has instilled a souped-up can-do attitude toward our safe reopening. As of this writing, the Labor/Management team has just concluded another successful monthly meeting, and our Reopening Committee has drafted a set of proposals that will help define the next several months of public service for our community. All of this while ensuring the health and safety of our members, and by advocating for vaccinations for all.
Our lives have been challenging in the fight against this virus; we have worked hard to keep our community and co-workers safe; the remarkable support of our Union has sustained and empowered us, and we are determined to continue our work as an essential public institution in the 'City that knows how.'"
SEIU 1021 mourns the loss of Cynthia Murphy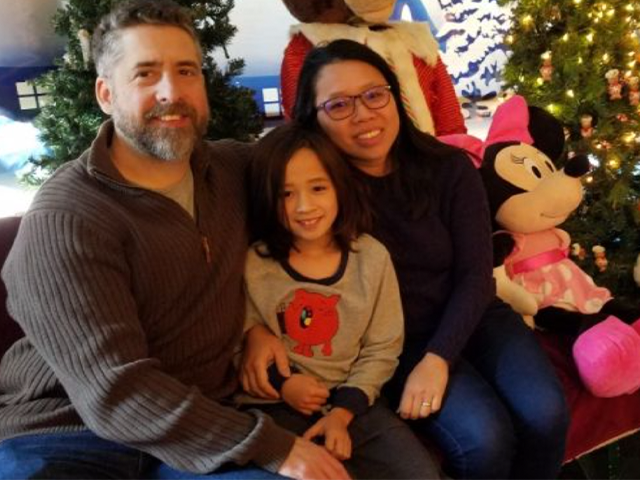 SEIU 1021 is shocked and saddened to learn of the passing of Cynthia Murphy, a member of SEIU Local 1021 at the Asian Art Museum. Cynthia was a dedicated and longtime member of the Union, led fights for fair staffing in the Museum's Registration Department, and inspired her coworkers to join the fight for worker power.
Cynthia passed on February 24, just before her 50th birthday, and leaves behind a loving husband and daughter. We are asking anyone able to do so to contribute to this fund set up by her family. Cynthia was a true example of what a union member should be, and we ask all members to help honor her memory and support her family.