San Francisco Newsletter: April 2021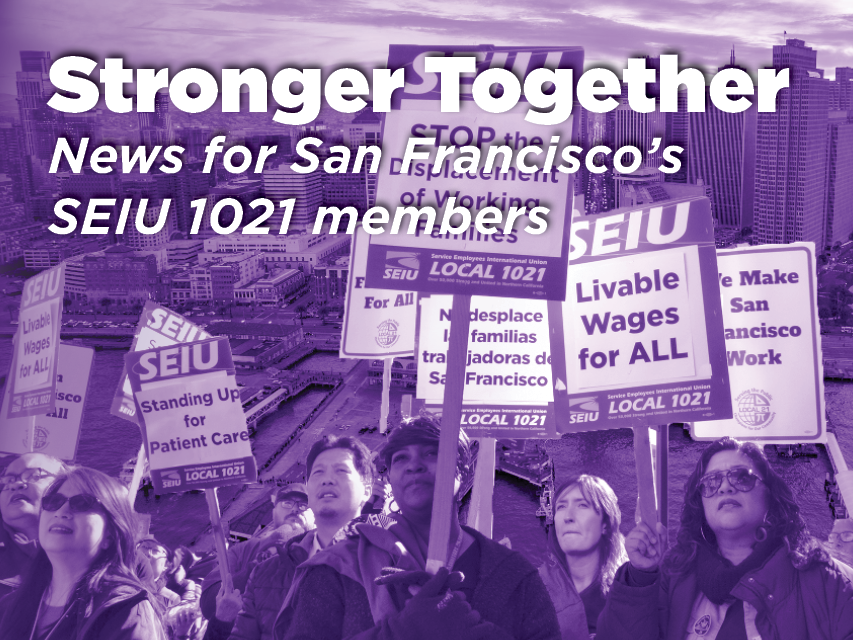 Welcome to the April issue of our monthly newsletter for SEIU 1021 members in San Francisco. You can read our March issue here, or keep reading below to see recaps of the big fights our members have taken on in the last month.
If you have a workplace issue you or your colleagues are dealing with and you'd like help and support from our union, don't forget that in addition to reaching out to your steward or labor representative, you can also contact the SEIU 1021 Member Resource Center at 1-877-687-1021.
Click one of the headlines below to read more about what our union has been up to.
With International Workers' Day right around the corner on May 1, let's make sure we're putting our words of solidarity into action, says SFMTA Steward and 1021 Executive Board member Nicole Christian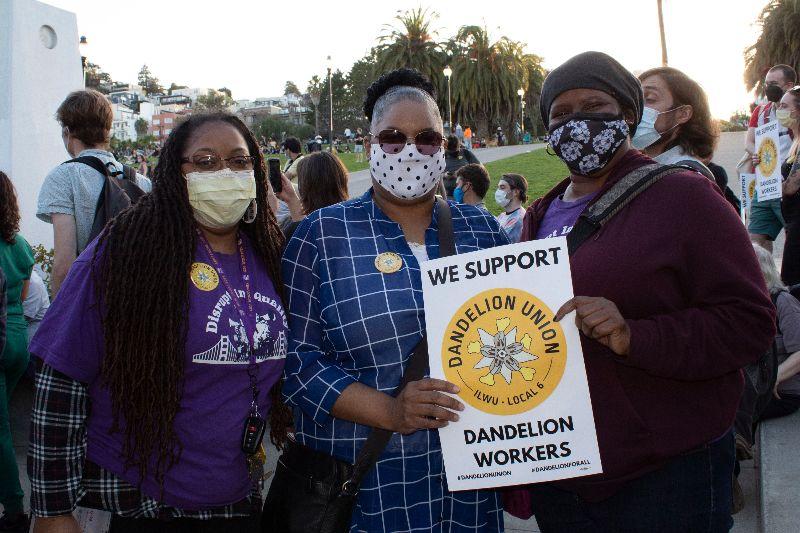 "On March 31, I went to Mission Dolores Park with my coworkers Alyssa Jones-Garner and Raina Johnson to support Dandelion Chocolate workers who are forming their union with the International Longshore and Warehouse Union (ILWU) Local 6. It was great to see the community support and excitement around their campaign (check them out on Facebook and Twitter to stay updated on their campaign).
This got me thinking a lot about all of the different fights happening now and coming up in the near future around San Francisco for SEIU 1021 members. It got me thinking about the power of solidarity.
On any given day, there are so many great examples of our members working together to tackle worksite issues around our city. In this newsletter, you'll read about a lot of those examples from just the last month:
Custodial and security members at 49 S. Van Ness are banding together and getting support from our siblings in labor to fight back against layoffs;
Museum workers at the Fine Arts Museums securing a new agreement to protect their jobs despite COVID's extreme impacts on the museum budgets;
Tenderloin Housing Clinic members organizing to win a continued $5/hr hazard pay plus a retro payment as they keep our community safe;
Using new technology in the midst of the COVID-19 pandemic to hold Chapter officer elections and vote for people who will help lead our union;
Our advocacy during and after the November elections led to the passage of the American Rescue Plan, which led to the financial relief needed to protect public services here in San Francisco and erase a projected budget deficit that would have threatened the jobs and livelihoods of thousands of SEIU 1021 members.
The common thread is obvious: when we work together to improve our communities, address problems at work, or support one another's struggles there's so much we can accomplish.
We'll need that spirit of solidarity if we're going to address racial injustice in our communities, pass a budget in San Francisco that invests in public services and an equitable recovery, and to ensure that our city's workers and families emerge from this pandemic healthy and prosperous. "Stronger Together" is the motto of our union—will you stand with us?"
As the City considers layoffs at 49 S. Van Ness, custodial and security workers are organizing to put pressure on GSA and protect their jobs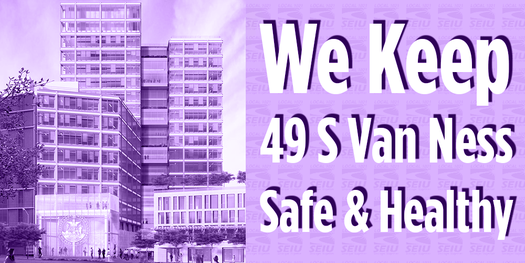 When the City and County of San Francisco opened a new building at 49 S. Van Ness, to be managed by the General Services Agency, we knew how important it would be for custodial and security services to be brought in house. Having permanent, union civil service workers cleaning and protecting the building would mean having dedicated public servants safeguarding the health and wellbeing of everyone working in the 16-story high rise that provides permits to the public, hosts multiple departments, and houses hundreds of City workers.
The GSA originally had plans to subcontract custodial and security services using a Prop J contract until union intervened and GSA agreed to hire City workers for the work, with some subcontractors to supplement services. Now, GSA is going back on our agreement and is once again threatening to destroy good, union jobs by outsourcing our work entirely.
"They didn't like it that they had to hire us rather than privatize these jobs from the get-go but having dedicated, hard-working, permanent civil servants do this work is a huge difference compared to privatizing these jobs. We take a lot of pride in protecting the health and well-being of everyone in this building. I get approached by people all the time who work here who tell me how much they love and appreciate our work and how safe they feel with us around," said a Building and Grounds Patrol Officer who has been working at 49 S. Van ness since last August but was afraid to speak publicly for fear of retaliation. "Both my parents were civil servants and so are all of my siblings. Many of us left really good jobs to come here, knowing that it was a temporary exempt position but seeing it as a foot in the door since many of us are on the civil service list already. Now they're pulling the rug out from under us. The one bright spot has been seeing all the support we're getting from our fellow SEIU 1021 members, as well as other unions like IFPTE 21, Teamsters 856, IAFF 798, and more. San Francisco is a union town, and this building is filled with union members. They think they can outsource our jobs? Absolutely not."
By attempting to subcontract this work, the City is unnecessarily jeopardizing the health and safety of the public and all the City workers who work at 49 S. Van Ness. Since its opening, our union's dedicated custodians have been disinfecting and deep cleaning constantly to protect us from the spread of the COVID 19 virus, and security personnel has been upholding public safety for all at the city building. It would be shameful for the City to abandon these people now.
"I work in the same department as these workers, and the Real Estate Division has buildings all over San Francisco that we clean. Fighting against the outsourcing of these jobs is important because we need to push back against our jobs becoming temporary or contracted out. Subcontracting or using temporary workers is a trend that could always impact us down the line, even if it doesn't affect us directly right now," said Kenneth Li, a Custodial Supervisor. "We also have to protect the cleaning standards that everyone working in these building enjoys. City workers are required to adhere to higher standards around things like using green cleaning chemicals compared to subcontractors."
Our union is demanding that the City and GSA protect our health and safety, and cease contracting out our work immediately. They should instead hire our dedicated custodial and security workers at 49 S. Van Ness as permanent civil service workers.
Sign our petition to support these members at www.seiu1021.org/protectjobs.
Budget negotiations are coming up. Here's what SEIU 1021 members need to know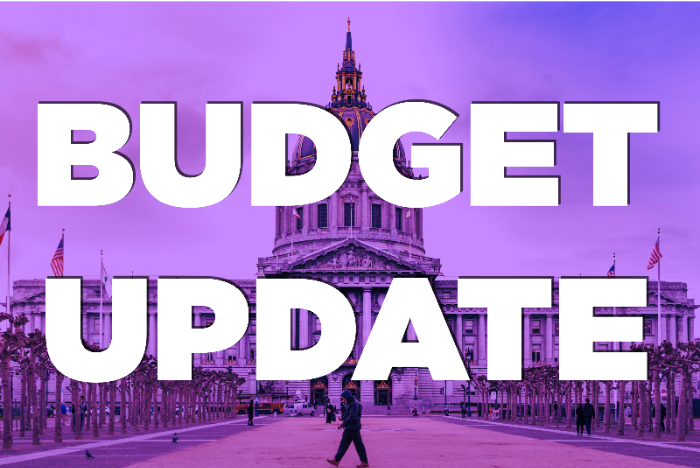 The incredible work we did last year to help pass Prop F and other revenue measures have paid off. The Controller's Office released its budget outlook memo and there will be no wage delays for City and County of San Francisco workers in 2021.
This means workers will receive the .5% on June 30, 2021 and a 3% increase effective July 1, 2021. Remember, management does not give us these raises out of the goodness of their hearts. The only reason we are receiving them is because we fought during our last round of negotiations to guarantee these increases.
Additionally, the work SEIU members in northern California and across the country did to advocate that Congress pass the American Rescue Plan, which will bring $636 million in direct aid to the City, was instrumental. San Francisco will continue to have a significant budget reserve of over $1 billion.
There are significant issues still to be addressed in the budget this year such as addressing the abuse of temporary workers and non-profit wages. At last month's 1021 SF Regional meeting, Budget Chair Matt Haney committed to supporting San Francisco's workers.
The projections incorporate a host of revenues approved in the November 2020 election, including an increase to transfer tax rates (Prop I), overhaul of business taxes (Prop F), and establishment of a new tax on executive compensation (Prop L).
Through hard work and advocacy, we are getting our public services funded. Our raises allow us to continue serving the needs of our community throughout the COVID-19 pandemic and beyond. Our support for these revenue measures played a huge role in accomplishing this victory!
Budget Calendar:
June 1 – Mayor's Proposed Budget announced
June – Board of Supervisors Hearings
July – Final budget approved
Members at the Fine Arts Museums secure a new contract with stability and layoff protections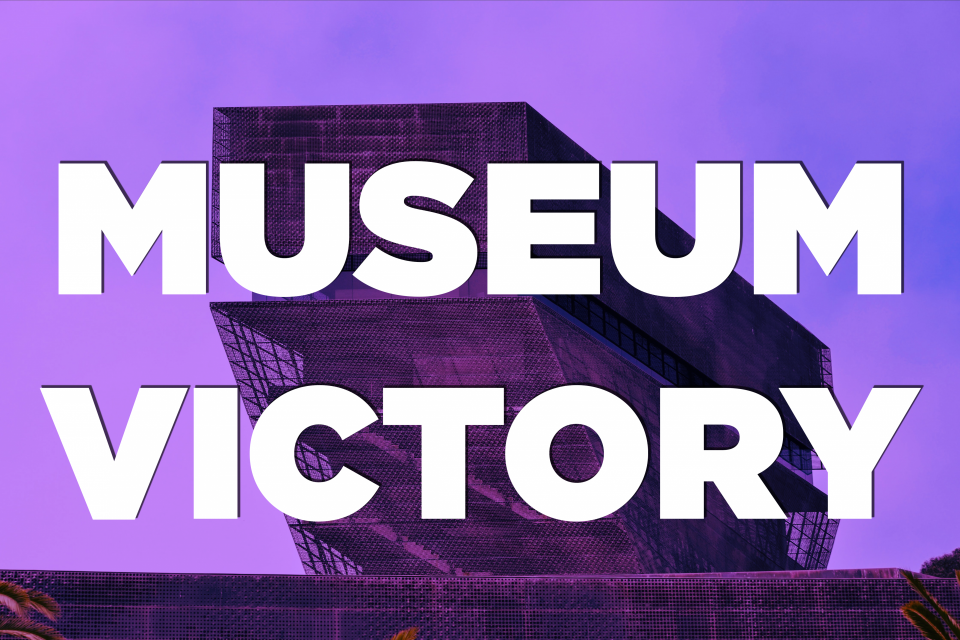 Nonprofit members at the Fine Arts Museums knew that bargaining during this pandemic would be a challenge. "The negotiating team at the Fine Arts Museums worked in less-than-normal circumstances this year to hold listening sessions with our membership, to strategize amongst ourselves, and to meet with management," said Francisco Rosas, a museum worker and bargaining team member.
The biggest priorities were to get better work from home language and hopefully some kind of wage increase. We were able to get some movement first on reimbursement for working from home but were totally stonewalled on a wage increase. Members tried to get creative by proposing a universal monthly stipend that would either be for WFH reimbursement or hazard pay for working in person during COVID-19 but the boss refused to relent.
It became clear that the only way we were going to be able to get a possible wage increase was by negotiating a trigger. Management opened with a trigger based only on ticket sales, concessions, and facility rentals—the areas that took the biggest hit. They wanted the trigger to be 95% of an average pre-covid year of income, which we thought was totally unreasonable. We ended up agreeing on a trigger of 85% of a pre-covid year of income based on sales and membership dues, which took much less of a hit from COVID.
"Given the financial realities caused by the extended closures of the Museums, the negotiating team is satisfied with the extension of the previous year's contract and is pleased to have worked to find a financial health "trigger," which if reached, will unlock a wage increase in for our members. Progress was made despite the odds and the negotiating team felt very privileged to represent our colleagues at the virtual negotiating table," said Francisco.
If over any 6-month period of the extension the museum revenue hits 85% of a 6-month average of a pre-pandemic year, a wage increase of 1.5% kicks in retroactive to April 1, 2021. Additionally, we secured a $40/month stipend for anyone working from home, retroactive to September 2020.
Tenderloin Housing Clinic members put pressure on management to win hazard pay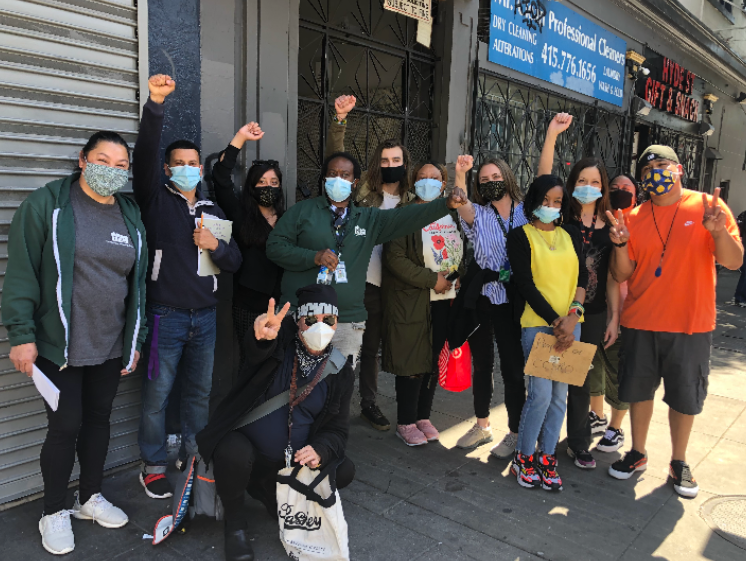 Last year, management at the Tenderloin Housing Clinic shamefully cut off hazard pay, even as our members continued to serve clients amidst the pandemic. Even worse, they lied by telling us that they didn't have the financial flexibility to continue the practice. Members got creative, though, and began brainstorming the next steps.
Knowing that THC's funding is tied to the City and County of San Francisco's budget, we began working with Supervisor Matt Haney's office on a solution. Having political allies is important, but we also knew that nothing made us stronger than our collective power as workers. That's why we took a delegation of about 15 workers to deliver a letter from Supervisor Haney's office supporting our fight to management.
It worked. Management emailed our union saying they had been granted "flexibility regarding retroactive pay" by the City and County of San Francisco. Now, we'll receive $5 more per hour going forward and are in negotiations around retro pay.
"We always knew the City would grant [Tenderloin Housing Clinic] this, but until now they'd decided instead to simply reject the idea of retro pay. They were wrong to send out that memo without considering what workers wanted. Workers came together and changed management's calculation," said Shop Steward Evan Oravec. "This is a win and we should celebrate. We never should've lost hazard pay last year, and this is a big step to correcting that wrong. We must also, though, remember that this is not the end. management will be sending the union some dates to meet and discuss the details of a retro payment. This will begin our negotiations with Management about the size and details of a retro payment. We need to be firm, clear, and stand together as workers in this process."
Chapter elections are happening around San Francisco this year—make your voice heard!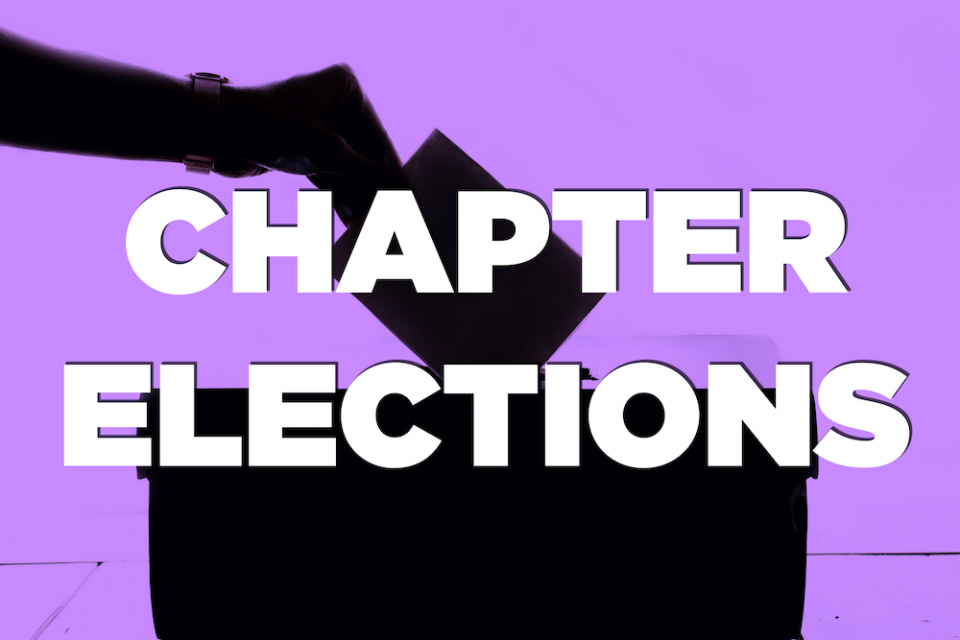 This year, many of our SEIU 1021 Chapters will hold elections for Chapter Officer positions. This is a great opportunity to run for a leadership position in our union if you have exciting ideas of your own, or a chance to cast your ballot for the candidates you think are best to lead your Chapter forward through the challenges of COVID-19.
COVID-19 has changed much about the way we do our jobs and interact with one another, and our election processes are not immune from the impacts of this virus. With member safety in mind, we have transitioned to a new electronic voting system this year called ElectionBuddy. This new system is a secure, encrypted online voting platform that provides ballots to members via email and allows members to cast their vote safely and electronically.
"The new election system made our chapter elections easy during the pandemic. It's important that union members are involved in the election process, removing barriers to make voting accessible and transparent is the aim. Your chapter elections should be as important and involved as any election you participate in," said Janay Washington, the newly-elected Chapter President at San Francisco's Department of Homelessness and Supportive Housing.
Chapter elections are all about membership democracy in action. They're an important way that we ensure our union is member-led and focused on the priorities of members in a wide range of industries, jobs, and worksites. If you have chapter elections this year, make sure you cast your ballot to have your voice heard!
To keep the voting process moving quickly and avoid any delays, make sure that your contact information is up to date by contacting the Member Resource Center from Monday through Friday between 8 am and 6 pm at 1-877-687-1021.