San Francisco Newsletter: February 2021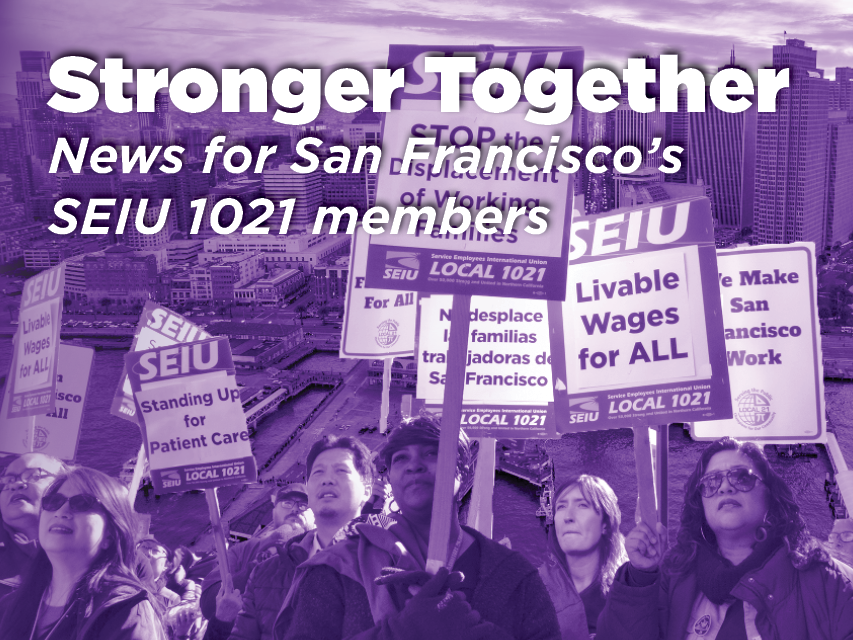 Welcome to the February issue of our new recurring monthly newsletter for SEIU 1021 members in San Francisco. You can read our most recent issue here, or keep reading below to see recaps of the big fights our members have taken on in the last month.
You'll also find updates on ongoing campaigns around the city and stories celebrating some of our union's most recent victories.
If you have a workplace issue you or your colleagues are dealing with and you'd like help and support from our union, don't forget that in addition to reaching out to your steward or labor representative, you can also contact the SEIU 1021 Member Resource Center at 1-877-687-1021.
By selecting one of the options below, you can read more about what our union has been up to.
A reflection on Black History Month and the role of unions in the fight for racial justice from Social & Economic Justice Committee Chair Derrick Boutte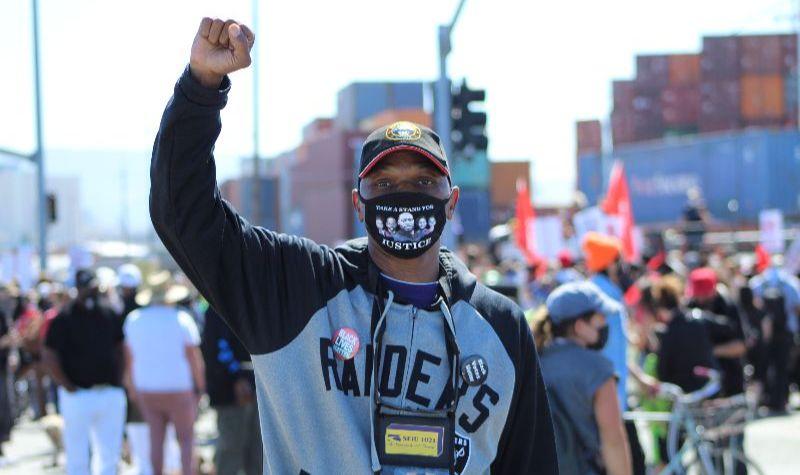 "The labor movement is founded on the belief that an injustice to one is an injustice to all. This is why it's important for our union, SEIU 1021, to be active in the fight against racism in our workplaces, our communities, and our society.
Many members deal with racism every day on the job. Employers often try to divide workers in any way they can to drive down pay, benefits, and working standards. This is one of the oldest tricks in the book. A core tenet of our mission must continue to be fighting against racism, bullying, unfair treatment, and injustice at work.
We must also tackle racism in our communities, and I was proud to see our union living these principles over the last year. We marched against police violence in San Francisco, Oakland, and beyond. We held racial justice roundtable discussions online. We produced material celebrating Juneteenth and educating each other on the ways the systemic inequalities of today can be traced back through history. But our work is not done, and we can't achieve economic justice until we win racial justice.
Our union gives us a tremendous platform and opportunity to take on in the issues impacting our families and our communities. Our Social and Economic Justice (SEJ) Committee, which I am the Chair of, has many subcommittees which advance this work every day. I invite you to attend one of our Black History Month celebrations in the coming weeks or join our regular meetings on the second Thursday of each month. You can email me at Derrick.Boutte@seiu1021.org to learn more."
After years of fighting, radiology workers secure huge reclassification victory to raise wages and secure retro pay for members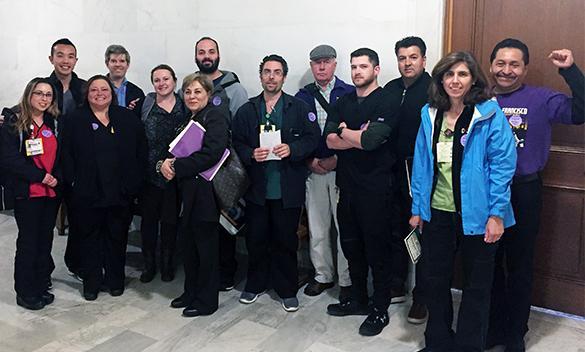 For years, San Francisco lagged behind regional hospitals like UC, Kaiser, Stanford, and others in compensating radiology staff. Those hospitals had distinct career paths to compliment different areas of specialty (called modalities) such as CT, MRI, mammography, and more, but DPH had no path rewarding workers for expanding their skills or growing in their careers. Six and a half years ago, SEIU 1021 members at SF General Hospital decided enough was enough.
"I was tired of watching talented staff and students come through our hospital to get some experience and then quickly leave for higher pay elsewhere. Those who stayed were deeply committed to public service and caring for vulnerable patients but had to make significant sacrifices," said Mandana Siyadat, a Radiologic Technologist Lead and former Bargaining Team member.
Radiology workers began organizing. They attended hearings at City Hall, held rallies, met with the Mayor, and fought at the bargaining table. It was slow going at first.
"Management dragged their feet for years. They would ask for all of these compensation comparisons, and then they wouldn't even engage with us at the table. They just sat there staring at us. It was very frustrating," remembers Ellen Ridge-Cooper, a Dignostic Medical Sonographer and Steward from Ultrasound.
In 2019, after years of work, radiology workers won a new compensation system which brought them closer in line with nearby hospitals. The new pay rates should have gone into effect on July 1, 2019 but management continued stalling rather than implement them. We filed a grievance, demanded back pay, and kept the pressure on.
Finally, in January 2021, we forced management to capitulate; the city began honoring the new wage scale, and we won retro pay going back to July 2019. For many workers, this meant settlements of hundreds or even thousands of dollars in addition to higher wages resulting from the reclassification.
"I had to wait for them to settle all of this so I could retire. When I finally saw this money in my account, I literally cried with joy. The lesson is that management isn't going to just give us things out of the goodness of their heart. We have to be prepared to fight—but if we fight, we can win," said Ellen.
Mandana felt the same way, saying, "I don't give up—when I start a fight, I see it through. A lot of my coworkers were really happy and appreciative when they got their money. It feels great to know that after all of the fighting, we won something. I am grateful for all of the help and support from my colleagues and our union. Management can call frontline workers heroes, but it doesn't mean anything if they then us treat like zeroes."
The new system is a major improvement worth celebrating, but there's more work to be done to raise standards for all radiology workers. We won't stop fighting until we create a sustainable, long-term career path that benefits workers and the patients we serve.
Refusing to be bullied into concessions, SFMTA workers stand strong and speak out
Towards the end of last year, the San Francisco Municipal Transportation Agency gave a budget presentation with various made-up budget scenarios heavily implying that layoffs would be necessary to balance the operating budget as a result of COVID-19's impact. This was a transparent attempt by management to pressure members into giving back our hard-fought raises while we struggle to work safely through this pandemic.
"On Monday, November 30, Jeff Tumlin, the SFMTA Director of Transportation, announced at an all-staff conference call that the first round of federal relief money would run out on December 31, 2020 and that he was doing everything in his power to avoid layoffs. Who says "layoffs" right before the holidays without presenting alternative plans or suggestions?" asked Nicole Christian, a Senior Permit and Citations Clerk and Chapter Steward. "Our jobs, our homes, our families, our sanity, and our services are all at stake when SFMTA talks of layoffs. People are getting sick, sometimes dying or dealing with long-term health issues. Staff understandably panicked at first, but then rather than be bullied into giving up our raises, we started speaking up and demanding that management show us a real plan forward that demonstrates that they care about workers and our services."
Despite management presenting doomsday scenarios to create fear among workers, members continued to hold the line since the budget revision in the summer and refused to give up concessions before every option was explored. We started organizing to turn people out to SFMTA Board budget workshops and speak up during public comment to present alternative paths forward and condemn the fear-mongering and intimidation during this already these already trying times. Not long after, it was announced that $373.8 million in federal relief money was on the way, largely addressing the immediate budget concerns.
"Management talks a lot about how thankful they are for us and how we're essential, but I don't need them to tell me that. I need them to show me. Make sure we're safe, make sure we have the compensation we need to survive, and don't threaten to take workers' jobs away while we're out here doing the work of 2-3 people in the middle of a pandemic to keep San Francisco moving," said Trevor Adams, an SFMTA Parking Control Officer and Chapter President. "The budget workshops have been fascinating—as a worker, it makes me realize that the people running this agency don't understand what frontline workers do and how our departments work. That's why it's been so important for us to participate in public comment and to speak up. Elected officials and the people running SFMTA need hear from us and start including frontline workers in decision-making."
While some budget relief is on the way, we aren't yet in the clear. We need members to take action and help us phone bank for the American Rescue Plan.
Every Wednesday from 4 – 7 PM, we're joining Bay Area Labor Councils to phone bank members of Congress and ask them to pass the $1.9 trillion stimulus package for cities, counties, and transit agencies and also support the PRO Act. Please RSVP by clicking here. No previous experience necessary and training will be provided.
After months-long fight, P103 nurses win COVID-19 leave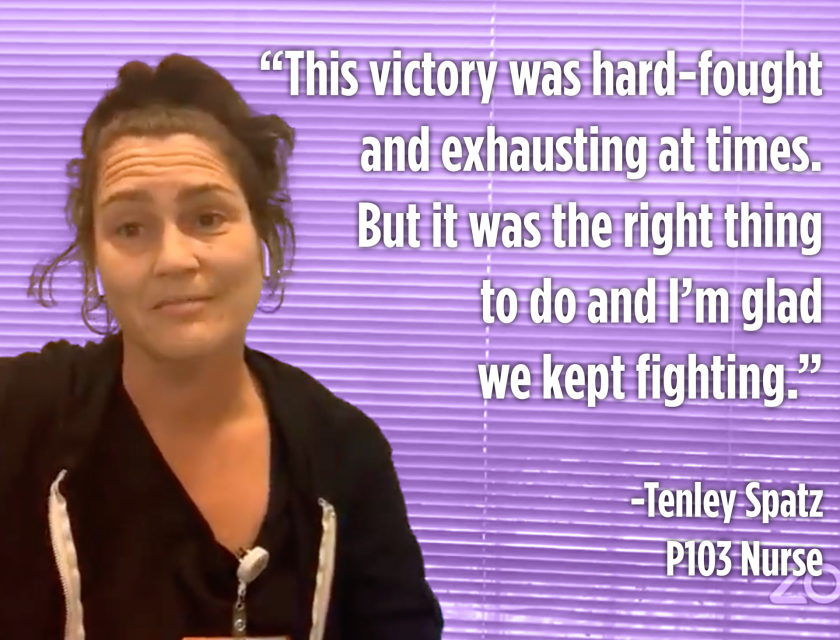 Nurses are the frontline of defense for our community's health and have worked tirelessly around the clock to keep our city's residents safe from the COVID-19 pandemic. When the city rolled out its COVID leave bank last March, however, P103 nurses were not given access to that emergency leave. This was unacceptable, so our union jumped into action.
Members circulated petitions, met with elected leaders, spoke out at commission hearings, and more. We made sure that San Francisco knew that if P103 nurses don't have the safety net of sick time when it's needed, then it puts the whole workforce and our patients at risk because we can't take adequate precautions and isolate if we're potentially exposed.
We fought back, and we won.
"Hearing the news the Mayor was amending her Emergency Proclamation to extend COVID leave to P103 nurses overwhelmed me with so many feelings I almost started to cry. I just couldn't believe after all the hard work, we would finally be getting the sick time we deserved. I felt joy in overcoming such a tremendous obstacle. I felt pride in our perseverance. And I felt relief, for myself and for all the frontline nurses who have been carrying our Covid response for the last year. We accomplished something huge. I am appreciative of everyone who stepped up to make this victory possible, including the members of the Board of Supervisors who listened to us and stood by us, notably Supervisors Matt Haney and Gordon Mar and their offices," said Tenley Spatz, an SEIU 1021 member and P103 nurse in San Francisco who helped lead the charge to address this issue. "This victory was hard-fought and exhausting at times. But it was the right thing to do and I'm glad we kept fighting. When we stand together for what's right, we correct injustice and improve our world for the better, one little piece at a time."
Because of our advocacy, the Mayor amended the Proclamation of Local Emergency to extend COVID-19 leave to P103 per diem nurses.
Make no mistake—this would not have happened without the hard work and advocacy of SEIU 1021 members. We also thank the Mayor's office for taking action to correct this situation.
"When P103 nurses were initially denied the safety net of COVID-19 sick time, it was a danger to our patients and our whole workforce. That's why our union worked hard to draw attention to the dangers of excluding P103 nurses, with members circulating petitions, meeting with elected leaders, speaking out at hearings, and working collaboratively with co-workers and union members at our worksites to build support and our collective strength. We know that COVID-19 doesn't care whether it's infecting a 2320 staff nurse or a P103 per diem nurse, and through our collective strength as union members we won a policy which reflects that fact," said Theresa Rutherford, SEIU 1021 Vice President of San Francisco. "Nurses and other frontline SEIU 1021 members are some of the key defenders of our community's health and will continue to work tirelessly around the clock to keep our city's residents safe from this pandemic. We applaud Supervisor Gordon Mar and the Mayor's office for taking these steps to protect our healthcare heroes."
Read the full declaration:
Asian Art Museum Foundation workers fight back against layoff threats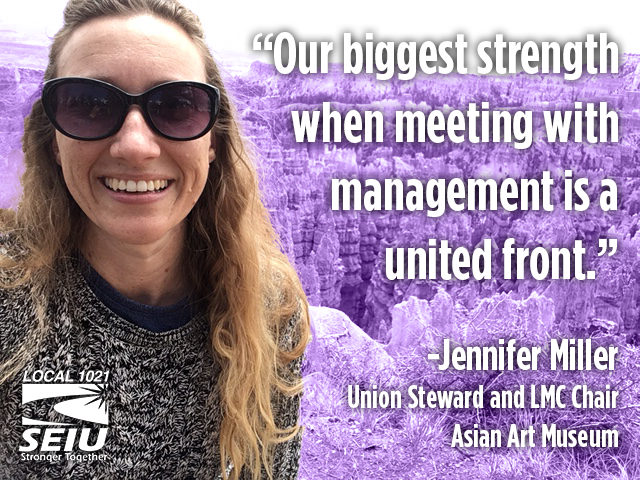 When the Asian Art Museum said they would be pursuing layoffs due to COVID-19 last November, members knew they needed to spring into action and fight back. Immediately, leadership dug in their heels, got the membership engaged, and began using the Labor Management Committee to force negotiations on every issue possible to find solutions.
"Our biggest strength when meeting with management is a united front. I know that we have each other's backs. If one colleague's point is being dismissed or deflected, another team member will pick it up and keep it going. We are equals with management when we're at the table, and management knows our union has teeth" said Jennifer Miller, an SEIU 1021 steward and LMC Chair at the museum. "We know management's goal is to deflect, delay, and obfuscate. Our strategy focuses on how to make that approach impossible for them—we work closely with our internal Leadership Team to create our own solutions to avoid furloughs or layoffs."
Members reacted quickly and worked together, researched alternative solutions, and challenged management at every turn. As a result, the museum instituted a work-share program to find new roles for staff, and members have largely been able to beat back the threat of layoffs. This is the power we have when we work together as a union.
Unions of SFUSD reach agreement on safety, vaccines, and reopening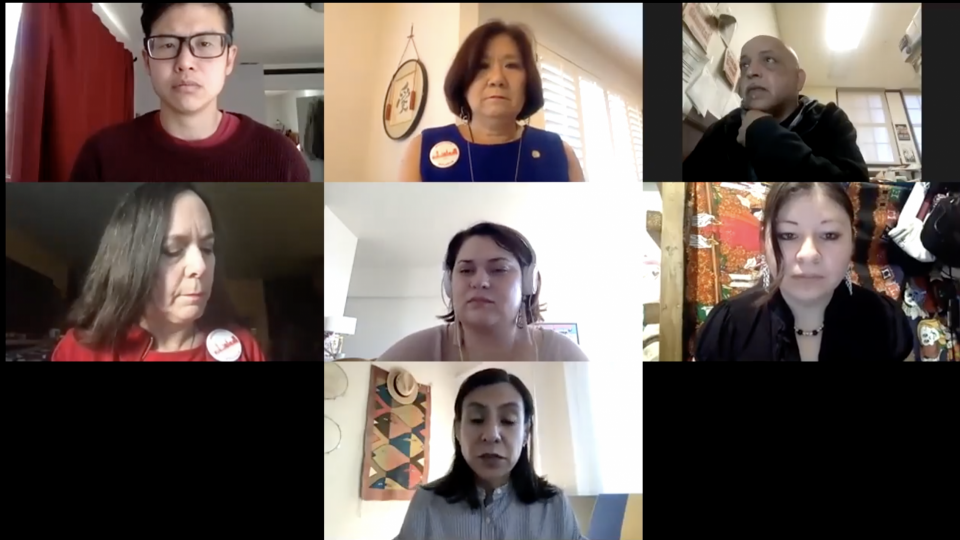 On Friday, February 5, the Unions of SFUSD, which includes SEIU 1021, United Educators of SF, UASF, and IFPTE Local 21, held a virtual press conference on school re-openings. Workers proposed a pathway for the health and safety protocols that are necessary for a safe return to in-person learning for students, teachers, workers, and SF communities.
"Communities of color have been hit twice as hard. Reopening schools without proper safety protocols is irresponsible and dangerous to all students, teachers and families and workers, and especially our communities," said Rafael Picazo, SFUSD Interim Director of the Environmental Health and Asbestos Department and SEIU 1021 SFUSD Chapter President.
Days later, after numerous rounds of negotiations and revisions, our unions successfully reached a tentative agreement with the school district around the baseline health and safety standards we have been fighting for since negotiations started in December of 2020.
Items in the agreement include health screenings, COVID-19 monitoring, a COVID-19 prevention program, and COVID-19 hygiene standards such as physical distancing, face masks/coverings, sanitation stations, PPE, ventilation, and plans for cleaning and disinfecting. The unions also negotiated groundbreaking language that provides school district support for vaccine prioritization, availability, and education for our members.
The agreement between the Unions of SFUSD and the school district is a significant achievement for the organizers, leaders, workers, and parents who paved the pathway for a return to in-person learning that will be safe and equitable for our students, educators, workers, and communities.
Check out press coverage from the SF Examiner, KQED, and SF Gate.
SF Art Institute members help preserve famed Diego Rivera mural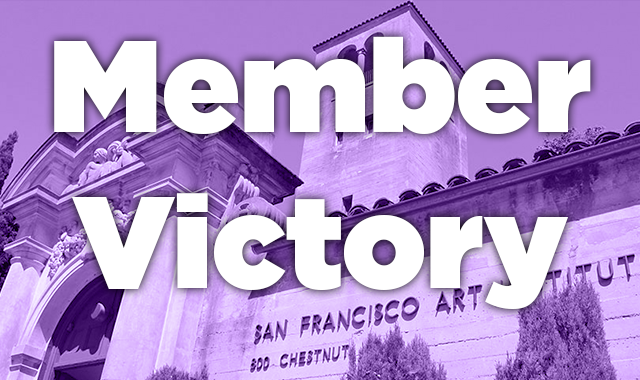 Last month, leaders in SEIU 1021's SFAI Adjunct Union, students, alumni, and the arts community worked with SF Supervisor Aaron Peskin to declare the college's Diego Rivera mural a local landmark. Union leaders took this step to prevent the college's board from selling the mural, which depicts working people building the City of San Francisco.
This victory by SFAI members stands out in what has been a yearlong campaign to hold the college's board accountable. We believe there were illegal actions were taken that plunged the school into a debt trap and resulted in the layoff of almost 70 unionized adjuncts. As part of this campaign, SEIU 1021 filed a complaint with the California Attorney General's office over illegal conduct by the Board of Trustees, which triggered an audit of seven years of SFAI's finances.
Following international press coverage of the victory saving the mural and the Attorney General's audit, several members of the Board of Trustees most responsible for running the school into the ground resigned, and SFAI requested to re-open bargaining with 1021 to bring laid-off members back to work.
Felton Institute FSA members secure strong new agreement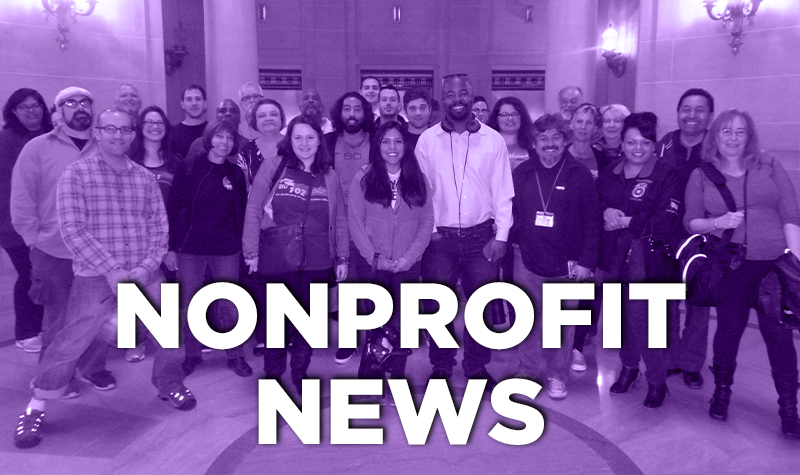 Members at the Felton Institute Family Service Agency fought and won a new agreement containing strong health and safety provisions and a significant pay increase. Despite the impacts of COVID, we secured a 2% Cost of Living Adjustment (COLA) to the wage scale.
Another big priority for members was winning the ability to donate sick time to colleagues in need whose sick bank may be depleted. Members have now secured the ability to donate up to 37.5 weeks of sick time. Congratulations!
APALA celebrates Lunar New Year by honoring essential workers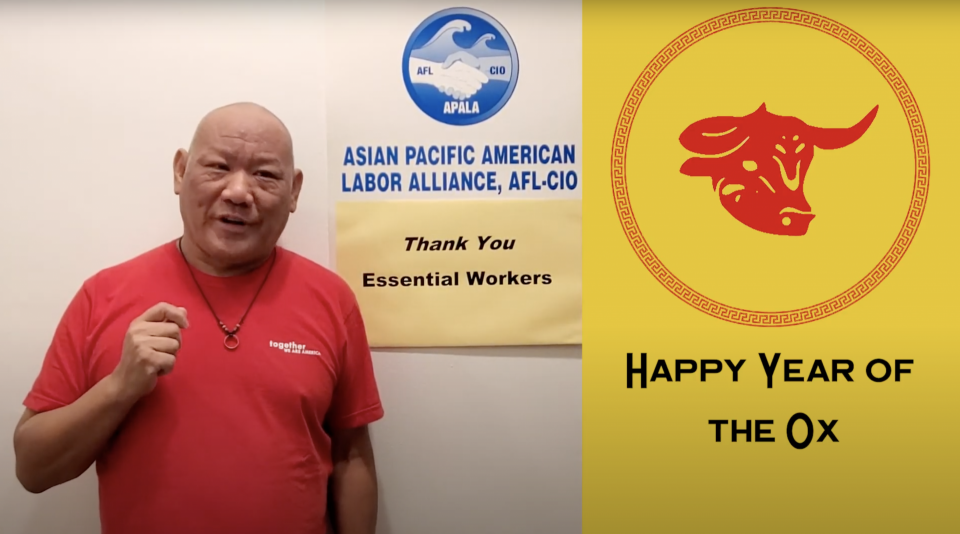 COVID-19 means that Lunar New Year celebrations won't proceed the same way this year, but Asian Pacific American Labor Alliance (APALA) members are finding creative ways to celebrate and honor frontline workers.
This year, SF APALA members made a video honoring essential workers everywhere, including those who aren't as publicly visible. The video will be part of KTVU's virtual parade on Saturday, Feb 20 at 6 pm. You can also get a sneak peek at this month's SF Regional Meeting on February 18. Gung Hay Fat Choy!