San Francisco Newsletter: June 2021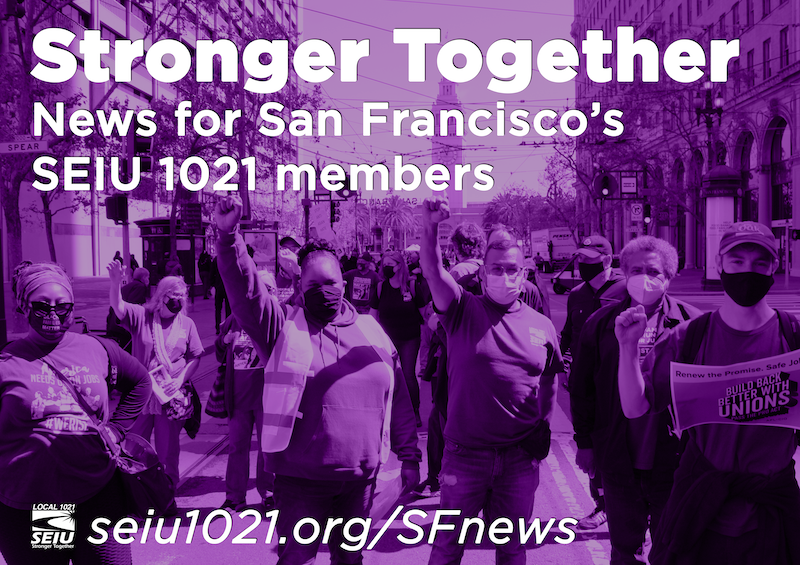 Welcome to the June issue of our monthly newsletter for SEIU 1021 members in San Francisco. You can read our May issue here, or keep reading below to see recaps of the big fights our members have taken on in the last month.
If you have a workplace issue you or your colleagues are dealing with and you'd like help and support from our union, don't forget that in addition to reaching out to your steward or labor representative, you can also contact the SEIU 1021 Member Resource Center at 1-877-687-1021.
Click one of the headlines below to read more about what our union has been up to.
SEIU 1021 Vice President of San Francisco Theresa Rutherford shares an update on the Mayor's most recent budget proposal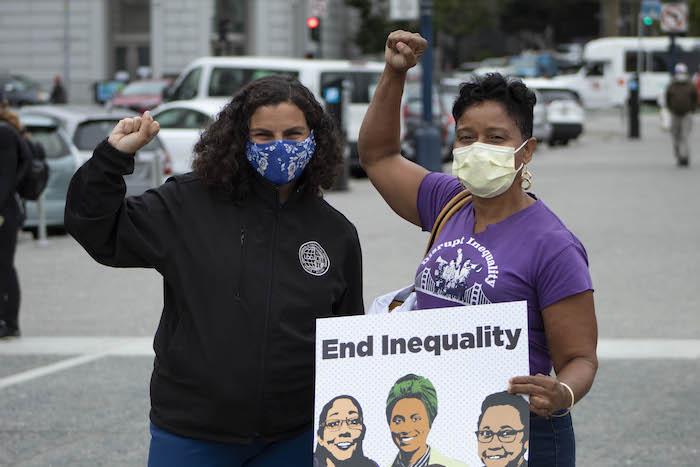 "For much of last year, San Francisco was predicting serious budget woes that the City said would result in a projected shortfall of millions of dollars. Amidst the uncertainty of the COVID-19 pandemic, we were told time and again that the sky was falling and an extreme recession was just around the corner.

Our members wasted no time rolling up their sleeves and doing what we could to secure funding. We helped pass both Prop F and Prop L locally, reaffirming that San Francisco residents want and will support funding public services that union members provide our community. We campaigned in support of Joe Biden, who had pledged to provide financial relief to cities weathering the COVID-19 crisis, resulting in the arrival of badly needed Federal funding from the American Rescue Plan that protected our jobs and services.

Thanks to our efforts, the recently proposed budget from the Mayor's office contains a number of items that will benefit SEIU 1021 members serving the residents of our city, including:
Fully funding labor contracts: City/County employees will receive a .5% wage increase on June 30, 2021 and a 3% wage increase on July 1, 2021.
Leveraging over $1 billion in state, federal and local funds to expand work started through the homelessness recovery plan.
City-funded non-profit sustainability: annualizing the one-time 3% COLA from FY 2021, adding an additional 3% ongoing COLA
Dedicating $1.5 million over 2 years for Diversity, Equity, and Inclusion resources for DHR and ORE.
With budget hearings right around the corner, we'll need to continue organizing and making sure that San Francisco's next budget reflects the needs of our community and the workforce who services our city's residents. Please keep speaking with your coworkers, sharing updates, and asking one another to get involved and stay updated on next steps. We'll be sharing more details soon—I hope you'll join us."
Despite COVID-19's challenges, Exploratorium members use their unity to protect workplace standards and vulnerable coworkers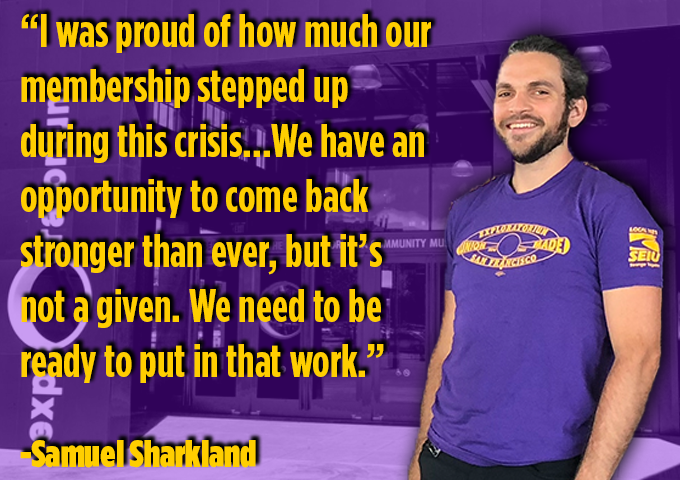 When it came time to negotiate a new agreement at the Exploratorium, members knew they had a challenge ahead. Early in the pandemic, management had already laid off some staff members and so preserving stability was a huge priority for their team.
"We knew we needed to defend our colleagues who were affected by layoff notifications and prioritize them. We wanted to protect our existing standards through the restructuring while looking out for the needs of our most vulnerable members. It was about triaging a crisis," said Samuel Sharkland, a Program Developer at the Exploratorium and bargaining team member. "I'm really proud of our previous contract, which had a four-year term and was a stable platform for us to continue building on. It was good enough for us to feel comfortable pursuing an extension of that contract for one more year to weather this crisis."
After the first round of layoffs, the Exploratorium was able to get PPP loans to keep the rest of the staff either fully or partially employed until May of 2021. At that point, management initiated another round of layoffs affecting workers with decades of service at the institution. Members used the meet and confer process to secure strong severance packages for their colleagues impacted by layoffs as best they could.
"I've been at the Exploratorium for 35 years and I'm nearing retirement but getting laid off felt like a punch in the gut. I've been at the museum through many, many layoffs. You have some survivor's guilt when you go through that, but this was especially traumatic," remembers Debra Bainum, a Senior IT Specialist at the Exploratorium who was laid off in May of 2021. "I was a negotiator and sat in the meet and confer meetings around layoffs. There were people with 35, 37, and 49 years of service who were part of the most recently affected group. Now, they'll receive 6 months of severance pay with the 5% COLA we deferred last year included instead of the normal 12 weeks. Considering the challenges of these circumstances, I am really proud and grateful of what we were able to get."
One member with 49 years had his layoff delayed until the end of the year so he could stay until the end of the year and keep his benefits before reaching his 50th anniversary and enjoying a retirement party before receiving his severance package. Another member will be kept on call, possibly until the end of the year, so she can complete a project she was working on.
"This victory was purely a result of our pressure on management. We asked everyone in the union to sign a petition to show management that we were a united front with the full strength of the membership behind us, and that really did the trick. We made a lot of logical and emotional arguments at the table, but our collective strength got the job done," said Debra.
Samuel echoed this sentiment, saying, "I was proud of how much our membership stepped up during this crisis. We ramped up our engagement with union members in general unit meetings and committees, even when we had to do so virtually. Lots of new people moved into those leadership roles and demonstrated their commitment to labor rights and workplace justice. I felt so proud of our whole community. We have an opportunity to come back stronger than ever, but it's not a given. We need to be ready to put in that work."

Medical Evaluations Assistants at SFGH deliver over 100 petition signatures to DHR calling for fair pay and treatment amidst increasing workloads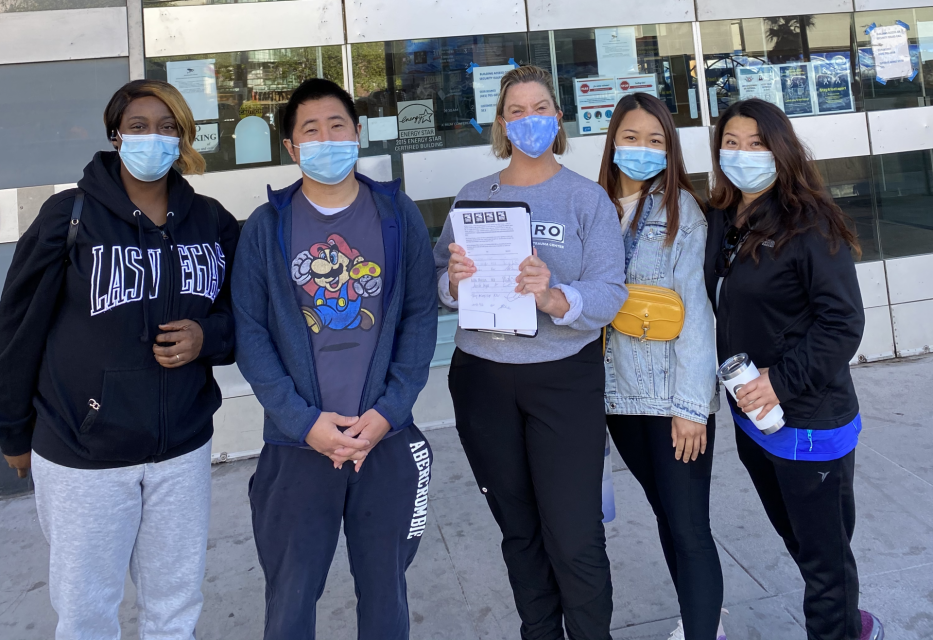 At San Francisco General Hospital, Medical Evaluations Assistants (MEAs) in the Emergency Department (ED) have been performing out of class work for more than 20 years. In 2004, an arbitrator awarded these workers with pay 5% differential for this out of class work, saying that, "as a remedy, the ED MEAs are entitled to out-of-class pay, retroactive to June 11, 2001, with interest, until they are no longer required to perform a substantial portion of the duties of the Nursing Assistant classification, or until the parties mutually agree upon the duties and compensation of the ED MEAs."
Over the past 16 years, MEAs have seen their work duties steadily increasing while their pay stayed the same. On June 7, members delivered over one hundred signatures on a petition to the Department of Human Resources calling for the meet and confer process to begin.
"MEAs are constantly being put into roles and situations outside of our job duties. We just have an endless list of things we are asked to do that are typically done by messengers, morgue attendants, PCAs, and more from bagging bodies, sterilizing instruments, doing CPR, or working as psych techs in the ED. We aren't allowed to say no to doing all of this extra work but we also aren't being paid for working out of classification," said Wendy Mitchell, an MEA at SFGH.
To Wendy, the issue presents a huge obstacle for hard-working MEAs who want to stay at the hospital and care for their community, particularly in light of the risks and challenges facing healthcare workers amidst the COVID-19 pandemic.
"I worked really hard to become to pursue this career—I don't take it lightly and I pour my heart and soul into it. I want to retire from here and I know my colleagues feel the same way. We aren't angry or trying to be spiteful, we just want to have a conversation with management and bring awareness to the unfair and unequal treatment we are receiving," explains Wendy. "We're in the hospital day in and day out—walking 17,000 steps per day, working 12-hour shifts, providing 24/7 care on weekdays and weekends. That's time away from our families and loved ones, missing holidays and life milestones. Maybe the executive team just sees us as 2430s in the budget, but we all work so hard. It took me 11 years working up to this role while raising three kids. We just want to be compensated fairly for all the hard work we do."
In a partial victory, GSA members have stopped the outsourcing of custodial jobs at 49 S Van Ness—but we're still fighting to protect security guard jobs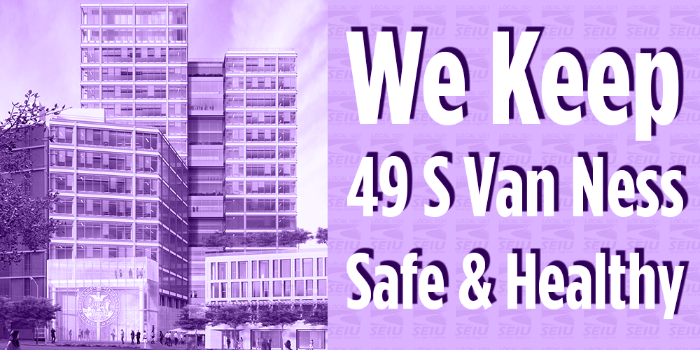 SEIU 1021 members at 49 S. Van Ness scored a partial victory this month in their fight against the proposed outsourcing of custodial and security jobs in the building. Members have been working hard to rally opposition to the plan which would see these union civil service positions traded for lower-paying and less stable contactor positions.

In a June 4 meeting, management finally backed off their plan somewhat, saying that custodial jobs would continue to be done by civil servants but that they wanted to proceed with subcontracting security services. While we're happy to see some movement in the right direction on this issue, members remain committed to fighting against any outsourcing or subcontracting of either the custodial or security work being done at 49 S Van Ness.

Kenneth Li, a Custodial Supervisor, had the following to say:

"We as SEIU members came together for a cause—to fight to prevent the outsourcing of these jobs. All the custodial staff, including their families, signed the petition. We had over 600 signatures in total, including security guards.

We provide an emergency service. There were cases of employees in the building who tested positive for COVID-19, but our staff continued to suit up in coverall, goggles, disposable gloves, and masks to go to work and keep people safe. We use the latest technology like spraying disinfectant the way that airliners do using a rechargeable spray with electrostatic disinfectant that can stick to any surface to exterminate the virus within minutes. We are continuing to provide such services when asked to do so.

It was a victory for us to stop the outsourcing of these jobs. I hope the city will work with us and protect the jobs of our security workers as well."
Congratulations to SEIU 1021 member Danielle Turner, City and County of San Francisco's Employee of the Month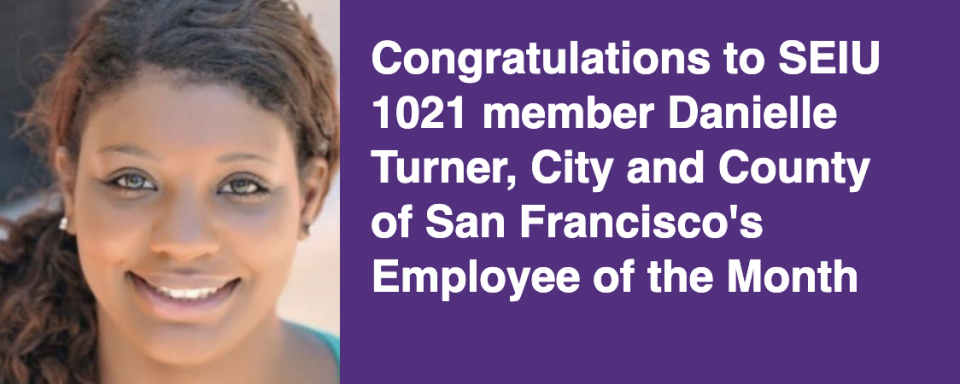 Congratulations to Danielle Turner, an SEIU 1021 member in the Human Service Agency's Resource Family Approval unit for being named the City and County of San Francisco's Employee of the Month in May! Her commendation read, in part:
"Danielle is a team player, always willing to lend a helping hand. She stepped up twice to be an acting supervisor to support the program when supervisors were out on leave. She is a fast learner, detail oriented and efficient, using her excellent problem solving skills to find creative solutions to support her team in approving families, all while lending an empathetic ear to staff and clients alike.

Danielle returned from maternity leave during the height of the shelter in place order last year. She was ready to roll up her sleeves and assist with the recruitment of community resource families by making calls, following up and helping applicants with the approval process. Danielle is also part of a team of resource family social workers who are custodians of records. She volunteered to come to the office to print live scan results during the pandemic. This is an essential service to ensure dependent children/youth are placed with safe and nurturing families. Her commitment and dedication are admired and respected by colleagues and community providers.

For these reasons, we are honored to present Danielle as the May 2021 Employee of the Month."