San Francisco Newsletter: January 2021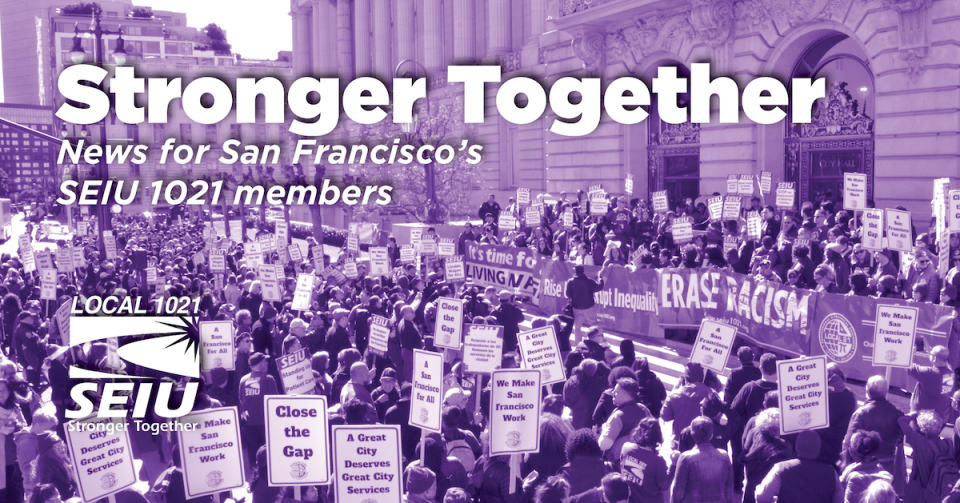 Welcome to the first issue of our new recurring monthly newsletter for SEIU 1021 members in San Francisco. You can read our most recent issue here.
Keep reading to see recaps of the big fights our members have taken on in the last month, as well as updates on ongoing campaigns around the city and stories celebrating some of our union's most recent victories.
If you have a workplace issue you or your colleagues are dealing with and you'd like help and support from our union, don't forget that in addition to reaching out to your steward or labor representative, you can also contact the SEIU 1021 Member Resource Center at 1-877-687-1021.
By selecting one of the options below, you can read more about what our union has been up to, including some thoughts from our regional Vice President, Theresa Rutherford.
A word from Theresa Rutherford, SEIU 1021 Vice President of SF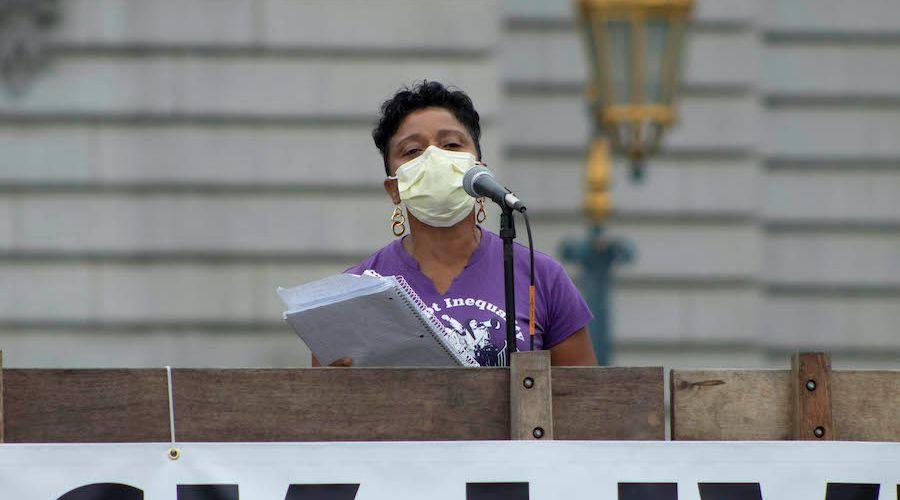 "As we embark on the journey into 2021, let's take some time to honor those workers and family members who have lost their lives and are struggling through this pandemic. Let us also celebrate and lift up the work we do as front line workers.
In spite of the challenges, we have stood together and worked together as union siblings to protect our co-workers and our community. We have successfully fought for PPE, extra sick time, and no cuts to services—and we will continue to fight.
In his speech for MLK Day, Raphael Warnock, Senator Elect and pastor of the Ebenezer Baptist Church, MLK's Church, made this profound statement: "We are as close in our humanity as a cough." As union siblings, we are connected through our, jobs, our union, and our community. Our actions matter.
Let us therefore recommit to work as union members to fight against systemic racism, which is tearing us apart and destroying our communities and our economy. Let us stand up for equity, diversity, and inclusion at our jobs and in our communities. Let us also support one another as we go through this pandemic in our words and our deeds."
DPH workers lead the charge for a fair, transparent, and equitable plan to distribute COVID-19 vaccines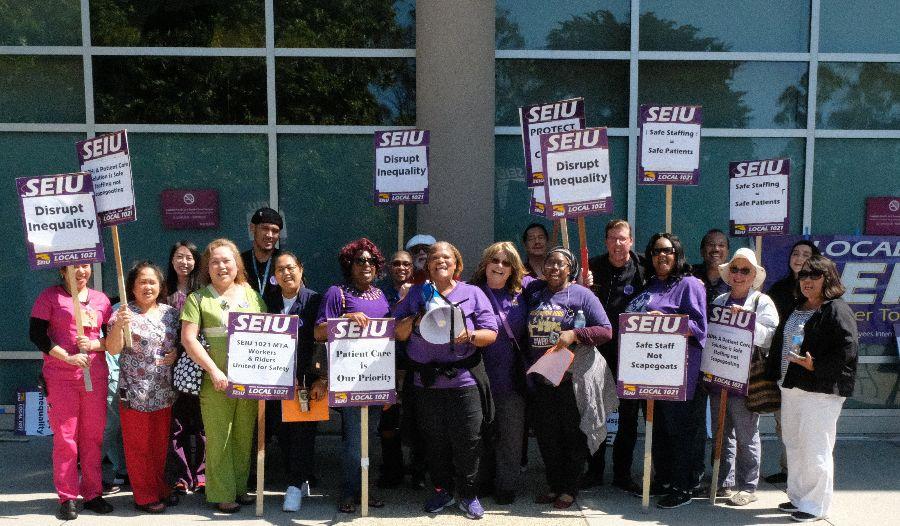 When told vaccinations for frontline workers at Laguna Honda would have to wait until the first two weeks of January 2021, Nebyat Negaci, a 10-year employee at Laguna Honda, was determined to change that.
Last month, frontline workers were told they needed to wait to be vaccinated, despite vaccines being made available to managers not working at the bedside. "I believe if you are ready today then you deserve to take your vaccine today," said Nebyat, who began organizing to ensure the safety of her unit.
Nebyat and her co-workers, many of whom shared the same belief, organized a march to the vaccination site. They demanded to be vaccinated, and received the vaccine that same day.
In December, members also held a press conference on Zoom calling for a transparent, equitable, and evidence-based distribution plan for the COVID-19 vaccine. We were joined by Board of Supervisors members Norman Yee, Ahsha Safai, and Myrna Melgar. Check out this coverage from KTVU.
While she helped lead the organizing effort, Nebyat emphasized that it was a group effort. San Francisco is only able to respond to this pandemic because of the work being done every day by SEIU 1021 members around the city. "It takes the collective of us to keep the city running. It is not this department or that department. It is all of us," Nebyat said.
The same is true of our union—as individuals, there's only so much we can accomplish. When we work together towards common goals, however, there's so much more we can win.
P103 nurses fight for COVID-19 leave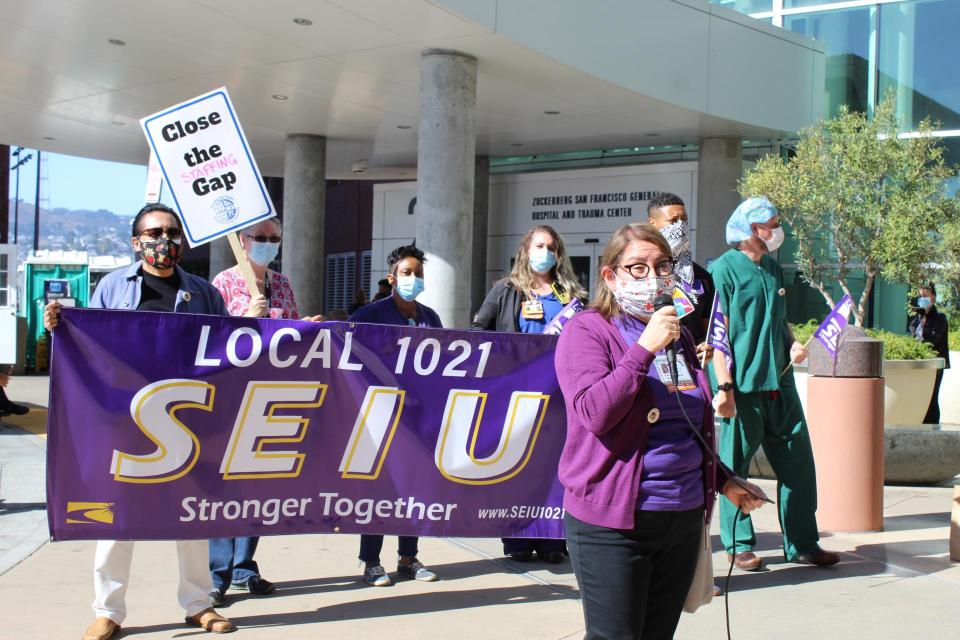 On Tuesday, January 19, Registered Nurses from San Francisco's hospitals, clinics, and beyond spoke out at the Health Commission meeting to condemn the ongoing refusal by the city to provide emergency COVID-19 leave to all of San Francisco's nurses.
When the city rolled out its COVID-19 leave bank last March, they decided that P103 nurses should not have access to that emergency leave. Many P103 nurses often work full-time hours or beyond in in some of the most dangerous work settings, such as the COVID-19 ICU, quarantine hotels, and street testing.
COVID-19 doesn't care whether it's infecting a permanent civil service nurse or a P103 nurse, so why does the City believe that only one type of nurse deserves access to COVID leave if they or a loved one falls ill? If you want to get involved in our fight for COVID-19 leave for per diem nurses, please email Claude.Joseph@seiu1021.org.
Nonprofit workers fight for safety and security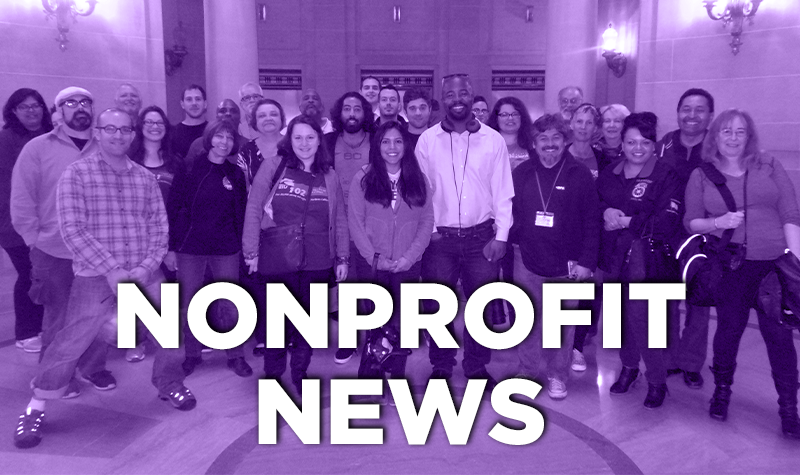 Workers at Larkin Street Youth Services successfully secured funding from the city to bring on 15 new workers who became members of our union. We are now working to extend funding for these jobs beyond the initial year, while also bargaining our next contract.
At Tenderloin Housing Clinic, we successfully pressured the employer to expand access to PPE to keep workers safe, as clients often come in without masks. We also won new thermometer equipment, meaning people entering the offices first have their temperature taken by a machine that gives a reading from a safe distance.
At Progress Foundation, a member went on a leave of absence because her spouse was high-risk for COVID-19 complications. After six months, the employer said they needed to return or have their ongoing absence considered as a resignation. We won a grievance to extend that members' leave for an additional year.
OEWD member wins over $1,000 in back pay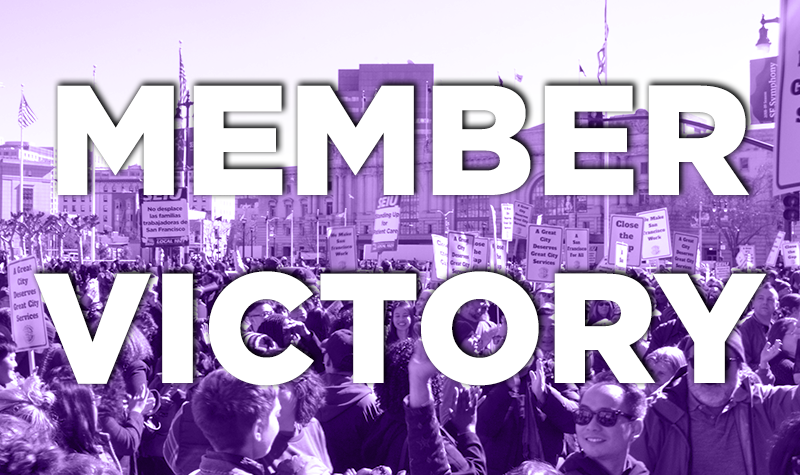 In December 2019, a member working in San Francisco's Office of Economic and Workforce Development filed a grievance over working above their classification without additional pay.
"It was a very scary thing for me to file and I almost didn't do it," said the member, who requested anonymity. Just last month, this member received over $1,000 in compensation they were owed for working out of class. "My claim literally took a year, which is crazy but I'm glad it had a positive ending for me."
Make sure you contact a steward, rep, or the Member Resource Center (1-877-687-1021) if you believe you're in a situation where you're working above your classification without appropriate pay.
Need our help with an EEO claim? Let us know!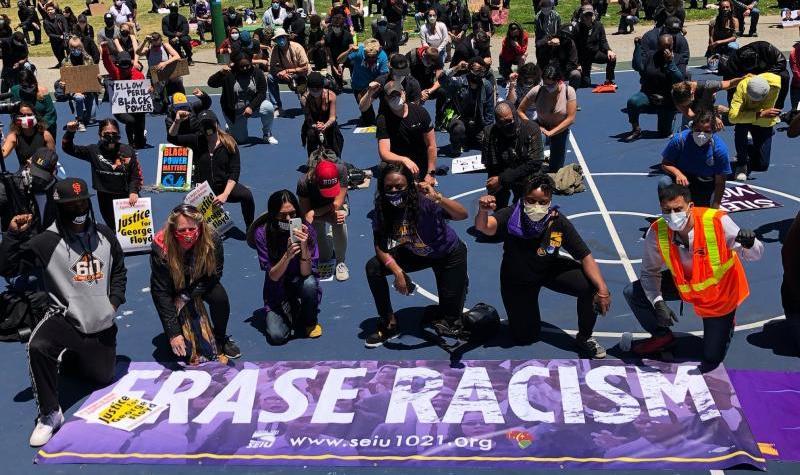 For years, our union has called for an end to harassment and discrimination by management against our city's workers. The work we've done over the years has begun coming to fruition, as evidenced by William Gould, former National Labor Relations Board President being brought in to review San Francisco's EEO practices, as well as the creation of the the city's Equal Employment Opportunity policy.
Although it is our work that, in large part, has led to these developments, our union is not automatically notified of EEO complaints by DHR.
If you would like assistance and support from our union in filing or pursuing an EEO complaint, contact a steward, rep, or the Member Resource Center at 1-877-687-1021.