2021 SEIU 1021 Virtual Member Convention – SAVE THE DATE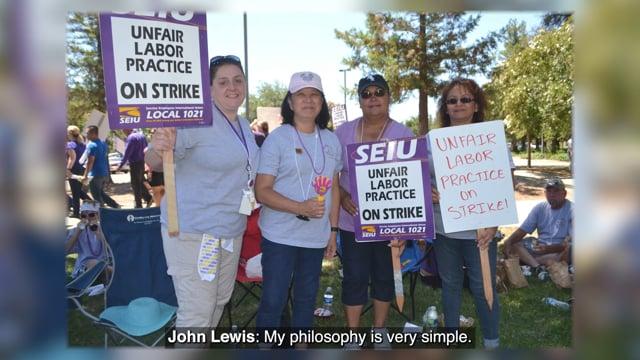 Every three years, the leadership and staff at SEIU 1021 organize a member convention where we gather, build community, and lay the foundation for organizing in the years to come. This year, we're going virtual with the same intention and goal to bring our members and leaders together for a day of celebration, acknowledgment, and organizing around economic, climate, and racial justice.
This year's theme pays homage to the late John Lewis with the bold statement: Organize Good Trouble – Our Voices Are Loud, Our Unity is Fearless, Our time is Now. Save the date for the 2021 SEIU 1021 virtual member convention taking place on Saturday, September 25, 2021.
Invitation details to follow.
Delegate Elections
Starting now, through August 9, 2021, convention delegate elections are taking place for the 2021 SEIU Virtual Member Convention. Delegates play an essential role in the convention by representing their chapter at the convention, communicating convention decisions to chapter members, and providing leadership with enacting the major plans and future projects of the Union which are approved at the convention.
All members in good standing who are available and committed to attending the September 25, 2021, virtual convention are eligible to run and serve as a delegate to the convention. In order to run for and serve as a 1021 Convention Delegate, candidates:
Shall be employed within a bargaining unit represented by the Chapter.
Be members in good standing and membership dues are current as reported by the most recent payment submitted by the employer.
Please note some chapter bylaws may specify that elected chapter officers shall serve as automatic delegates to the Convention (in this case, no election is necessary). For all other eligibility issues, refer to the Delegate Election Committee.
Delegates shall be allocated by Chapter, including Retiree Chapters, and receive an automatic allocation of 2 delegates per 300 members. Beyond 301 members, each chapter will receive 2 additional delegates. For every additional 150 members, each chapter will receive 2 additional delegates.
Example: 1-300 members = 2 delegates, 301-450 members = 4 delegates etc.
DELEGATE ALTERNATES
In cases when a delegate can't participate due to scheduling, illness, etc. Chapters should select alternates even if the delegate election for that Chapter is uncontested or the Chapter does not elect the full number of delegates which it is entitled to.
Here are the rules for selecting alternates:
All Chapters are encouraged to select at least two (2) alternates. Alternates need to be ranked by votes received (e.g. the highest vote total becomes Alternate #1, second highest voted becomes Alternate #2, etc.).
In Chapters with "uncontested ballots" (where there are more or an equal number of delegate slots as there are candidates, thus making an election unnecessary), Chapters are still encouraged to select up to two (2) alternates and designate these as Alternate #1 & #2.
Convention Delegates, who become ineligible or unable to attend, shall notify the 1021 Convention Election Committee in writing no later than August 20, 2021. An Alternate or Alternates will then be credentialed and seated. Delegates who notify the 1021 Convention Election Committee after August 20, 2021, will not be replaced by an alternate.
NEW CHAPTER DELEGATES
Workers who have recently organized with Local 1021, but who have not ratified their first collective bargaining agreement may select honorary delegates. The process for selecting honorary delegates will be as follows: two (2) honorary delegates will be elected at upcoming membership meetings.
The membership convention shall be open to all members. Such attendees may participate in all activities, but shall not be eligible to vote at the convention.