SEIU 1021 Pledges to Fight for Unions for All
Convention Delegates Adopted the Unions for All Plank by 95%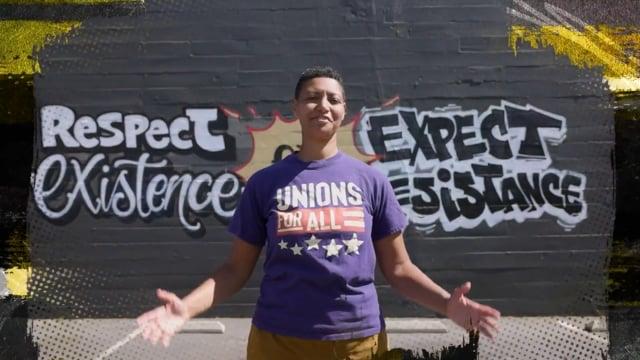 "As a union, we grow, or we die," proclaimed SEIU 1021 Vice President of Organizing Jennifer Esteen in introducing the fourth plank of the 2021 convention platform: unions for all. "Organizing is how we grow. It's the way we bring new members into our union. It also means fighting for justice, fighting for equality, and fighting to build power with unorganized workers."
SEIU International President Mary Kay Henry took the mic to tie the fight for unions for all to the fights SEIU 1021 is also taking on, like racial justice, economic justice, environmental justice, and protecting and expanding voting rights. "We know it's no coincidence that the lowest-paid, least protected, most undervalued jobs are done mostly by women of color and largely by immigrants," she said. "We all know the rules were rigged a long time ago when these women were excluded from the first New Deal under Roosevelt, because some Democrats did not want jobs done by women or the brown people on the farms of California to be covered.
"So, the legacy of slavery of Jim Crow and racist immigration laws have held this firm grasp on our economy and democracy. These workers–two-thirds of whom are Black, brown, API, Indigenous, or immigrant–are the same communities being targeted and excluded from voting. That's why at SEIU, and today at 102,1 we are building a comprehensive movement vision that includes unions for all and voting rights as fueling each other. We can't win one without the other."
Convention delegates voted by 95% to adopt the unions for all plank, including supporting and resourcing efforts to boost standards for all workers, labor partners' campaigns to organize nonunion workers in other jurisdictions, and laws and policies that give fast food and app-based workers union rights, in addition to continuing to organize nonunion community clinics and mental health agencies in partnership with sibling unions across the state.
Read the full unions for all plank below.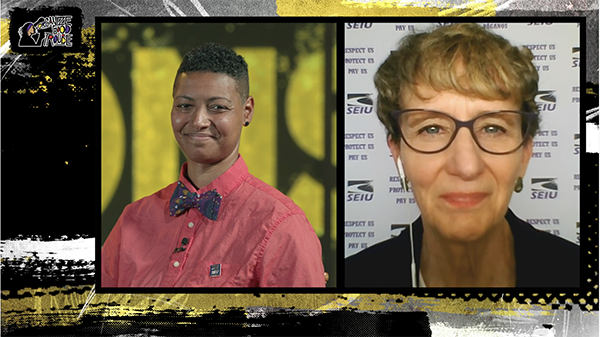 Unions for All
SEIU 1021 is an organizing union committed to creating a path for all workers to join a union, no matter where you work or the industry you're in. Organizing on the job is the best way for workers to raise wages, improve working conditions, create family-sustaining jobs, and begin fixing the rigged economy. It is no mistake that non-union workers earn just 81 cents on the dollar in their paychecks compared to union members. The disparity between workers who have a union and don't have a union is even greater when you count benefits like healthcare and pensions. In order to level the playing field and create a society where everyone has a fair opportunity at a bright future, we must prioritize organizing new workers and growing the labor movement.
COVID-19 has highlighted just how broken our economy is, but it is not the root cause of the injustice and inequality that plagues our society. As union membership has declined and corporate power has grown in recent decades, we've seen the scales increasingly tipped in favor of the few at the expense of the many. Our organizing work must also be connected to our campaigns for racial, immigrant, economic, and climate justice, as well as our political work. By keeping workers divided and pitting us against one another along the lines of race, gender, sexual orientation, national origin, and more, corporations and billionaires have attempted to weaken us and block our efforts to create a more just world.
The 1% have pursued an agenda to reshape our economy over decades, to not only line their own pockets but to also diminish workers' ability to control our own lives. This is why we must grow the labor movement. We need to combat skyrocketing income inequality and put power back into the hands of everyday working people. According to a 2018 study, the amount of income that has been stolen by the 1% has cost American workers $50 trillion over the past several decades. This is unacceptable.
We have to partner with our allies to innovate and develop new ways to gain a seat at the table for working people to bargain over wages, workers' rights, and community benefits.
Since our last convention, SEIU Local 1021 has organized over a thousand members into our union. These members work at community clinics, mental health agencies, higher education institutions, nonprofits, and residual units from our existing chapters, and some are part-time workers. In the Bay Area and across the state, our newly organized community clinic workers have won big by raising their starting pay to eighteen dollars an hour and gaining a contract that brought fundamental changes to their workplaces.
We have engaged more than 6,000 app-based workers in a movement for justice in the gig economy. Gig workers have already won significant victories by requiring employers to provide a baseline amount of protection for their safety by winning personal protective equipment from their employer so they can clean their cars without spending their own money on supplies. And we passed a bill in San Francisco, 11-0, that requires companies to pay drivers for the time spent cleaning their vehicles between passengers and deliveries. As you may know, the Alameda County Court of Appeals struck down Proposition 22 as unlawful.
We are also engaged in new and creative organizing that will give fast-food workers access to union membership. They are organizing in their workplaces to protest wage theft and to improve working conditions. Fast food workers have been striking to raise the minimum wage for all, to protest dangerous working conditions, and to put an end to unfair treatment on the job.
The only long-term solution for working people is a firm commitment and robust investment in expanding union membership. We demand that every worker have a seat at the table when decisions are made by employers—decisions we know impact workers and our families. We need unions for all so that workers can live and work with dignity, respect, fair pay, and benefits. We need a strong, collective voice in our worksites and the halls of government so that we can hold ultra-wealthy billionaires and corporations accountable.
SEIU 1021 is an organizing union. Therefore, be it resolved:
We, SEIU 1021, will ensure that every worker—including part-time and as-needed workers, and especially Black, Indigenous, and People of Color (BIPOC)–is afforded job and retirement security, dignity, and the power of belonging to a union.
We will support organizing efforts to boost standards for all workers—union and non-union alike. We will commit to supporting other labor organizations in organizing campaigns in other jurisdictions, such as the renewable energy sector.
We will organize non-union community health clinics and mental health agencies across Northern California in partnership with our sibling unions across the state to make fundamental changes at their workplace and their communities.
We will increase the right to organize by supporting and promoting laws and policies that promote the rights for fast food and app-based workers to join a union and gain a voice at the bargaining table.
We will continue building collective bargaining power by engaging unorganized workers that work side-by-side with 1021 members into our membership to represent all workers at our workplaces and bring an authentic voice to the table. We will work to curtail contracting out.
We will dedicate resources to unconventional and breakthrough organizing campaigns to stop the erosion of workplace rights and protections through our partnership with workers in the gig economy and similar growing industries.
By building Unions for All, SEIU 1021 will grow and leverage our collective power within the economy to advance our social, racial, economic, and climate justice agendas. We are dedicated to ensuring that all workers, especially low-wage workers whose jobs are at stake in this economy, are lifted up into long-term, family-sustaining, union jobs.