SEIU 1021 Votes to Prioritize and Lead on Racial Justice
Convention Delegates Adopted the Racial Justice Plank by 96%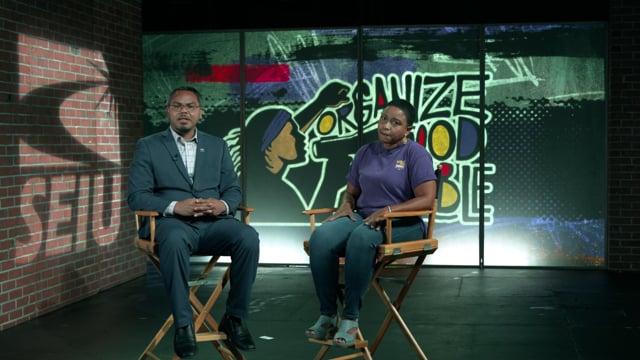 The first guest speaker at the SEIU 1021 Virtual Convention on Saturday, September 25, 2021, was Minnesota Attorney General Keith Ellison, who this spring successfully prosecuted Derek Chauvin, the former police officer who murdered George Floyd last year, setting off months of uprisings for racial justice across not only the U.S. but the world. In addressing the racial justice plank, Ellison emphasized the need to do more than just tinker around the edges of a system built to oppress.
"There are no little reforms here and there; we need transformation," Ellison said. "We need to prosecute crimes whether the criminal has a badge or not. We can't have a situation where some people are above the law. We have to prosecute people who commit crimes in an official capacity." He was also critical of police unions, whose focus goes beyond just pay and benefits to protecting officers with numerous excessive force complaints from being removed and who fight all reform tooth and nail.
Unions like SEIU 1021 have an important role to play in making racial justice a reality, according to Ellison, by organizing and standing in solidarity with any group facing oppression. "The first thing we need to do is organize every sector," he said. "We should not allow any group of workers to not have a right to join a union. When people want to divide workers…race is their #1 tool to try to break us apart. We've got to always be fighting for solidarity. When Filipino workers are being treated badly, the rest of us have got to step up and do something about it. That's what it means to have solidarity, and that's how we're going to make real change and real advances."
By an overwhelming consensus vote by 96%, delegates ratified the racial justice plank, voting to continue to fight for an end to structural racism as part of our work to build an economy that works for everyone. The plank includes commitments to fight against over-policing of Black and brown communities and mass incarceration; to fight to end private, for-profit prisons and immigration detention centers in California; and to fight to create equitable access to education, good jobs, healthcare, and human rights, among others.
Full text of racial justice plank is below.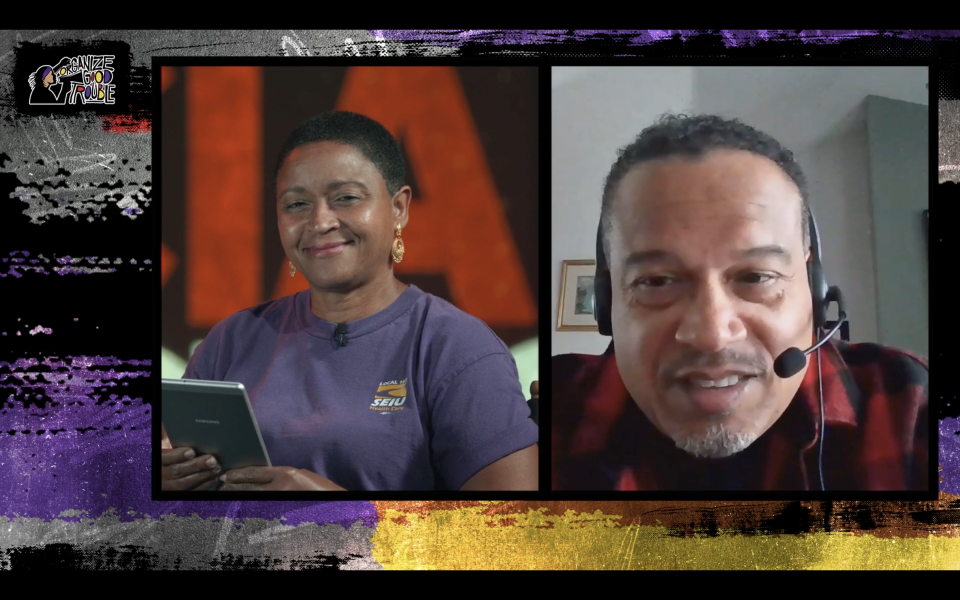 Racial Justice
SEIU 1021 is committed to a vision for a just society where all workers are valued and all people are respected; where all families and communities thrive; and where we leave a better and more equal world for generations to come. Regardless of what we look like or where we come from, we all deserve an equal opportunity to pursue happiness and a good life for ourselves and our loved ones.
This is why we have committed as a union to being an anti-racist organization. We cannot achieve our vision without challenging our country's past. We must confront the harsh realities and the impacts of hundreds of years of enslaving African Americans. We must challenge the villainization and violence inflicted on all people of color, including Black/African Americans, Indigenous Americans, Latinx people, Asian Americans and Pacific Islanders, and people from the Middle East. We must dismantle the racist laws that have restricted people of color from voting, buying homes, and accessing quality education and healthcare. We must fight against workplace policies that perpetuate ableism and ageism, which disproportionately impact Black, Indigenous, and other people of color (BIPOC). We must throw out the policies that allow racism and hate to undermine our democracy by limiting participation in the civic engagement process and undermining voting rights.
To achieve these goals, our union must be united against hate and division that focuses on our differences instead of our commonalities. SEIU 1021 must remain committed to fighting back against self-interested politicians and greedy corporations who try to divide us while they hijack our economy, our democracy, and our government.
Together in our union, people from different places and of different races fight for issues that matter to our families. Our experience teaches us that "divide and conquer" strategies are often used to keep working people from coming together to build a better future for all families, and race has historically been one of the most powerful ways to pit working people against one another. We will promote solidarity across borders by supporting the struggles of workers in other countries for dignity, human rights, a living wage, and freedom from violence and oppression. We also offer our full support for refugees and asylum seekers who are escaping economic misery and environmental catastrophe. We will fight for the right of all workers to have access to decent wages, safe working conditions, and the right to join a union without retaliation.
It is in the interest of all of us to dismantle structural racism. We must commit to building a better world where racial and economic equity prevail and where everyone can participate, prosper, and reach their full potential.
Therefore, be it resolved
We, SEIU 1021, will continue to fight for an end to structural racism as part of our work to build an economy that works for everyone. This includes supporting workers and communities joining together to raise wages and improve workplace standards, fix our broken immigration system, advance women's rights, secure LGBTQ+ equality, and ensure that every community has clean air and water.
We will fight to end the unjust over-policing of communities of color and reform the racist criminal justice system as a whole. We will fight to end police brutality and mass incarceration. We will advocate and fight for policies that ban private, for-profit prisons and immigration detention facilities in California.
We will work to break the barriers which limit access to good education and good jobs.
We will combat the wealth and income disparities that exist today as a result of historical and ongoing oppression.
We will stand up to win healthcare and human rights for all, no matter one's race, color, or creed.
We will support the fight for reparations for Black, Indigenous, and other people of color (BIPOC), including education, housing, jobs, and land.
We will fight to end the injustice in our education system that burdens our communities with debt, drains our public schools of resources, limits our children's economic advancement, and perpetuates racial and economic inequality.
How will we achieve these goals?
We will use our strength in numbers, political power, community alliances, and organizational capital to dismantle the systems and structures that continue to oppress our brothers, sisters, and siblings of color.
We will fight for legislation, policies, and other reforms on the local, state, and federal levels to address:
Wealth and income disparities
Healthcare access
Employment opportunities
Criminal justice and police reform
Access to housing and equal education.
We will continue to educate and empower our membership to fight the structures of racism which hinder our society, in the pursuit of justice for all.