SEIU 1021 welcomes Oakland's next mayor, Sheng Thao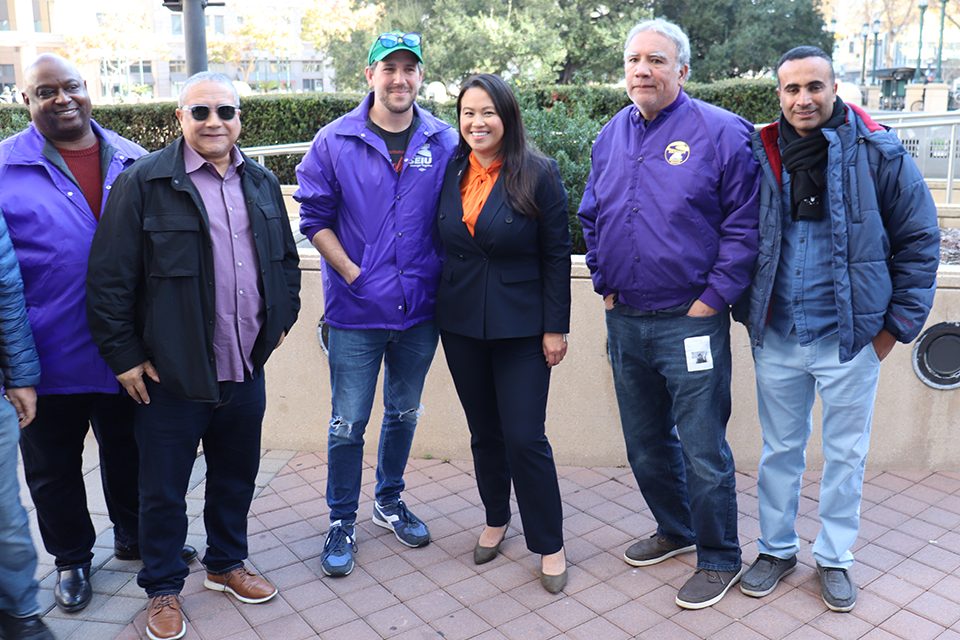 Wednesday, November 23, SEIU 1021 joined many Oakland residents at City Hall to welcome Sheng Thao as Oakland's next mayor. Thao is a longtime friend of working people, having served on Oakland City Council for District 4 since 2018 and as City Councilmember Rebecca Kaplan's chief of staff before that. Her victory came in no small part because of the support of working people united in SEIU 1021, who tirelessly knocked on doors and made phone calls to get the word out in support of her campaign.
At Mayor-elect Thao's press conference, she said she would "roll out a comprehensive public safety plan on day one of her term — one that involves doubling down on violence prevention programs" and "pledged to develop an 'aggressive housing policy that protects renters, fights displacement, and treats our unhoused with the dignity they deserve.'" These priorities will help working people throughout Oakland receive the services they need and will require the City to work to solve the understaffing crisis that has long plagued the City as an employer.
Heavy equipment mechanic Felipe Cuevas serves as the City of Oakland chapter president. He's known Thao for years and said about her election, "Sheng Thao is a former city staffer herself, and I think that has always helped her understand the issues city workers face. She understands firsthand what it's like when poor staffing levels make our working conditions sometimes flat-out horrible, whether it's for our emergency dispatchers, our inspectors, or anyone out there in the field, whether they're picking up trash, filling potholes, or working in our parks. She's always sought our input in the past, and she's been a leader on City Council. That's why, as city workers, we're hopeful we will see Sheng Thao bring that collaborative approach into the mayor's office. Fixing Oakland's issues is going to take all of us together, and a fully staffed City, and that starts now. We're ready to do our part, and we hope we see that spirit from the Mayor's office as we get staffed up, including giving our dedicated part-time workers first crack at the unfilled entry-level positions that could be helping provide core services to Oaklanders right now."
Cuevas finished with, "As she said on Wednesday, 'It's time to get to work.'"