Workers rally to staff up Alameda County!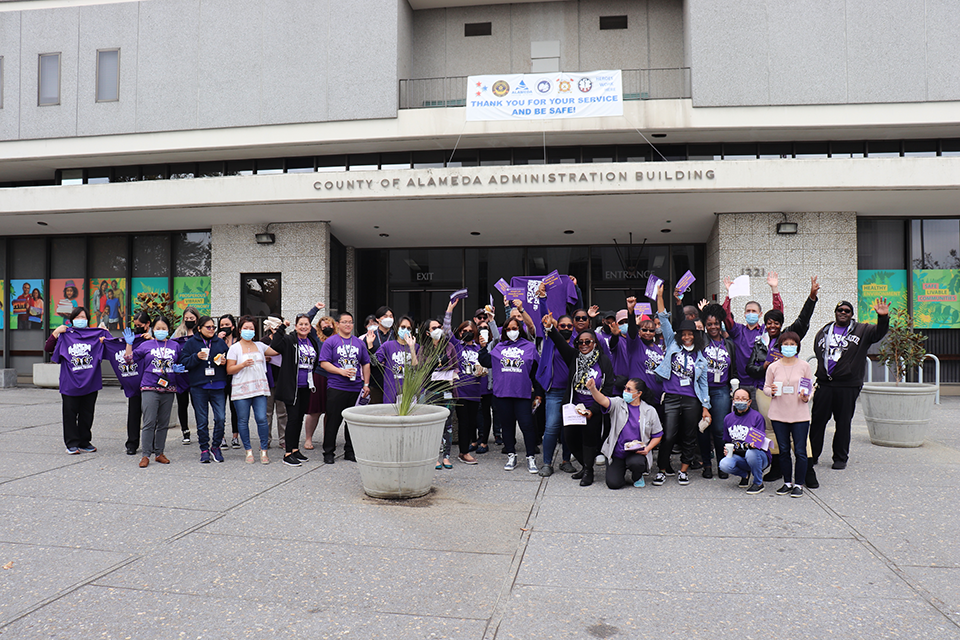 Across Alameda County on Friday, 10/21, SEIU 1021 workers took a unity break at 10:21 a.m. to show their solidarity. One of their issues is a staffing crisis that has more than 2,300 county positions unfilled according to the county's own numbers. As the need for Medi-Cal, CalWORKS, CalFresh, and other services skyrockets and Alameda County's headcount dwindles, SEIU 1021 workers are united in telling the County Board of Supervisors: "It's time to staff up Alameda County!"
The workers have been negotiating their contract for months, passing more than 20 proposals to address the staffing crisis that prevents County residents from getting the services they so badly need and deserve, while improving wages, benefits, and working conditions, including safety. The County has so far barely responded to any of these proposals, instead focusing on increasing employee contributions to medical insurance costs and trying to impose a hard cap on vacation time. At the unity break, County workers came together to share coffee, donuts, and solidarity.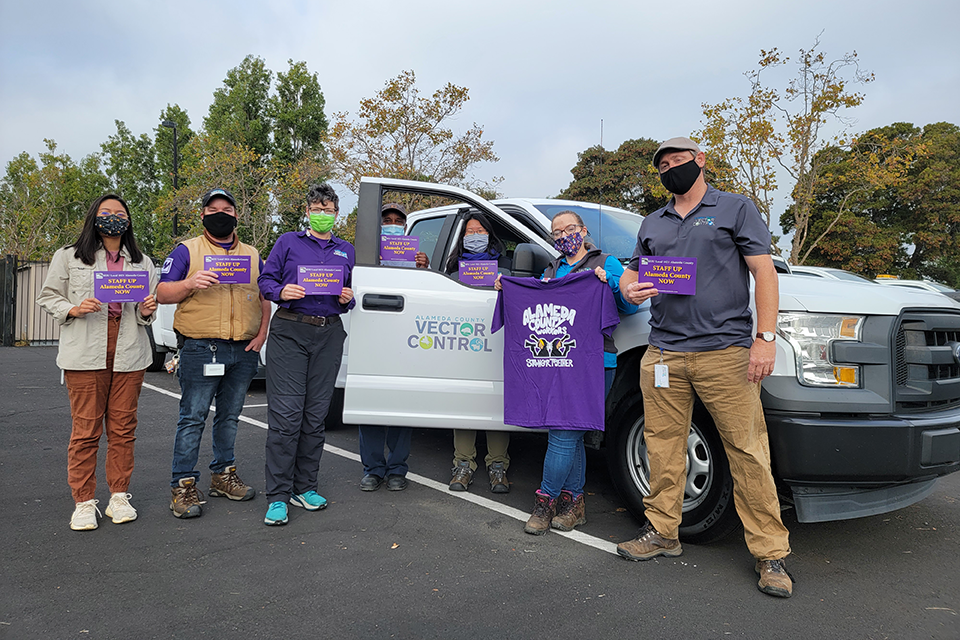 Judy Martinez is a Civil Legal Secretary for the Office of the County Council, County of Alameda. She's worked there for 18 years. She currently serves as the Vice President of the Alameda County General Chapter of SEIU 1021, as a COPE delegate, as a shop steward, and as the co-chair of the Latino Caucus. She came from her office to the unity break at 1221 Oak St., in Oakland, and said, "It turned out well! It was good to see people come out to show their support. It wasn't just our co-workers and other SEIU 1021 members, either. I saw a few of the higher-ups come out and acknowledge us and smile at us, and some of the other people in the building. It made me realize that we can build support throughout our workplace."
"The unity break reminded me that we're stronger in numbers. Our presence, our visible presence, is very important. When we come together like that, the bosses see us and hear us. We'll be holding a rally at 1221 Oak St. next Tuesday, November 1, to call for a fair contract for Alameda County workers and a staffed up County that can deliver services to all our residents. I hope all my Alameda County co-workers, siblings in the union, and community members can come out and show how important this is."
To RSVP for the 11/1 rally, click here.
For more photos, check out our Facebook and Instagram posts from the big day!