Hundreds of Alameda County workers and community members picket to say "STAFF UP NOW!"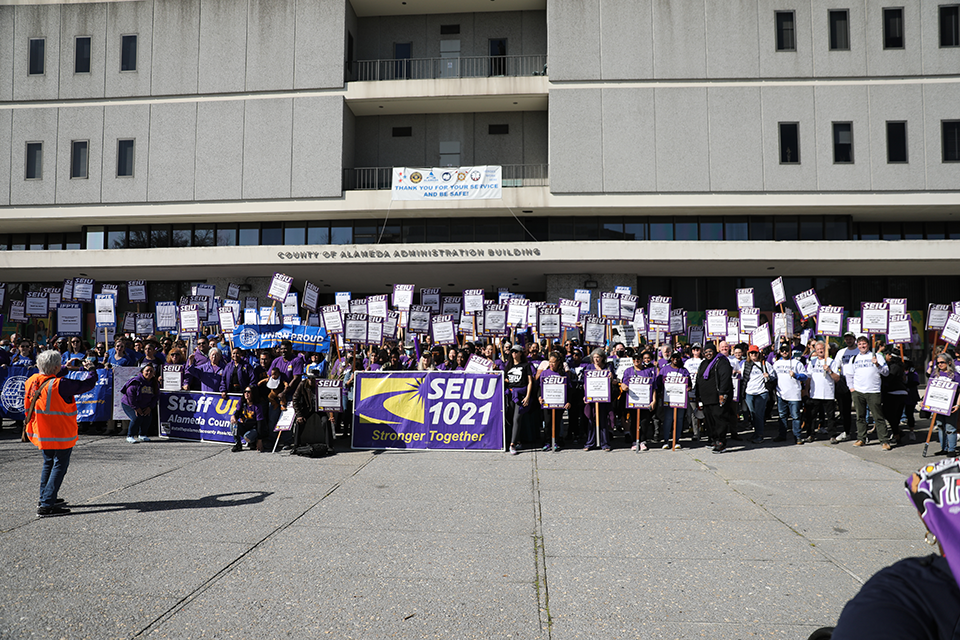 On Monday, February 13, hundreds of Alameda County workers and community members rallied at Lake Merritt Amphitheater to protest the county's nearly 25% vacancy rate, with 2,611 unfilled positions.
The rally started with a moment of silence for Richard Valle, a longtime champion of labor and progressive causes across the East Bay, who recently passed away. The workers planted flags to represent the 2,611 vacancies, and marched to 1221 Oak St. to deliver a letter demanding the Board of Supervisors solve the staffing crisis.
William Wells, an SEIU 1021 member who works for Alameda County as an eligibility tech providing financial services and food benefits to underserved communities across the county, said, "Recruitment and retention are the issue at hand. Staffing up is essential! We need to let Alameda County know that we provide essential services to an underserved community. All of us are essential employees, and we are vital to the running of this city, this county, and this state."
Kim Blakiston, a public health nurse, said, "When I first started with Alameda County, I started at juvenile hall, in a collaboration called the Transition Center. My role was to support the youth transitioning from custody to being back out in the community, providing health support, health connections, and health education. I touched about 700 youth and their caregivers annually, which had a huge impact on them. I left that position in 2020, and since then, it hasn't been filled. So if you do the math, you can see that the impact there is potentially 2,100 youth and their families not having any immediate health support. We really want Alameda County to staff up so we can support our community! Give the community members what they need!"
SEIU 1021 President Theresa Rutherford closed the rally: "The 2,611 vacancies there represent services that are not being delivered. It also means that all those workers who are covering for those vacancies are sacrificing their own families to do the work! We know that all of us during the pandemic were here and kept the community safe and made sure that lives were saved. It's about community, and it's about lives, and it's about making sure that our communities thrive and our society succeeds. But it won't happen if we don't have workers in place. We need staffing, we need retention, and we need workers to be treated with respect. No community survives without us!"
Other speakers at the rally included:
Edward Vieira-Ducey, president of Alameda County Prosecutors Association, affiliated with Teamsters Local 856;
Jane Brown, president of Local 21 Alameda County Public Defenders Chapter;
Ian Wilson, Alameda County surveyor and Local 21 member;
William Wells, Alameda County eligibility technician and SEIU 1021 member;
Kim Blakiston, Alameda County public health nurse and SEIU 1021 member;
Clarissa Doutherd, Parent Voices;
Keith Brown, president of Oakland Education Association and assistant executive secretary-treasurer of Alameda Labor Council;
Christine Miyashiro, policy director for City of Oakland;
Councilmember Rebecca Kaplan's office.
Check out the whole rally here.
Jane Brown said, "Alameda County employees do the most with the least and continue to serve our most vulnerable. Alameda County employees are undisputedly a cut above the rest. It's time for Alameda County to recognize this and fight for its employees the way we fight for the communities we serve!"
"Each vacancy represents a vital service not being provided to the people of Alameda County," said Edward Vieira-Ducey, president of the Alameda County Prosecutors Association. "And with a staggering 2,611 vacancies, it is clear that the county is failing the very people it is meant to serve. In our unit, we have over 18% unfilled positions. That is 18% less staff to fight for victims and their families. It's time to invest in our county services and the workers who provide them."
After marching to 1221 Oak Street, the Alameda County administration building, the picketers delivered a letter telling the Board of Supervisors: "Enough is enough. The Board of Supervisors must solve this problem. It's time to staff up Alameda County!"