North Coast News – April 2021
Check out what SEIU 1021 members are working on from Marin to Del Norte County!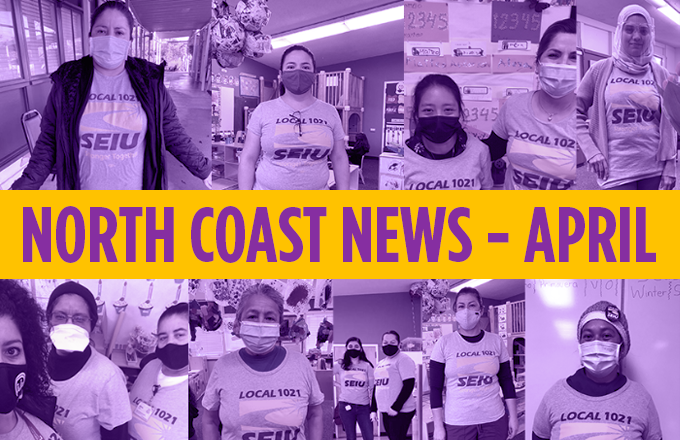 Welcome to the inaugural issue of our new North Coast Newsletter! Each month, we'll be collecting stories on the exciting and important work being done by SEIU 1021 members from Marin to Del Norte County and everywhere in between. In next month's issue, we'll be unveiling our brand new North Coast logo, which we're excited to share with everyone in the region, too!
We'll be sending out the newsletter around the middle of each month, so keep an eye on your inbox. We'll also be posting those stories and other updates here at seiu1021.org/NorthCoast each month so you can bookmark that page to stay up to date, as well.
Keep reading to see what's new up and down California's North Coast this month for SEIU 1021 members.
Meet our newest member leaders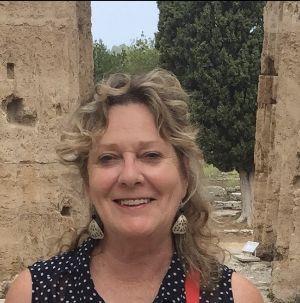 Julie Beardsley
Mendocino County Chapter President
Public Health Sr. Public Health Analyst
Mendocino County
Active 5 years
"I'm really passionate about how unions stand together. In the past 4 years, we saw a huge erosion in the ability of unions to get out there and unionize people. There's been a lot of misinformation and nonsense out there. I felt it was imperative to get out there and to work to get people together and to make working conditions safer, healthier, and better for everyone."
Read more of Julie's interview here.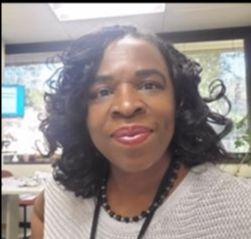 Troyle Tognoli
Mendocino County Vice President
Rehabilitation Specialist
Mendocino County
Active 15 years
"I find leadership to be a privilege. I believe that privilege comes with a certain amount of integrity and compassion. I believe that if you don't have integrity and compassion then you should not have the privilege of being leadership. It's a huge commitment that we have undertaken and we are all aware of it."
Read more of Troyle's interview here.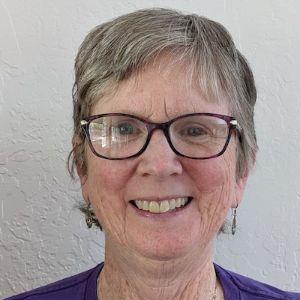 Lois O'Rourke
Mendocino Community College Chapter President
Computer Support Technician
Mendocino Community College
Active 20 years
"One of the reasons I ran for office was because I have always been what you would call a "union person." Even before joining SEIU 1021, I supported unions, even though I wasn't a union member. We need to fight for workers' rights and this is my small part that I can do here. I can help my group at the Mendocino Community College Chapter and fight for their rights. No matter how small or how big. Everybody has their little bit that they can do to make life in general better."
Read more of Lois's interview here.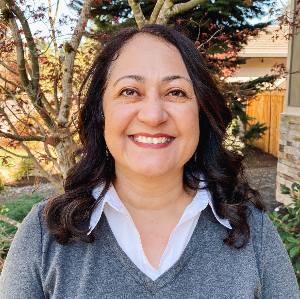 Nancy Gutierrez Heth
Mendocino Community College Chapter Vice President
EOPS Care Specialist
Mendocino Community College
Active 22 years
"I think about my students when I think about why unions are important. I tell students, I don't think anyone looks out for us as well as we do. We encourage students to speak up and be proactive because no one is going to be as passionate about the things that concern us as we will be. That is why a member-led union is so much better. We're going to be passionate about what we promote or negotiate."
Read more of Nancy's interview here.
Members purple up, fight back, and win a strong new agreement at Community Action Marin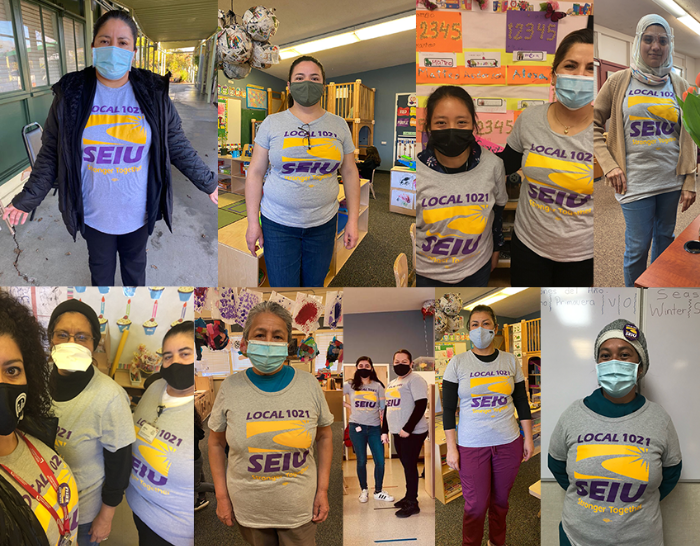 In November of last year, SEIU 1021 members at Community Action Marin sat down at the bargaining table to begin negotiations with management.
"We were worried about going into negotiations last year because of the impacts COVID has had on our workplace—it was very stressful. Our community really depends on us but we didn't know what was going to happen because of the pandemic. We did know how important it would be for us all to show our unity, though. During the course of negotiations, we wore our SEIU shirts and buttons to show our unity—I even wore a purple hijab to bargaining," said Najma Azam, an Associate Teacher at Community Action Marin and member of the SEIU 1021 bargaining team. "I used to be a person who was shy, quiet, and wouldn't usually speak up. Through all of this, I learned how important it is to stand up for your rights. We did the best that we could and I'm really proud of the whole team."
COVID had already presented new challenges in workplaces around Northern California, but our members were ready to fight for the agreement they deserve. In addition to wearing union stickers and shirts, workers also circulated petitions to support our bargaining team and fight back when management tried to pull our members working as site supervisors out of the bargaining unit. They made sure to keep everyone in the loop by holding general membership meetings almost weekly and also used management's own "town hall" meetings to speak up about their issues and send the message that they weren't going to back down.
On March 17, our team reached a tentative agreement with management, which was then ratified unanimously by members a week later. Highlights include a $15/hour minimum wage, a 4% cost of living adjustment (COLA) at ratification, 3% annual wage increases over the next three years, an increase in healthcare coverage, and protection from furlough.
From union card to vaccine card: members secure vaccination appointments thanks to SEIU 1021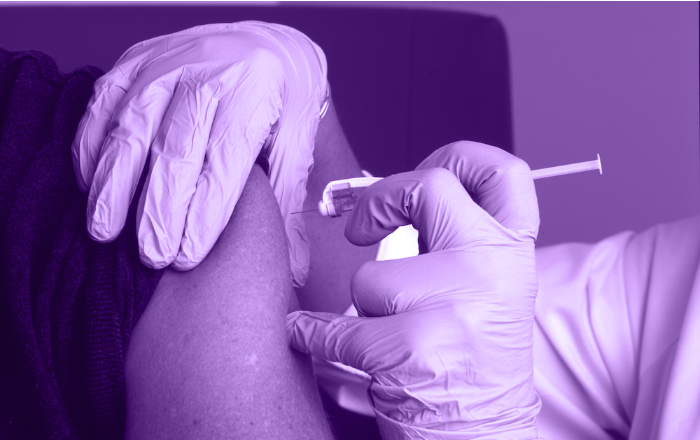 Since the beginning of the pandemic, SEIU 1021 members and member leaders have been leading the charge and advocating for standards and protections that frontline essential workers deserve as they keep our communities running. As a public-sector union, our members are some of the hardest-hit workers in the country; when announcements of vaccination availability began to come down the pipeline, members went to work monitoring and sharing information as far and wide as possible.
"Through our work with the North Bay Labor Council, we were able to secure doses of the COVID-19 vaccine for SEIU 1021 members at two vaccine clinics in Sebastopol. As soon as we got the word, we immediately jumped into action and started to text members to let them know that we had slots available. It's important to me that our union lookout for the health and well-being of our members at our jobs but in our communities, too. I'm so glad we were able to help folks get access to the vaccine," said Mary Sandberg, SEIU 1021 Vice President of the North Coast region.
Debra Riedmuller, a Coordinator of Student Academic Records and Admissions in Records at Santa Rosa Junior College and Member Coordinator on the Classified Executive Council for the Santa Rosa Junior College Chapter, was waiting to get vaccinated when she received an email from her SEIU 1021 Field Rep sharing information about a North Bay Labor Council vaccination clinic at Analy High School in Sebastopol.
"I would have continued waiting for a vaccine because I wouldn't have known," said Riedmuller. "I would not have known to go and get my vaccine if it weren't for SEIU 1021 sharing the information on the vaccine clinic that weekend. I can't say enough good things about our union. Everyone works tirelessly to protect our jobs, our hours, and our safety, including making sure we are not going back to work until we have COVID policies and procedures in place. The strength and resources we have when we're united make all the difference."
The ongoing vaccination efforts of SEIU 1021 and the experience of members like Debra speaks volumes to the power of members working together to accomplish goals that align with the greater good of our union members and our communities.
City of San Rafael member Julie Poirier shares how Marin County members plan to level up their approach to bargaining by coordinating strategies across different workplaces and employers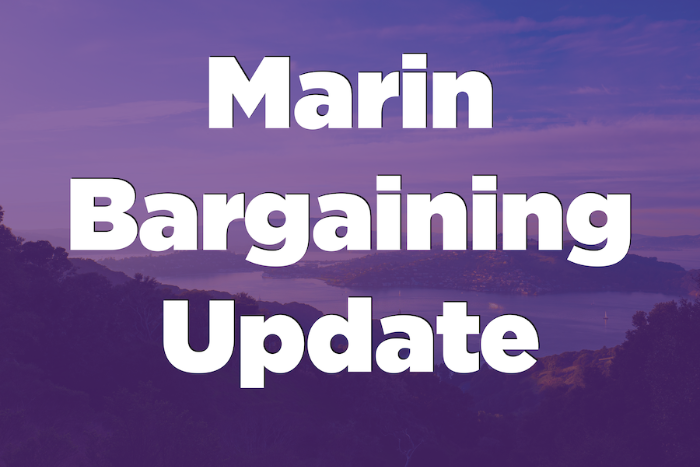 "When SEIU 1021 members around Marin County realized how many of our contracts were set to expire this year, it was clear that we needed a plan to coordinate. That's why on March 25, SEIU Chapter leadership across Marin met to network, talk strategies for bargaining, and gain insight into what our different issues and concerns look like.
Union stewards from Marin County, City of San Rafael, City of Sausalito, City of Novato, and other Marin SEIU 1021 chapters were in attendance. We know that city and county administrators talk amongst each other; so, too, should SEIU stewards and leadership communicate and keep each other informed.
Our vision is to use this network to increase our bargaining awareness, borrow shared language in contracts, and seek advice from other stewards. Our next meeting is scheduled for April 22, and attendees are looking forward to growing the connections between our chapters.
The networking aspect of this event may be one of the longest lasting, but a refresher on member engagement (before, during, and after bargaining,) along with strategies for negotiations, and Covid concerns, were all topics of conversation as well.
On a more personal note, it was great to make connections with other stewards who may be going through the same thing we are, or who have been through challenges and can offer advice, support, or provide space to vent. I was able to connect with a chapter leader from Marin County Courts named Ellen, and we exchanged personal contact information and continued our chat from March 25 into the following week. It was validating in so many ways to talk to her one-on-one, and I'm looking forward to more opportunities to build the collective power of SEIU 1021 members across Marin County."
To get involved or attend our next meeting on April 22, please email 1021 Labor Rep Joel Evans-Fudem.
Localwide Treasurer Amos Eaton elected to Sonoma County Employees' Retirement Association Board, adding a third SEIU 1021 member to SCERA's leadership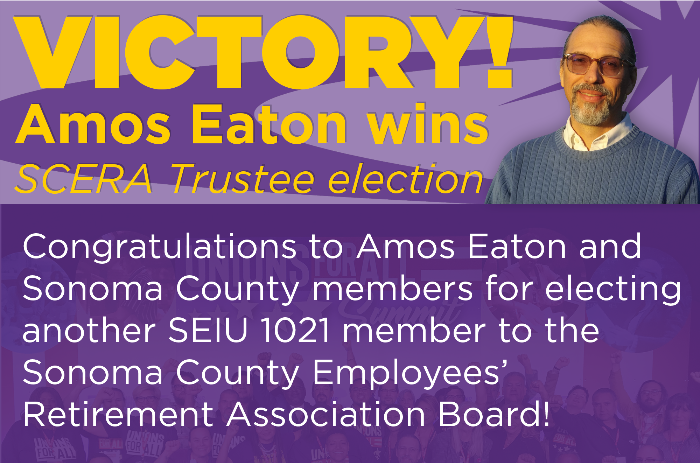 Congratulations to Sonoma County members, including our localwide Treasurer Amos Eaton who handily won his campaign for election to the Sonoma County Employees' Retirement Association (SCERA) Board last week!
The SCERA Board of Retirement is a nine-member Board, plus one alternate retired member, which oversees and manages investments for the County's pension fund. Four of the trustees are appointed by the Sonoma County Board of Supervisors, five are elected by SCERA's membership, and the County Treasurer is elected by the general public. Members in Sonoma County have now successfully elected three of our own members, as Amos will join Tim Tuscany and Travis Balzarini on the SCERA Board.
"This is really a victory for all of the workers contributing to the pension fund. SCERA Trustees are responsible for the stewardship of our retirement security. It's a tremendous responsibility and a role we need to fill with people who are going to speak up for the needs of current and future retirees. I'm proud to join Tim and Travis on the SCERA Retirement Board so we can continue the fight to grow our pension fund in socially conscious and responsible ways which benefit everyone. I'm committed to safeguarding our retirement security and amplifying the voice of County workers and retirees—not County management—in SCERA decision-making," said Amos.
Electing union members to our retirement boards should be a priority for Chapters everywhere. It gives us an opportunity to add proven leaders who will:
Fight to protect our hard-earned benefits and make sure they're there for us in retirement;
Oppose cuts to public employee pensions and work to create a Cost of Living Adjustment (COLA) to put more money into the pockets of retirees;
Invest our pension funds in ways that will generate strong financial returns and be mindful of positive social and environmental impacts.
As housing costs continue to rise, Mendocino County members come together to find solutions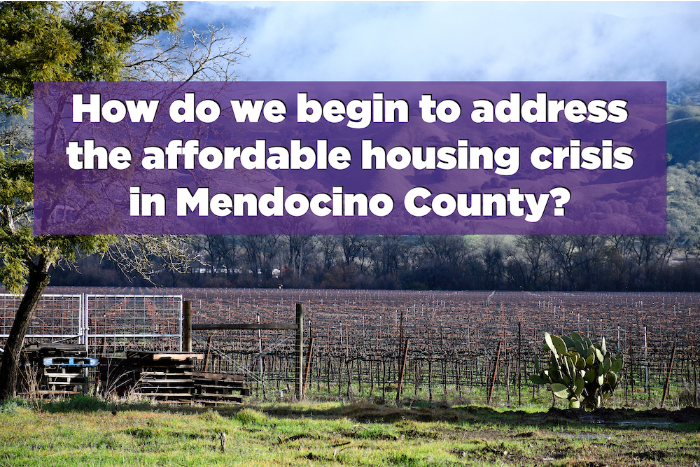 California's affordable housing crisis is a complex problem, and one that touches us all—residents, employers, businesses, and beyond. Recent wildfires haven't helped, as our housing stock has been further depleted by natural disasters. Many of our north coast communities are feeling the effects of this crisis, including our members in Mendocino County who recently decided to get together and look for solutions.
The Housing Options Committee is a newly formed group of members in Mendocino County who are researching, brainstorming, and planning next steps to address the growing housing crisis in our community.
"Historically, finding affordable housing has been a huge problem for workers in our county—particularly for people on the coast. So many homes have been turned into short-term rentals, AirBnBs, or investment properties," said Julie Beardsley, a Senior Public Health Analyst and Mendocino County Chapter President. "When there's no new housing stock, it drives up the existing prices and pushes County employees out or makes it impossible for us to be able to buy a house. If there's no place to live, there's also no way for our economy to grow or for employers to fill vacancies. At the same time, you have some communities saying they can't support new construction because their sewage system couldn't handle the additional volume. It's certainly a multifaceted problem."
Our union is committed to improving the lives of our members both at work and in our communities—a big part of that ensuring our members can afford to live near where we work. Historically, good union jobs built a pathway into the middle-class for working people; as income inequality continues to explode around Northern California and the United States, we must look for solutions that address both its causes and effects. That's why work being done by members in groups like the Housing Options Committee are so important. Additionally, because many of us are civil servants working for our cities and counties, we have the experience, knowledge, and relationships needed to propose effective solutions.
"In different areas, there are different causational factors so identifying why affordable housing is a problem in certain areas like the coast or inland communities is step one. Figuring out what we can do to increase housing stock and work with municipalities to find solutions comes next," said Julie. "The thing about Mendocino County is that people really care about each other and we care about our community. If we have a problem, we get together and work on finding a solution and that's what this committee is all about. Right now, we're having monthly meetings so if you want to get involved and participate, joining one of those meetings is the first step."
If you're interested in getting involved with the Housing Options Committee, please email Patrick.Hickey@seiu1021.org.