2021 Elections
In 2021, SEIU 1021 members and our families will be faced with some important choices, from the Governor's mansion to the Board of Administration of the nation's largest pension fund, CalPERS. In both of these elections, we can make the choice to protect our futures and invest in our communities, but we have to get out and vote, then talk to our friends and neighbors about doing the same.
In the coming months, there are two extremely important races for members to watch; we must defeat the anti-union recall of Governor Gavin Newsom and we must elect pro-worker candidates Jose Luis Pacheco and David Miller to the CalPERS Board of Administration.
Can you sign up and help us beat back the anti-union recall of Gov. Newsom being funded by right-wing billionaires?

Click below to learn more about these races.
Vote NO on the Recall of Gov. Newsom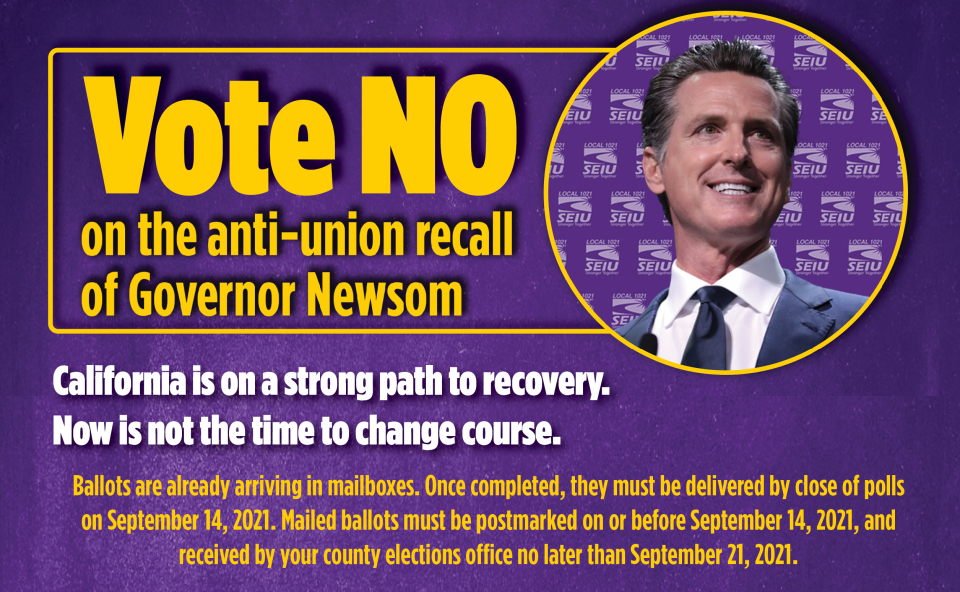 Gov. Newsom has opened his door to union members and has worked to support us, our services, and our communities—but now, the same right-wing extremists who stormed the Capitol on January 6th have set their sights on California with a recall that will cost taxpayers more than $275 million.
SEIU members have endorsed a NO vote on this wasteful, divisive recall. Ballots are already arriving in mailboxes, so make sure you vote NO on this anti-union recall and return your ballot as soon as possible. We are recommending you do not fill out a selection for his replacement.
Without a worker-friendly governor in office, our jobs would be in jeopardy, and our communities would be left with less of the support they need. Too many of our friends, co-workers, and family members aren't taking this recall election seriously. You can help stand up for good, union jobs and services for our communities no matter where you live or work. Review all the ways to get involved and sign up to help by clicking here.
We've all have been working hard throughout this pandemic and Governor Newsom has been a great partner to us. Together, we have won some really important victories under Governor Newsom:
Guaranteed paid sick leave for every worker during the pandemic,
Expanded access to child care and rate increases for child care providers,
Prevented millions of evictions with a $5.2 billion rent relief program,
Provided PPE for our healthcare workers,
Fought for school funding and signed into law the largest increase in California history.
This recall puts all of that is at risk. It is a wasteful attempt by right-wing, anti-union groups to grab power and its costing California taxpayers $276 million dollars. This partisan and divisive recall is a distraction from the work ahead of us and a direct attack on all the progress we have made.
We need your help. Sign up and help us stop the anti-union takeover of our state by joining our voter outreach efforts.
Elect Pacheco & Miller to the CalPERS Board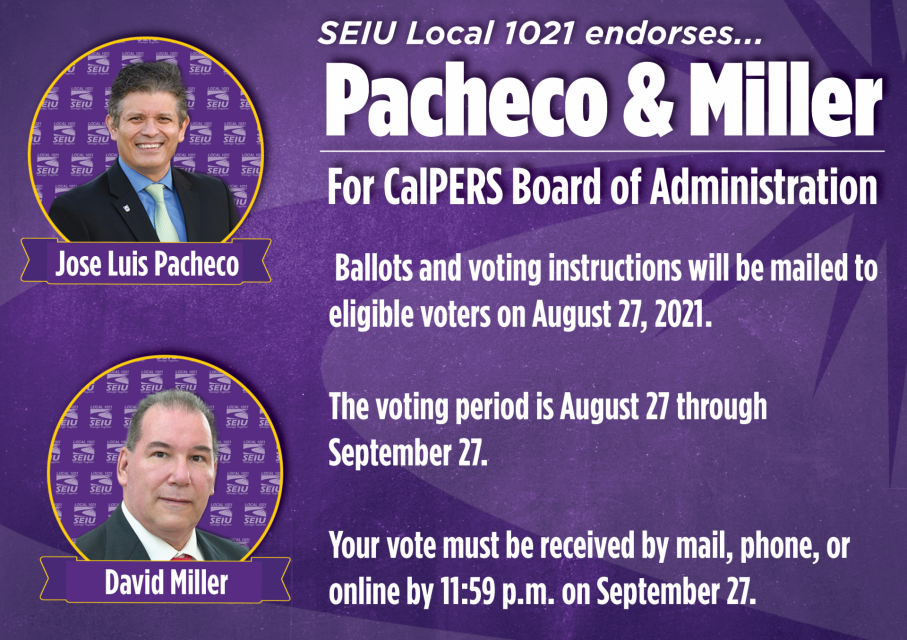 The race for the California Public Employees' Retirement System (CalPERS) Board of Administration is on. SEIU members are supporting Jose Luis Pacheco and David Miller for CalPERS because we know the importance of electing administrators who will protect our retirement security.
"We need CalPERS Board members protecting union interests and reflecting our values. We need to elect Board members who represent the needs and interests of working-class Californians, not Wall Street and management," said Cynthia Landry, Chair of the SEIU 1021 Retirement Security Committee.
"Having Jose Luis Pacheco and David Miller on the CalPERS Board of Administration will mean that our voices are heard, our pensions are protected, and we have a seat at the table," said Pete Albert, Chair of the SEIU 1021 Retiree Council.
Read more from Cynthia and Pete, along with interviews with both candidacies and the perspectives they bring to the CalPERS board, below: