Caring about CalPERS: An interview with SEIU Local 1021 Retiree Council Chair Peter Albert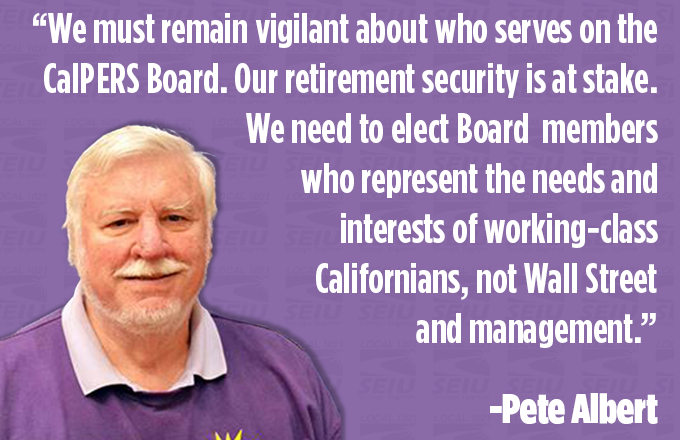 Managing pension and health benefits for more than 1.6 million California public employees, retirees, and their families, the California Public Employees' Retirement System (CalPERS) is the largest public pension fund in the United States. At the top of the CalPERS executive branch agency is the Board of Administration.
The thirteen-member statewide governing Board is elected, appointed, or holds office ex officio for four-year terms. This year, eligible active and retired CalPERS members have an opportunity to elect two representatives for the CalPERS Board of Administration. The terms of incumbents David Miller and Margaret Brown expires on January 15, 2022. The new terms of office begin January 16, 2022, and runs through January 15, 2026.
Peter Albert, the chair of the SEIU Local 1021 Retiree Council and president of the SEIU Local 1021 Alameda County Retired Employees Retiree Chapter, speaks about the importance of CalPERS' connection to health care, the upcoming Board election, and why all Californians should pay attention to the agency:
"The CalPERS Board seeks to control its healthcare costs and improve the quality of healthcare in CA by exerting the market power of its members. In one case, the CalPERS Board determined through research that the cost of knee replacements varied dramatically in CA from $15,000 to $100,000 and that a higher cost of surgery did not correlate with quality. So the CalPERS Board set a standard reimbursement rate of $30,000 and established a list of providers who would accept this reimbursement rate. This resulted in bringing down the cost of knee replacements for all patients because other medical providers sought to be on the list and thus reduced their cost for knee replacements. Additionally, health outcomes actually improved for all knee replacement surgeries.
Although there are many active and retired CalPERS members who are eligible to vote for the Board members, actual voting numbers have been historically very low. An effort by SEIU Local 1021 to increase voter turnout can have an impact. As in other elections, every vote counts.
It's vital to elect fellow working-class union members to the CalPERS Board of Administration to ensure the agency hears our voice, represents our interests, and we have a seat at the table. We need pro-employee and pro-retiree board members committed to defending hard-earned pension plans against right-wing ideological attacks. We must remain vigilant about who serves on the CalPERS Board. Our retirement security is at stake. We need CalPERS Board members protecting union interests and reflecting our values. We need to elect Board members who represent the needs and interests of working-class Californians, not Wall Street and management."
From CalPERS: "A ballot package with instructions on how to vote will be mailed to eligible voters on August 27, 2021. Ensure your mailing address is current so you receive your ballot. The voting period is August 27 through September 27. Your vote must be received by mail, telephone, or online by 11:59 p.m. PST on September 27, or it won't be counted."