CalPERS Election: Interview with Candidate Jose Luis Pacheco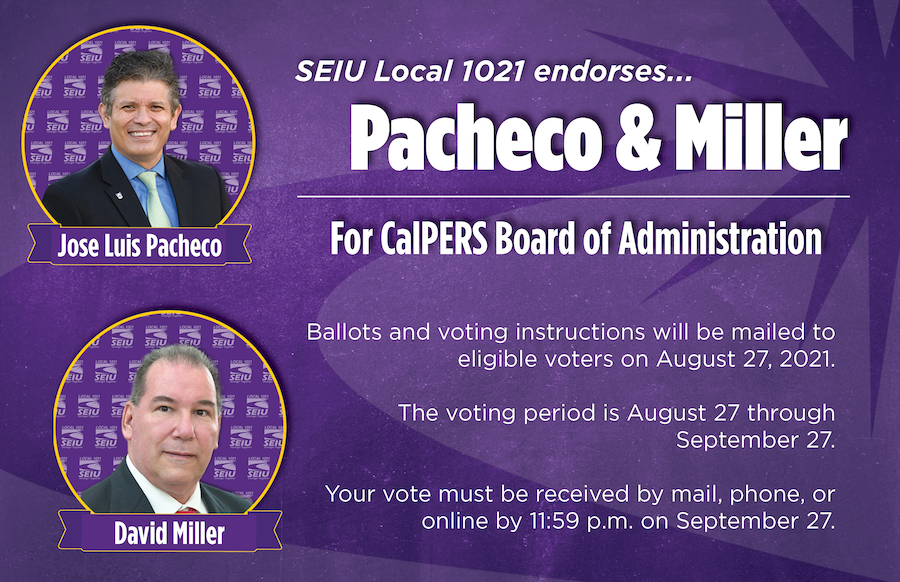 The race for the California Public Employees' Retirement System (CalPERS) Board of Administration is on. One of the candidates running for a seat on the Board of Administration is Jose Luis Pacheco, an IT professional for the San Jose Evergreen Community College District. Pacheco also serves as the Vice-Chair of the Board of Directors of the member-owned Santa Clara County Federal Credit Union. Additionally, Pacheco sits on the Board of Directors for Latinas Contra Cancer, a non-profit that addresses Breast Cancer health disparities in the Latina community. Finally, he serves as the President of the California School Employee's Association, Chapter 363, as well.
For leading the largest public pension fund in the United States, filling the CalPERS Board of Administration with working-class Californians is vital. Pacheco speaks about his upbringing, the platform he is running on, and the importance of voting in the upcoming election:
"It goes back to my parents. When my mother became a union member with the Communications Workers of America (CWA), I saw firsthand how a defined benefit pension and retiree health care coverage allowed her to retire with the dignity and respect she deserved for her decades of hard work. Every California public employee deserves that. I am carrying my mother's torch. I am giving back. Without a defined benefit pension and health care coverage, my mom and dad would have gone bankrupt. No one should ever have to face that prospect. What drives me is family, and the labor movement is a vital part of my family. As a California School Employees Association leader, I am a proud second-generation union member. It is because of that; public service is my calling. I am dedicated to protecting and expanding the defined benefit promise we have made to California public employees.
The campaign I am running focuses on four major priorities: investment returns, health care, getting a long-term Chief Investment Officer, and improving member services.
CalPERS has achieved some success with investment returns in the last couple of years. We need to build on those gains to ensure that CalPERS not only meets but exceeds the target rate of return. We must also ensure that we meet these goals by managing risk with as much transparency and accountability as possible.
We must ensure our members continue having access to high-quality coverage by using CalPERS' enormous buying power not only to contain cost but provide savings to members whenever possible without a loss in services. Our members should continue to receive quality coverage with many choices to fit their individual needs best.
Investment officers are responsible for the investment and management of CalPERS assets. We need a Chief Investment Officer who will be there for the long haul and has a long-term vision of the pension fund. We need a Chief Investment Officer who values transparency to the more than 1.9 million members.
CalPERS needs to be accessible to everyone. We need to have resources in multiple different languages, including Spanish, Chinese, Tagalog, Vietnamese, and more. I work with janitors at the San Jose Evergreen Community College District who only speak Spanish. I have to translate the English documents into Spanish for them. We should have interpreter services. This would empower my coworkers and the nearly two million members in CalPERS.
One of the pillars of being a Board member is being a fiduciary officer. We need board members who protect and grow CalPERS. We need Board members who understand investments and are there for the members. I have that experience. Also, I want to bring professionalism and responsibility back to this position. An influential CalPERS Board member does not divert attention from essential decisions for self-gain and spectacle. They also must be able to work collaboratively with staff instead of being an adversary.
My campaign is based on my merits and experience. My education includes two bachelor's degrees, one in Economics, and the other in Biological Sciences, from Santa Clara University and California State University, East Bay. Every public employee deserves what my mom had when she joined CWA. That promise should be fulfilled to the more than 1.9 million members. I am going to protect and preserve the gains CalPERS have made. I will fight so hard and be a champion for our public employees, retirees, and their families. I want to use all my experience to ensure everyone can retire with dignity and respect after years of working.
Beginning on August 27, 2021, members' ballots and voting instructions will be mailed out. Look out for a blue envelope. It will contain the candidate statement voter pamphlet, ballot card, and a return envelope. You can vote online, by phone, or by mail. To be counted, all ballots must be received by September 27, 2021.
Go to my website to learn more and how to get involved."
From CalPERS: "A ballot package with instructions on how to vote will be mailed to eligible voters on August 27, 2021. Ensure your mailing address is current so you receive your ballot. The voting period is August 27 through September 27. Your vote must be received by mail, telephone, or online by 11:59 p.m. PST on September 27, or it won't be counted."