Tentative Agreement Summary
Between SEIU Local 1021 and Alameda County -- UPDATED April 19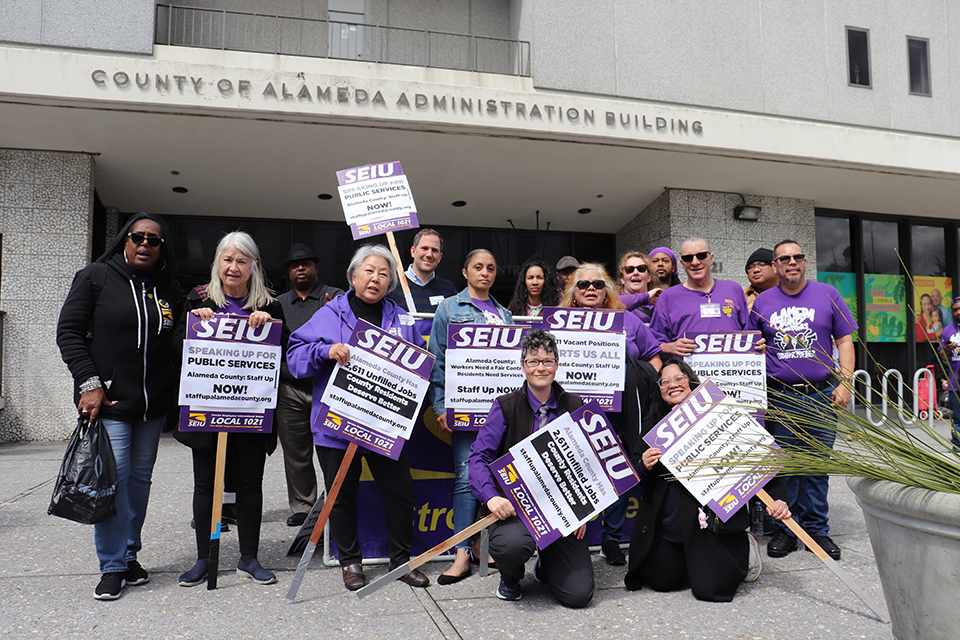 NOTE: The detailed email update that was sent to Alameda County work email addresses incorrectly identified the email as being from "SEIU 1021 Alameda County BHCS Chapter". This was an error: The email was from SEIU Local 1021. We apologize for the error.
Late in the night on Thursday, March 30, after a massive informational picket outside the Board of Supervisors, your elected bargaining team came to a comprehensive Tentative Agreement (TA) with Alameda County.
The Bargaining Team recommends this TA for ratification by SEIU 1021 members.
We will be holding lunchtime info sessions at worksites across the county from April 10 to April 18, and evening info sessions via Zoom on April 11, 12, 13 and 18. A full schedule is posted below.
We were able to reach this deal because of the unity of our members across the County and their willingness to purple up, show up, and speak up. This contract addresses our core issues and the staffing crisis that has hurt our members and impacted our ability to provide high-quality services to county residents.
Please note: Actual copies of the Tentative Agreement are not available for individual employees since they are still tentative pending ratification. Actual copies will be shared at worksite meetings, informational zoom sessions, and at the ratification voting locations.
Economic Highlights
A three-year contract, with across-the-board raises of 15%:
6% effective July 9, 2023
5% effective July 7, 2024
4% effective July 6, 2025
NOTE: the above dates were initially mis-reported as effective June. We regret the error.
NO increased contribution to medical (remains at 88/12)
Unprecedented NEW longevity pay effective January 1, 2024:
1% at 10 years
Additional 1% at 20 years
Increased premium pay of 7.5% for split and night shift
Increased:
Standby pay (now 1/5 of hourly rate)

If less than 15 RNs volunteer for standby rotation, a meet and confer to occur to increase participation

Bilingual pay (increased by $5 per pay period)

Changed policy around bilingual caseload to only a once annual review

Uniform allowance (plus $75 as of January 7, 2024) and boot allowance (plus $20 as of January 5, 2025)

Upon ratification, provides windbreakers to Assistant Public Guardian—Conservator and Deputy Public—Conservator/Investigator
Effective July 1 2024, adds Agricultural and Standards Technician series to the boot allowance

Educational stipend increased to $800

​NEW: Up to $100 can be used to reimburse professional license or certifications
Salary step audit: the county will review the percentage change between salary steps and meet and confer with the union over bringing the steps into compliance with the Salary Ordinance's guidance that steps should be roughly 5% apart.
Time Off and Working Conditions
Kept Lincoln's Birthday holiday and added Juneteenth (June 19th).
Floating holidays and purchased vacation days no longer have to be taken first
Vacation hard cap applies to all members effective January 2026. Cash out excess hours yearly on January 1, 2024, 2025, and 2026.
Increased vacation sell-back:
5 days (0-5 years)
10 days (6-10 years)
15 days (11+ years)
Enhanced provisions for leave:
12 days family sick leave (up from 9 days for caring for immediate family members)
3 days personal leave (up from 2 days)
Removed the SLICE report
Added new sick leave review process (oral warning and written warning with opportunity to meet with management before being put on sick leave review)
Bereavement leave window expanded to three months, with added family members qualifying
New language clarifying our rights under the family-school partnership leave act, so that employees may use vacation or comp time for school activity leave, up to a maximum of 40 hours per year and 8 hours per month
Updated sick leave on vacation to add "under medical isolation orders" for reasons why an employee may be able to convert vacation time to sick time
Floating holidays to be used in one (1) hour increments
NEW language for adding telework policies, encouraging departments to develop telework policies and then meet and confer over new policies.
Vacation blackout procedures for the Treasurer-Tax Collector's and Assessor's Offices will be reviewed by the County, and we will meet and confer over any changes.
Expanded union rights:
All side letters are now subject to our formal grievance process (unless specifically excluded)
Increased LMT to all departments upon request, and include discussions on caseloads
Enhanced language around removing items from personnel file

Time and attendance letters of reprimand can be removed after three years (currently five years)

Temp worker language has been moved to the MOU
Updated union access and New Employee Orientation (NEO) language that keeps us able to talk to our members and grow our union and brought the relevant side letter into the MOU

Added hire date and pay step to information County must provide to the union
Increased access to County equipment during NEO presentations
Other improvements and clean-up in the MOU:
Call-back pay now available for Forensic Behavioral Health Clinician I & II
Eliminate $500 cap on vehicles damaged during county work
New side letters:

The County will form a committee to develop a Disaster Service Worker (DSW) policy, including roles, duties, and trainings. Committee will make recommendations to the County
The County and the union will meet over EST classification workload and performance evaluations within 120 days upon ratification
Incident Command System clarification, so that management must provide contact information within 72 hours for any employee being assigned to Incident Command System

County cleanup

Formatting and grammatical changes
Updated list of classifications in appendix to remove old and update titles
Updated discrimination language
Cleaned up old language around reemployment
Deleted obsolete sideletters
Brought sideletter about Specialist Clerk in HCSA receiving standby pay into the MOU
Brought sideletter about shop steward leave of absence into MOU
Questions? Concerns?
Lunchtime info sessions April 10 to April 18
Evening info sessions via Zoom on April 11, 12, 13 and 18

Not a member? Sign up at join1021.org
Evening Info Sessions via Zoom
Click to RSVP — all SESSIONS are two one-hour meetings; join when it's convenient for you