Alameda County Workers Say: It's Time to Staff Up!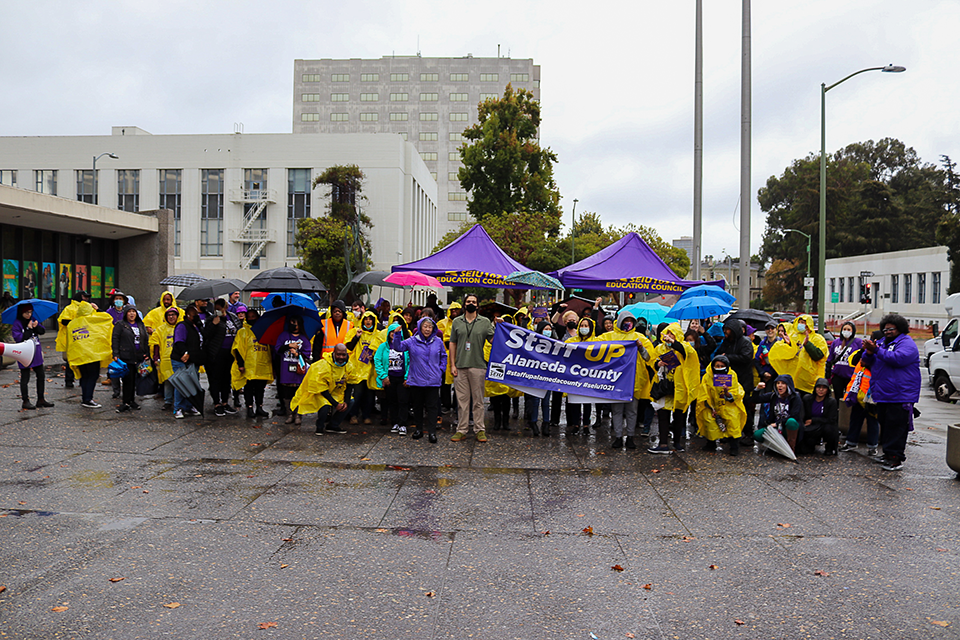 On Tuesday, November 1, more than a hundred Alameda County members came out to rally in front of the Board of Supervisors. We let them know that we have a staffing crisis in Alameda County that needs to be solved now.
The day before that, the elected bargaining team passed our final proposals. They include common-sense solutions for improving recruitment and retention, fair wage increases to keep our members ahead of the 8.6% increase in the consumer price index the County itself reported, and much more.
Among the speakers who addressed the rally was SEIU 1021's Vice President for Organizing, Brandon Dawkins. He made sure everyone in attendance knew they weren't alone in this fight, saying "We were understaffed in San Francisco…in Solano County…in Sonoma County. And you know what? In every place, we told management it was time to staff up. We stuck together, we fought, and we WON!"
Brandon concluded: "As a member of SEIU 1021 you're not just one of the 4,000 members who work for Alameda County—you're one of 60,000 of us across northern CA. Those workers have your back because they know that when one of us wins, we all win—that is what solidarity means."
Check out our Facebook post here, and share our Twitter thread below with hashtags #seiu1021 and #staffupalamedacounty!
HAPPENING NOW: A little rain won't stop members rallying outside the Alameda County building to highlight the issues facing county workers and the residents we serve. With a vacancy rate of over 22%, how are we supposed to provide quality services to the people who rely on us? pic.twitter.com/gsSH5TFSJD

— SEIU 1021 (@seiu1021) November 1, 2022