SEIU 1021 COVID-19 Response Updates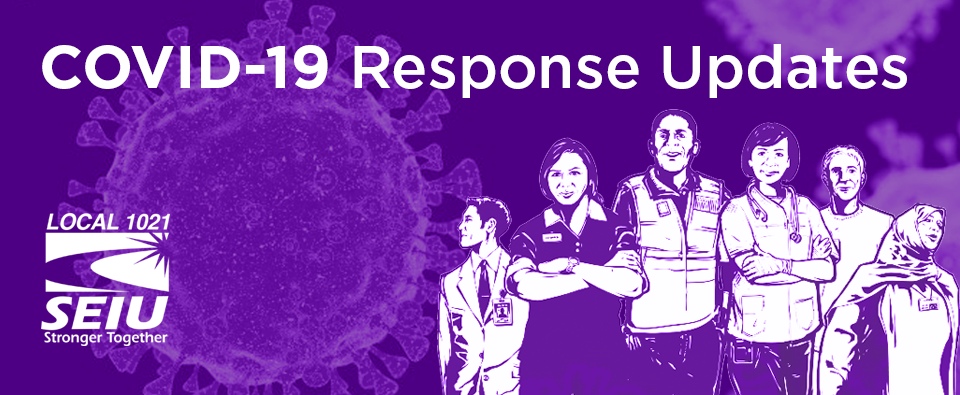 中文(Chinese) |Español (Spanish)
Since coronavirus became a global pandemic, our union's attention has been focused on how to ensure the health, safety, and economic well-being of our members, families, and communities—including many of our members who, in the midst of this crisis, continue to provide crucial services in our communities.
Below you can find resources to help you stay in the loop, learn about what is happening in your workplace, and better protect yourself and your families. You can also click here to sign up for text notifications about COVID-19 and its impacts on SEIU 1021 members.
We also need to hear feedback, concerns, and other updates and questions from frontline members like you. Please contact us about COVID-19 related issues by emailing fightcoronavirus@seiu1021.org or by calling the Member Resource Center at 1-877-687-1021 (Monday through Friday between 8:00 a.m. and 6 p.m.).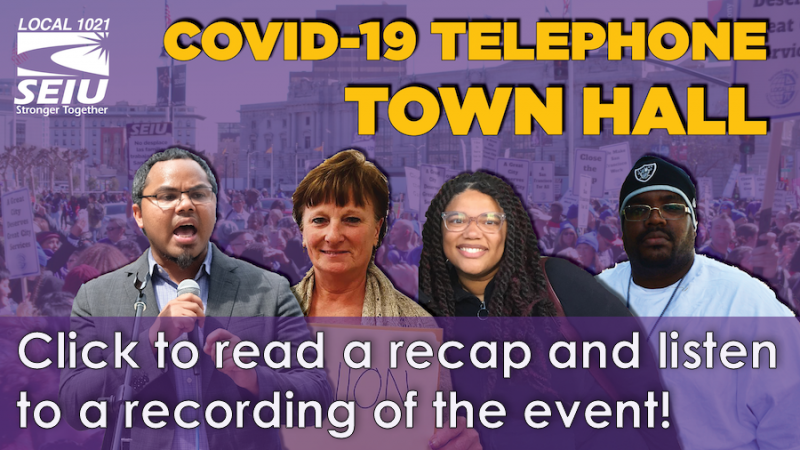 OUR DEMANDS
Right now, SEIU 1021 staff and member leaders are working hard to safeguard your health at work by pursuing the following demands:
Employers must minimize the risk of infection for members.
Employers must adopt and provide copies of emergency response protocols and plans.
Employers must bargain over workplace changes and their impact on members.
1. Employers must minimize the risk of infection for members.
To ensure your health and safety is protected at work, we have demanded that every employer:
Provide paid time off in the event of closure or quarantine without requiring workers to deplete their vacation or sick banks.
Create new paid leave banks to be used specifically for coronavirus, with no requirement that workers produce a doctor's note to qualify.
Provide training and education about the virus and how to recognize potential cases.
Implement screening protocols to promptly identify patients with symptoms and travel or exposure history.
Ensure prompt isolation of patients with possible or suspected cases of COVID-19.
Maintain airborne isolation rooms so they can provide protection to staff and patients.
Provide personal protective equipment (PPE) to all frontline workers providing care and service in worksites with possible COVID-19 infections. PPE should include N95 respirators with proper eye coverage or powered air-purifying respirators, as well as gloves, gowns, and other PPE for droplet and aerosol precautions.
Sufficiently staff workplaces so workers can provide care and services to patients and clients safely.
2. Employers must adopt and provide copies of emergency response protocols and plans.
To ensure employers are being proactive in their plans to protect workers, we have demanded that every employer turn over:
Copies of written emergency response protocols to address the threat.
Copies of protocols to protect workers who may be more likely to be exposed to the threat.
Copies of their rollout plan to provide protection for workers in the event of a crisis.
3. Employers must bargain over workplace changes and their impact on members.
SEIU 1021 is demanding negotiations with our employers over the effects the virus and its consequences are having on our jobs. These matters include but are not limited to:
Changes to schedules, including holdover shifts and mandatory overtime
Layoffs or reductions in hours.
Temporary closures (including the right to telecommute where possible).
Pay and benefits.
CHAPTER-SPECIFIC RESOURCES
This is an ongoing project but as the pandemic unfolds, SEIU 1021 leaders in every Chapter are working hard to secure agreements and policies that protect our members and address the specific needs we face as we perform our work or shelter in place.
To access agreements, policies, and communications from Chapter leadership and employers, click here and use the "Find your Chapter" function to search for your workplace.
This is work is still in process, and you may not see any documents available yet for your Chapter. Please continue to check back and know that SEIU 1021 staff and leaders are working hard to keep safeguard every member's physical and financial health and wellbeing.
GENERAL RESOURCES
We will be doing our best to keep these resources updated, but please reach out and let us know if you are aware of any additional resources that we could be listing here by sending us an email.
Resources from SEIU:

Local, State, Federal, and international Resources:

World Health Organization:
Centers for Disease Control

Coronavirus (COVID-19) Information & Resources:

Occupational Safety and Health Administration:
California Labor & Workforce Development Agency:
California Department of Public Health:
San Francisco Department of Children, Youth, and their Families:

Other Resources

Asian Americans for Civil Rights and Equality (AACRE)
Johns Hopkins University
Capital & Main's Pandemic Nation podcast

Veteran journalist Mark Kreidler begins a new weekly column and podcast covering the coronavirus and its social impacts.