Hundreds of SEIU 1021 members participate in our first COVID-19 telephone town hall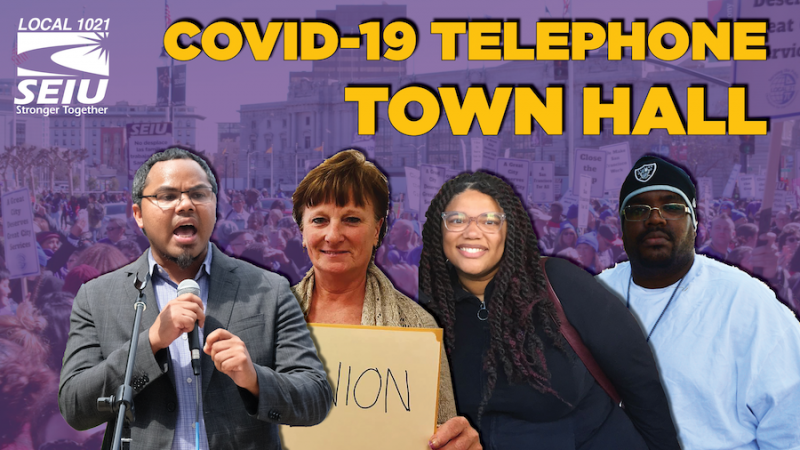 On April 16, SEIU 1021 President Joseph Bryant led our first telephone town hall since the COVID-19 pandemic began. You can listen to a recording of the full town hall here.
President Bryant hosted a panel featuring member leaders Ashley Payne, Karla Faucett, and Brandon Dawkins, who discussed their challenges and victories during this crisis.
"We're keeping up the pressure—keeping membership looped in and being really creative about our organizing since we can't show up at the Board of Supervisors chambers as usual or picket in person anymore," said Ashley Payne, SEIU 1021 Chapter Vice President in Contra Costa County.
Karla Faucett, President of the Sacramento City USD Chapter, localwide Executive Board member, and Education Industry Chair, also shared how her co-workers have been fighting back. In her workplace, members marched on the Superintendent when people in the central office were told to report to work instead of telecommute. The same day, they won the right to safely work from home.
"What better way to show people the real power our union has than fighting back in this moment?" Karla said.
Brandon Dawkins, a San Francisco Area Representative who works at Laguna Honda Hospital, shared how they've won paid administrative leave for people whose worksites closed, as well as the creation of a new COVID-19 paid sick leave bank and additional floating holidays.
"The additional floating holidays and sick time will allow folks to stay home and adequately care for their families. It's been a struggle for working parents to obtain things like child care during this time," Brandon said.
Throughout the call, we also asked a number of poll questions. Here are those questions and the results:
What are you most concerned about during this crisis?

39%: Not having the proper protective equipment at work
27%: Being laid off or having your position cut
19%: Having adequate paid time off if you or a family member are impacted by COVID 19
14%: Not being able to telecommute or have enough hours of paid work

Which of the following 5 statements best describes your current work situation:

34%: I am teleworking from home.
25%: I am going to work and I have adequate PPE at all times
25%: I am on paid furlough or using my paid leave.
14%: I am going to work and I do not have adequate PPE.
2%: I have been laid off or placed on unpaid furlough.

Which of the statements below best describes what will prompt you to vote and also turnout your coworkers, friends and family for the Nov. 2020 election?

29%: We need universal free access to health care for the length of this crisis—and as soon as possible, Medicare for All.
26%: We need universal paid sick days and to not penalize employees who stay home so workers can stay safe.
22%: We need international cooperation to learn from countries that are doing a better job combating this crisis than we are in the U.S.
17%: We need a freeze on evictions, foreclosures, and utility shut-offs. Keep people in their homes, not crowded into shelters.
7%: We need expanded, federally paid unemployment benefits for those laid off and for those who live from tips and gig work.
SEIU 1021 leaders are doing everything they can to protect the heath, safety, and financial wellbeing of members during this pandemic. We're also exploring new tools and platforms we can use to keep folks updated.
Keep an eye on our Facebook page and your email inbox for details about our next event. You can also sign up for COVID-19 text alerts.