North Coast News – July 2021
Check out what SEIU 1021 members are working on from Marin to Del Norte County!

All over the North Coast region, members and chapter leaders have been taking their fights to the boss, advocating for better wages, safer working conditions, and increased benefit support from their employers.
Keep reading to see what's new up and down California's North Coast this month for SEIU 1021 members.
Upcoming Meeting Calendar

COPE MEETING
Tuesday, July 20
6:00 pm

REGIONAL LEADERSHIP MEETING
Tuesday, July 27
6:00 pm

Contact your union rep for meeting links and information
Mark your calendars for the 2021 SEIU 1021 Virtual Member Convention on Saturday, September 25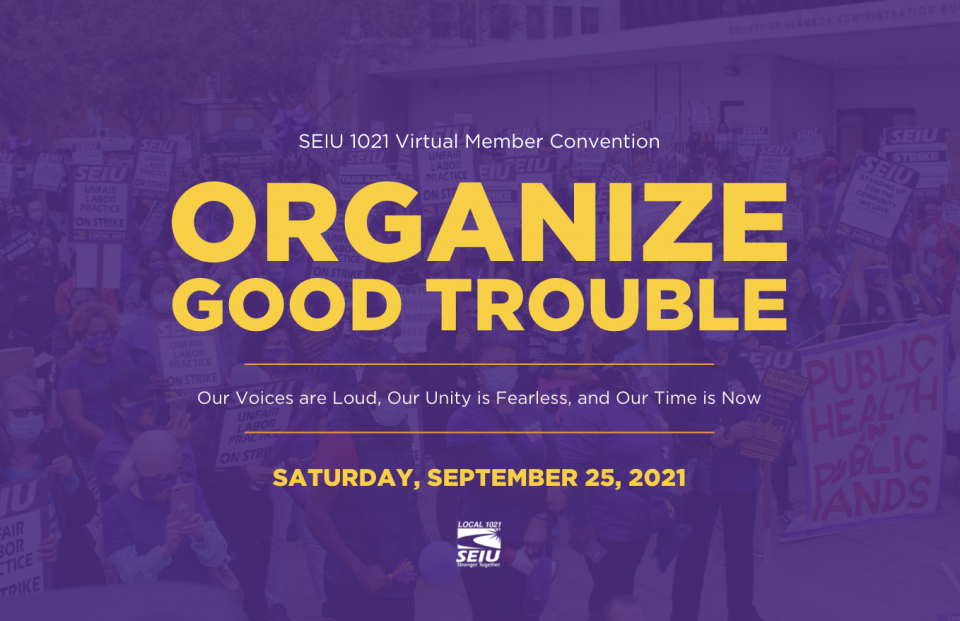 Every three years, the leadership and staff at SEIU 1021 organize a member convention where we gather, build community, and lay the foundation for organizing in the years to come. This year, we're going virtual with the same intention and goal to bring our members and leaders together for a day of celebration, acknowledgment, and organizing around economic, climate, and racial justice.

This year's theme pays homage to the late John Lewis with the bold statement: Organize Good Trouble – Our Voices Are Loud, Our Unity is Fearless, Our time is Now. Save the date for the 2021 SEIU 1021 virtual member convention taking place on Saturday, September 25, 2021. Invitation details to follow.
Invitation details to follow.
DELEGATE ELECTIONS
"I encourage my chapter members who are new to leadership to become delegates so they have a voting voice. To be a delegate is very important because you have the opportunity to vote on the issues and concerns that affect our members." said Rafael Picazo, SFUSD Chapter Convention Delegate.
Now, through August 9, 2021, convention delegate elections are taking place for the 2021 SEIU Virtual Member Convention. Delegates play an essential role in the convention by representing their chapter at the convention, communicating convention decisions to chapter members, and providing leadership with enacting the major plans and future projects of the Union which are approved at the convention.
All members in good standing who are available and committed to attending the September 25, 2021, virtual convention are eligible to run and serve as a delegate to the convention. In order to run for and serve as a 1021 Convention Delegate, candidates:
Shall be employed within a bargaining unit represented by the Chapter.
Be members in good standing and membership dues are current as reported by the most recent payment submitted by the employer.
Please note some chapter bylaws may specify that elected chapter officers shall serve as automatic delegates to the Convention (in this case, no election is necessary). For all other eligibility issues, refer to the Delegate Election Committee.
Delegates shall be allocated by Chapter, including Retiree Chapters, and receive an automatic allocation of 2 delegates per 300 members. Beyond 301 members, each chapter will receive 2 additional delegates. For every additional 150 members, each chapter will receive 2 additional delegates.
Example: 1-300 members = 2 delegates, 301-450 members = 4 delegates etc.
DELEGATE ALTERNATES
In cases when a delegate can't participate due to scheduling, illness, etc. Chapters should select alternates even if the delegate election for that Chapter is uncontested or the Chapter does not elect the full number of delegates which it is entitled to.
Here are the rules for selecting alternates:
All Chapters are encouraged to select at least two (2) alternates. Alternates need to be ranked by votes received (e.g. the highest vote total becomes Alternate #1, second highest voted becomes Alternate #2, etc.).
In Chapters with "uncontested ballots" (where there are more or an equal number of delegate slots as there are candidates, thus making an election unnecessary), Chapters are still encouraged to select up to two (2) alternates and designate these as Alternate #1 & #2.
Convention Delegates, who become ineligible or unable to attend, shall notify the 1021 Convention Election Committee in writing no later than August 20, 2021. An Alternate or Alternates will then be credentialed and seated. Delegates who notify the 1021 Convention Election Committee after August 20, 2021, will not be replaced by an alternate.
NEW CHAPTER DELEGATES
Workers who have recently organized with Local 1021, but who have not ratified their first collective bargaining agreement may select honorary delegates. The process for selecting honorary delegates will be as follows: two (2) honorary delegates will be elected at upcoming membership meetings.
The membership convention shall be open to all members. Such attendees may participate in all activities, but shall not be eligible to vote at the convention.
CityBus drivers stand with their community ensuring essential transportation continues in the City of Santa Rosa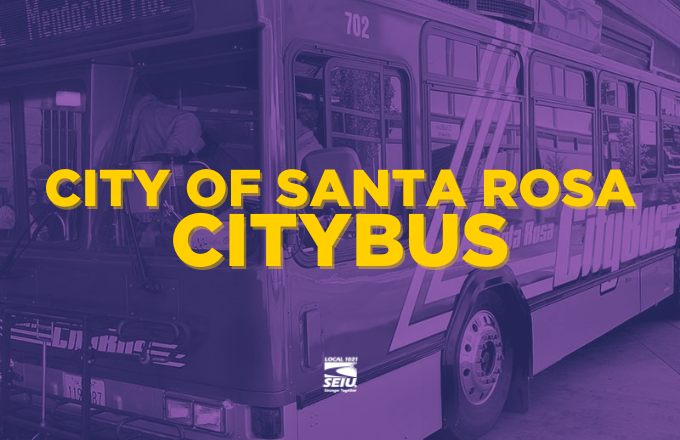 Even as COVID-19 wanes in the face of vaccinations and ongoing safety measures, the employees of Santa Rosa City Transit are ensuring that the essential lifeline provided by public transit remains unbroken.

During the height of the pandemic, concerns about health and safety could be found at the top of all our lists. To some, CityBus resembled a Petri dish that exposed bus drivers and riders to the deadly effects of COVID-19. But SEIU 1021, led by its local chapter leadership, worked with management and saw the pandemic as an opportunity to keep its employees safe while protecting its community of riders.

Santa Rosa City Transit has proven to be an essential service to the communities that were most in need. In addition to providing the necessary transportation for the elderly, the bus service also served essential workers so they could continue to perform their job functions and continue providing for their families. Buses were used during the wildfires to evacuate the elderly from assisted living facilities, with drivers showing their dedication by driving through hazardous and life-threatening conditions.

As we enter new contract negotiations, these dedicated workers are asking the City for a fair wage increase and continued health and safety protections like the plexiglass barriers and safe distancing that was put into place in an effort to keep all safe. While the City administration is crying broke by claiming that there are long-term structural issues in Santa Rosa and revenue is in the red, the city sits on tens of millions of dollars in reserves from PG&E, State, and Federal aid. Instead of honoring the hard work and dedication of CityBus drivers, the City insists on balancing the budget on the backs of the workers who continue to keep the city operating and functioning safely.

Santa Rosa City Transit drivers have been tested in the recent past and have shown a level of dedication to their work that can make every SEIU 1021 member proud. We must support Santa Rosa City Transit workers in their contract fight to show the City administration that we are Union Strong and we will stand by CityBus drivers.

Sign our petition located here: seiu1021.good.do/santarosacitybus/ to show your support.
Meet Mendo County Shop Steward James "Rusty" Petrella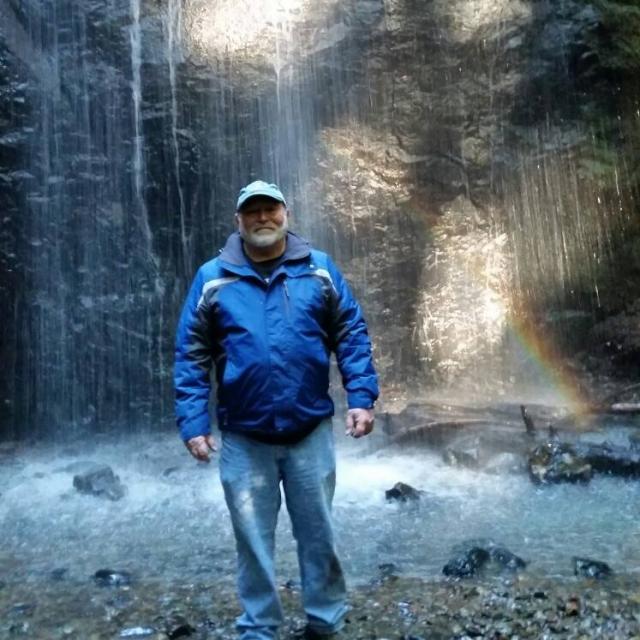 How long have you been a member of SEIU 1021?
I have been a member since the inception of the merger from 707 to 1021 in 2007. I was here during the vote actually.
Had you been in a union before SEIU 1021? If no, what's the difference like between a union vs a nonunion workplace?
Before working for the county I was a bus driver in the City of Marysville. That's where I really became familiar with unions and what they can do to assist members. The union difference is that you have a voice in your job. That doesn't mean that an employer has to accept it, but at least you have a voice and you can be heard. Our voices are being heard. We go to the bargaining table and we have a voice in wages, hours, and working conditions. If you don't have a union you don't have that. You have no voice and you take what the employer is giving.
Why do you think it's important for members to get active and involved in our union?
Change is always good. We have to keep looking to the future to grow. If people don't start voicing their thoughts and opinions you stay stagnant and the union won't be able to benefit its members. For me, it goes back to my time working for the County of Sutter. My Director at the time told me "If you don't apply for promotional jobs we won't know that you want them". The same goes for the union. If you don't get involved you won't know what's going on and the people who are deciding your wages like the CEOs and Board of Supervisors will make decisions for you. If our members are not active and boisterous, management will not know that we have needs.
What does it mean to be a Shop Steward for SEIU 1021?
I took on the role about a month or two before the merger to 1021 happened. I had two great people who assisted me at the beginning of my time as a Shop Steward named Hughes Carmella and Chuck Dunbar. They taught me the ropes. I think we were going through negotiations at the time and they walked me through how to do grievances and other steward duties. One of the biggest parts of my role as a union steward is having the trust of my fellow union members to come to me when they have problems at the worksite or just need to get something off their chest. I feel honored to be in a position to hold this role with my fellow workers.
Tell me about your experience supporting chapter elections?
I supported the last two elections. The first one was on skype because Zoom was not a thing. The first time, things went over my head as far as setting the rules but folks who had done it before were really helpful. Personally, I did not know what it took to put on an election. The first time we set the rules according to the bylaws and I went to Oakland and oversaw the election making sure the ballots were being counted correctly and that I could be called upon to testify that I did not see any improprieties. Unfortunately, the computer system failed and the ballots were not counted which created red flags everywhere. We had to seal the boxes, secure them, and carry out all the processes that go along with an election that people font really know about.
The second election went really smoothly. Coming from a small area like Fort Bragg, the strength that I saw among the members during the elections both times showed me the real strength of SEIU 1021 and the members that are in leadership. It amazed me and I knew that this was a great union to be a part of just based on what those folks did.
Workers win big with successful contract negotiations across the North Coast Region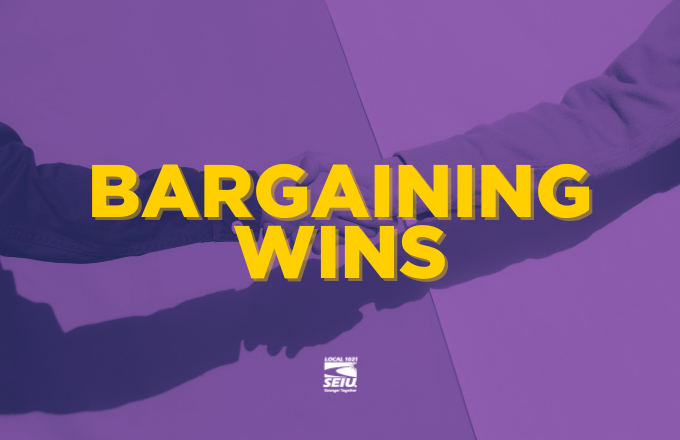 Since the onset of the COVID-19 pandemic over a year ago, workers in the North Coast at every level — from local county and cities to public service essential workers and more— have been locked into negotiations for better wages, safer working conditions, and better health benefits. In the last month, multiple North Coast chapters celebrated significant wins by successfully negotiating contracts and ratifying Tentative Agreements (TA's) for their chapters to solidify the benefits our members deserve.

Check out highlights and bargaining wins from the Town of Tiburon, City of Rohnert Park, Santa Rosa Jr. College, and the San Rafael Misc. chapters below.
TOWN OF TIBURON
Workers at the Town of Tiburon were locked into unusually long and drawn-out rounds of negotiations with the Town but that did not stop the chapter members and leaders from banding together. After showing a unified front at the Town Council meeting, a TA was finally reached with the Town of Tiburon that reflected the needs and value of the workers. The TA will be ratified later today.

"The Town of Tiburon members are happy to come to an agreement with the Town for the necessary benefits and wages we deserve. Our team is all on board and ready to keep up the excellent work they have always done. When it is all said and done, I think both sides of the table walked away with positive feelings about the agreement we accomplished." said Pete Velles, SEIU 1021 Shop Steward and Sr. Maintenance Worker in the Streets Department for the Town of Tiburon.

A few highlights members from the Town of Tiburon chapter negotiated are:
COLA increases from 2%-2.5% over the next 3 years
A new health contribution of $100 a month for retirees
Paid emergency and evacuation leave
Protections against regular weekend work

SANTA ROSA JR. COLLEGE
On June 30, 2021, the members and leaders at Santa Rosa Jr. College (SRJC) celebrated the official signing of a TA with the district. This agreement highlights the long-standing relationship between the District and the Union which has continued through ongoing collaboration to create a great work environment for workers at SRJC.

Through the dedicated work of the bargaining unit, highlights from the SRJC TA include:
Salary increases, effective July 1, 2021, currently anticipated at 5.33%. to be paid retroactively in August
No change to existing health benefit cost-sharing
Dental and vision plan eligibility for part-time unit members working less than 20 hours per week, prorated based on FTE.
One additional holiday will be negotiated this coming year, to go into effect July 1, 2022
Vacation accrual table enhanced by one year

CITY OF ROHNERT PARK
Members of the bargaining unit for the City of Rohnert Park experienced a particularly chaotic contract negotiation in the face COVID-19 and the ongoing challenges a global pandemic presents to essential workers. Lead by Chapter President Jean Lestanguet, who brought leadership and extensive negotiating experience to the table, the City of Rohnert Park Chapter was lead to victory with a successful TA.

"Without a bargaining unit, we're at the will of the city. Workers need to have a voice and a say in matters that affect our livelihood. That voice also has to combine the thoughts and feelings of every member in our chapter and present that voice in the conversation at the table to negotiate for what we need. I look at being a part of the bargaining unit as a very important position where I'm fighting for the best interest of not only myself but also every member in the chapter. It's a big deal to me." said Jean Lestanguet, Chapter President and Interim Facilities Maintenance Supervisor for the City of Rohnert Park Chapter when asked why he believes the bargaining unit is important.

Here are a few highlights from the City of Rohnert Park TA:
Time off on the newly recognized federal holiday of Juneteenth
10% total wage increase over the next 4 years
6% increase on city contributions to medical coverage with 3% for each subsequent year of MOA
Increase of compensation for standby time
120 hours of Paid Parental Leave for eligible employees to be used within 6 months of a qualifying event
$100 per month stipend for bi-lingual employees
One-time $1,000 COVID-Related Impacts Recognition Payment
SAN RAFAEL MISC
This year, most of the members on the bargaining team for the San Rafael Miscellaneous Chapter were new to the table, but that didn't stop them from digging their heels in and fighting for their chapter contract. By working together and playing on each other's strengths, the San Rafael Misc. Chapter has finalized a TA that will benefit its members and their communities.

"I have been negotiating contracts for almost 13 years and I thought this year was the toughest negotiation that I have been part of. I felt the City was not ready for us to stand our ground and expected us to settle for what they were offering. It was a tough battle from day one to the end of negotiations, but we stuck to want we wanted in our proposals and we got almost every item we bargained for." said Wes Sitchler, Chapter President and Sewer Maintenance Supervisor at the San Rafael Sanitation District.

The San Rafael Misc. Chapter TA highlights specific wins like:
9.5-11% wage increases over three years
One-Time Furlough reimbursement payment
Uniform allowances
Contribute to the fire recovery fund for SEIU 1021 member Louise Phillips her husband Jerry Phillips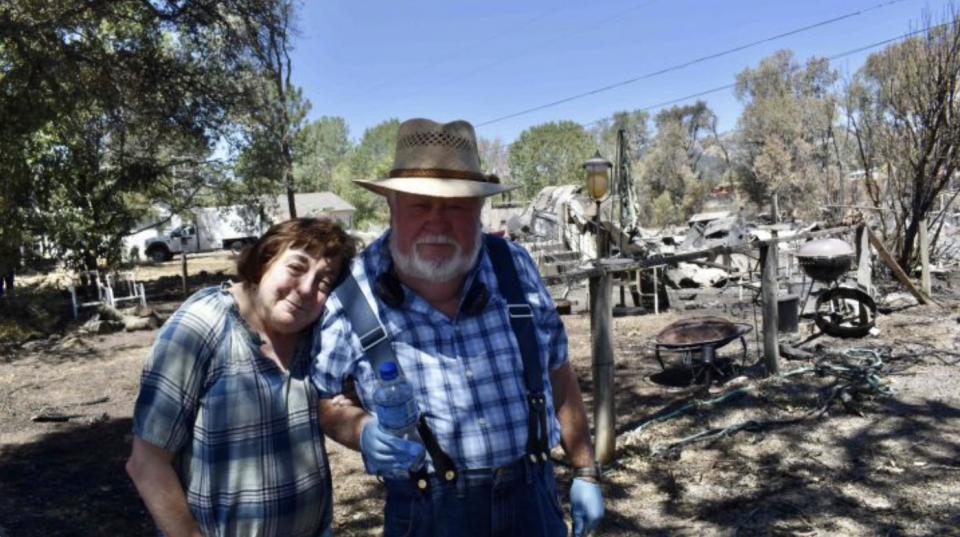 Louise and Jerry Phillips have been long-time residents of Redwood Valley California and lived on a property that had been in their family for over 70 years. On the afternoon of July 7th, 2021, a wildfire swept through their neighborhood and destroyed their home, garage, and every outbuilding on their property. With only a few moments to spare, the couple gathered as many of their belongings as possible and evacuated before their home and property were completely destroyed. Louise and Jerry lost all the contents of their home including many irreplaceable mementos from their shared family life at the property.

Both Louise and Jerry have a long history in Redwood Valley, CA with deep roots in their community. Louise is a longtime SEIU 1021 member who spent many years working at the Mendocino County Sheriff's Office. Before working for the County, Louise was a teacher and mentor to countless children at Deep Valley Christian School. She has also been an active member at the Redwood Valley Community Church for decades, where she enjoys teaching Sunday School and volunteering for her congregation.

Jerry was a local business owner for decades who repaired all kinds of musical instruments for the public as well as for local schools. He also gave music lessons to many members of his community over the years and played in several local Jazz bands.

This recovery fund is meant to raise money to help Louise and Jerry get back on their feet, following the tragic loss of their home, property, and belongings. If you are able to support, please consider donating to Louise and Jerry's fire recovery fund here today.