North Coast News – June 2021
Check out what SEIU 1021 members are working on from Marin to Del Norte County!

Last month, we unveiled our new North Coast logo in the May newsletter, and this month we are keeping that spirit with fresh stories highlighting and celebrating our members.

Since the last newsletter, the North Coast has been active with members taking on everything from bargaining updates and letter-writing campaigns, to creating new policies that will impact the lives of workers across the region.
Keep reading to see what's new up and down California's North Coast this month for SEIU 1021 members.
Upcoming Meeting Calendar

CHAPTER LEADERSHIP MEETING
Tuesday, June 22
6 pm

COPE MEETING
Tuesday, July 13
6 pm

Contact your union rep for meeting links and information.
SEIU members across the state sent over 13,000 letters to lawmakers advocating for courts workers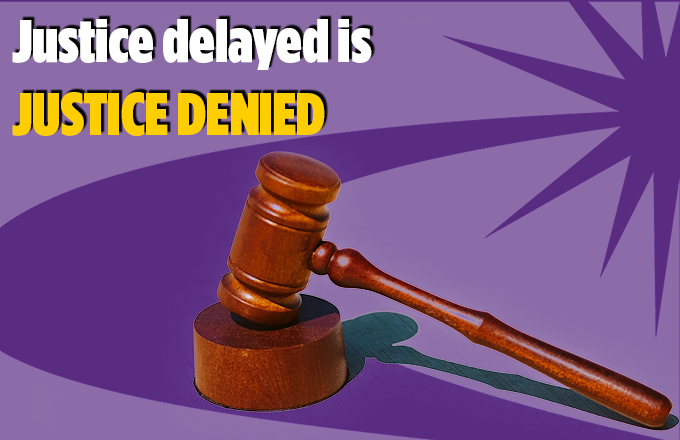 Recently, SEIU 1021 members in the North Coast region joined hundreds of SEIU members working in Superior courts across California in a letter-writing drive to draw attention to the budget, pay, and staffing challenges facing court reporters and clerks. COVID-19 has had a tremendous impact on our already-strained Superior Courts.
"In 2017, the transition to a new case management system was less than smooth. It tripled work time and resulted in an enormous minute entry backlog which was amplified by the Tubbs Fire. The minute entry backlog was shouldered by the Courtroom Clerks. Since then, it seems to be one disaster after another. We had flooding the following year, followed by more fires and then along came COVID," said Jennifere Kenestrick, a Courtroom Clerk at the Sonoma County Superior Court. "Since the pandemic, the burden of the Courtroom Clerks has grown. The objective of a Courtroom Clerk is to accurately capture a bench officer's court order in a hearing. We are currently expected to manage programs such as Zoom, live YouTube feeds, and Microsoft Teams while keeping track of how many people are in the courtroom at any given time. It is concerning to me that we're expected to keep exceptional records while being pulled in so many other directions."
Governor Newsom's budget proposal, along with the Senate's Budget Blueprint, provides a much-needed reinvestment to address funding proposals that Court employees have long been advocating. The letter-writing campaign focused on three core asks:
Court Clerks are calling for increased funding to address the eviction crisis facing California's renters. Sadly, a large number of California's renters have fallen behind on rent as a result of COVID-19's impacts and courts already suffered cuts last year. Restoring funding will be essential for preserving access to the justice system for renters who may need access to courts in the coming months.
Additional funding is essential for Court Reporters who haven't received a pay increase in decades. Cost of living in California has gone up 81% since Court Reporters last received an increase in 1990, leading to challenges recruiting and retaining staff. Court reporters provide an invaluable service to our judicial system, maintaining not only the record but the sanctity of court proceedings.
More money is badly needed to hire Family Law Court Reporters. The state must dedicate sufficient money for the hiring of official court reporters to cover family law matters to ensure accurate records.
In total, the letter-writing campaign generated 13,965 emails to lawmakers across California.
"Prior to the pandemic, misdemeanor courtrooms had two clerks to process the daily morning calendars, which had anywhere from 80-100 cases on the calendar every morning. We now only have one clerk per department, in addition to all our new responsibilities, and yet the expectations have not changed," Jennifere said. "Currently, there is a cap to keep the calendars at a manageable level. Beginning July 1, the CEO and court administration will pull the cap that is essentially protecting staff from calendars growing beyond sustainable volumes, once again leaving staff to shoulder yet another round of minute entry backlogs, with no job recruitments in sight. These backlogs result in information not getting reported to reporting agencies or being reported incorrectly or past their due date. If convictions are not reported to the Department of Motor Vehicles, for example, the end result is usually more fines and fees for defendants as it may result in additional licensing fees and/or DMV action, including unnecessary duplicate driver license suspensions. It's unacceptable."
There's an old saying that justice delayed is justice denied. Many SEIU 1021 members working in California's Superior Court system have seen this firsthand, having witnessed countless delays for community members seeking to access the justice system as a result of both the COVID-19 pandemic and ongoing funding issues.
GUSD workers reached a Tentative Agreement with the District to protect workers and students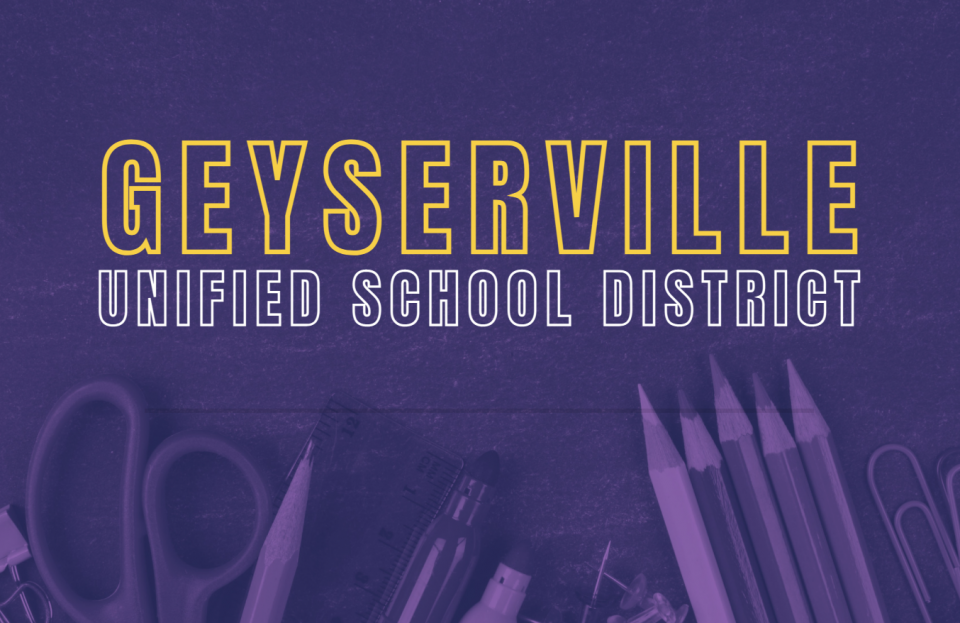 When workers at Geyserville Unified School District (GUSD) received news that schools would reopen in April of 2021 for in-person learning, members and chapter leaders immediately began negotiating a health and safety plan with the District that would protect students, workers, and educators.
"We believe that staff working conditions are equal to student learning conditions so if we protect workers, students will receive the highest quality education. It was crucial to reach a re-opening agreement for the classified staff who are the lowest-paid workers and mostly immigrant women of color. During negotiations, it was essential to establish a formal agreement to protect workers so we are safe on the job. The TA ensures that there will be sufficient PPE, supplemental COVID sick leave, cleaning and sanitation protocols, and clear safety standards to hold the District accountable according to the Department of Public Health. Workers need to know what our rights are during this time of COVID and the TA will enforce the safety guidelines that workers and students deserve." said Piedad Flores, a Site Secretary at Geyserville Elementary School.
In the midst of bargaining, GUSD schools reopened on Wednesday, April 7, 2021, while the bargaining team was hard at work negotiating on behalf of the Custodians, Food Service Workers, Site Secretaries, Instructional Assistants, and the single Bus Driver who would be most impacted by the re-opening. After nearly two months of negotiations, a tentative agreement was reached that included the following policies:
Supplemental COVID sick leave honoring SB95 through September 30, 2021
In-person instruction in accordance with the Sonoma County and California Department of Public Health guidelines
Requirements for the District to honor and follow all aspects of the Covid Safety Plan (CSP) and the Covid Prevention Plan (CPP)
PPE provisions for workers
Cleaning and sanitation protocols
Alternative work location options upon mutual agreement of the Teachers and Instructional Assistants when students are not present pending approval from the Superintendent and the Site Principal
The negotiation process was challenging at times, even coming to a standstill at one point. But in the face of adversity, the dedicated members of the GUSD chapter collaborated with the Geyserville Board of Education and the California Teachers Association (CTA), taking notes from the successful TA that was reached at the Sonoma County Office of Education. The Sonoma County Office of Education win provided the blueprint that was key for GUSD to successfully secure the existing TA that will ensure the safety of all students, workers, teachers, and the Geyserville school community.
Elevate your knowledge and skills as a union member with our Member Internship Program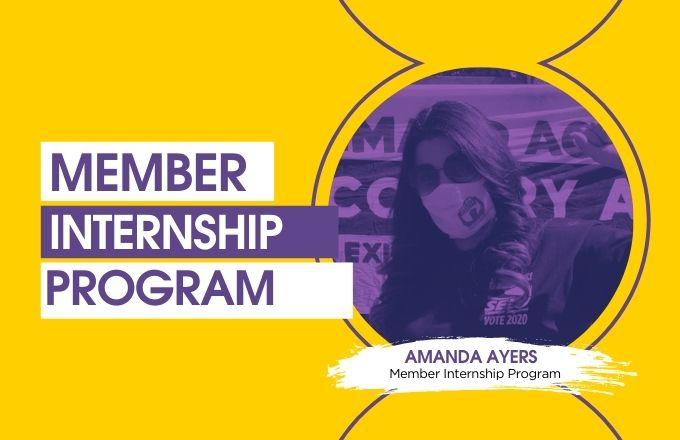 Have you always been interested in learning about the inner workings of the union or aspired to be a leader in the local? A member internship may be the program you've been looking for. We created the member internship program for new and aspiring member leaders who want to get more involved and have the opportunity to come out on full release time. We are currently recruiting membership interns for Fall 2021.

"Participating in the Member Internship Program was a great experience. I've been a member of SEIU 1021 for 6 years and I've always had questions about our organization and how to get involved. Most of my interactions were with my field representative, and I wasn't too familiar with the nuts and bolts of our Union. Once I joined the member internship program that all changed," said Amanda Ayers, member internship program participant.

This 3-month program will provide firsthand learning opportunities in recruitment, leadership development, mobilization, and organizing skills. This program will train and mobilize members who want to unleash their leadership potential.
You can apply by completing the application and uploading a sponsorship letter from a chapter leader or field representative who has reviewed the application, which must explain why the applicant is being recommended for the internship program.

If you have any questions, please contact Horacio Viveros, Member Development Coordinator, at Horacio.viveros@seiu1021.org.
Meet your Mendocino Area Rep Toni Fort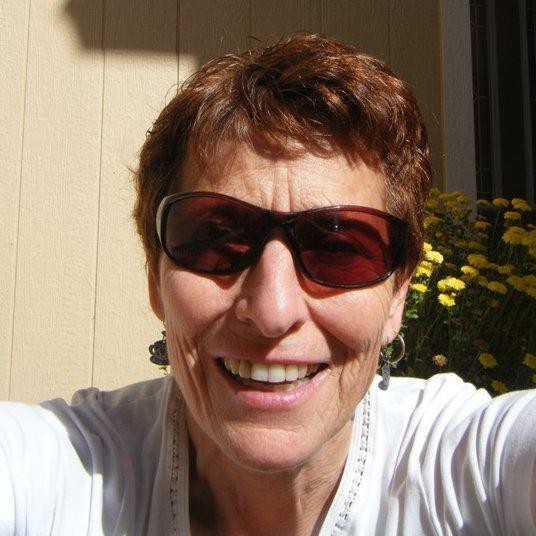 How long have you been a member of SEIU 1021?
I have been a member of SEIU 1021 for over 20 years.
Had you been in a union before SEIU 1021? If no, what's the difference like between a union vs a nonunion workplace? I am so appreciative of all that SEIU 1021 has done for the employees in our region. When I got a union job, I could finally survive on one income, instead of juggling part-time jobs to make ends meet.
What does it mean to be an Area Rep for SEIU 1021? Being an Area Rep gives me the opportunity to consider issues from a different perspective. I learn what is happening at the State and Federal levels, and I can bring that information back to members at my workplace.
Are there any other leadership positions you hold in your chapter or the local? I served as Chapter President for four years. I have also been active as a Committee Representative, Negotiator, and worked on the Membership Committee.
What inspired you to become an active leader in our union? There was a vacancy for Chapter President, and no one else stepped forward. I thought I had the skills to contribute, and I was willing to learn. Our Field Rep Patrick was a tremendous and very patient help, and it has been a great learning experience. And very humbling at times.
Why do you think it's important for members to get active and involved in our union? Members need to get involved so they can learn how much power they really have. When you step out and do scary things – like picketing or speaking up in a meeting – you learn how much your actions can change things, and you see firsthand the value of a strong union, sticking together, and supporting other members.
What are ways you believe members can get involved or take leadership roles at their worksites? I would say start small. Be willing to help out in small ways. Don't say no if you can say yes. Sometimes people are unwilling to do anything because they are afraid they will be pressured to do more. You have to develop good boundaries. Once members are successful at small contributions, they can better understand how easy this can be when everyone works together.
Sonoma County leaders keep up the fight for a fair and equitable telecommuting policy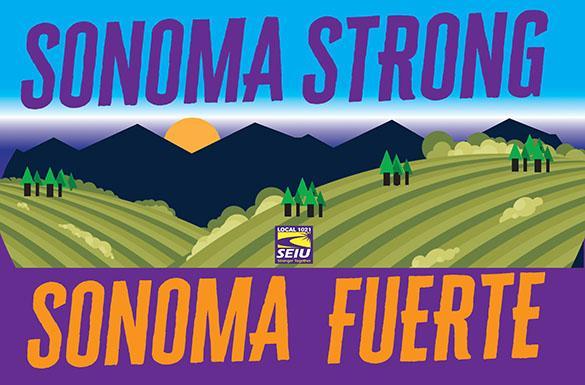 Last month, the SEIU 1021 Sonoma County Chapter leadership voted unanimously to pass a resolution demanding that the Board of Supervisors work with our county's unions to create a fair and equitable telecommuting policy, particularly for parents and guardians. Members were disappointed with the County's response and decided to take action.
In recent weeks, over 700 county residents and employees signed a petition demanding that the Board of Supervisors meet with our union to work on a solution to this challenge. On June 8, members delivered that petition to the Board during their first in-person meeting since the COVID-19 shelter-in-place orders were issued. A number of members also shared their thoughts during public comment.
"Since March 2020, we've offered to collaborate with County HR to establish a baseline pandemic-specific policy to ensure our kids have supervision during COVID-19 daycare shortages. HR rejected this offer stating there was insufficient time to collaborate, that they had no obligation to collaborate, that the goal was unfeasible, and claiming we 'didn't show a negative impact' of their current temporary policy," said Sonoma County Chapter President Jana Blunt in her remarks to the Board of Supervisors.
The telecommuting policies are determined at the Department Head level, which reinforces the inequity that already exists:
between departments, as some directors are more accommodating than others;
across genders, as mothers are more frequently placed in unaccommodating situations;
for single- and dual-parent households, as single parents have fewer options;
between upper management and line staff, as managers are more likely to be accommodated due to their authority and;
between white employees and employees of color (and bilingual vs monolingual speakers) due to the demographics of management vs. line staff.
In the cover letter accompanying the petitions that were delivered to the Board of Supervisors, Chapter leaders highlighted how countless members have come forward to detail their struggles, saying "…the negative impact has been clearly demonstrated over the course of this pandemic. We've received hundreds of personal accounts from workers demonstrating widespread inconsistency on the part of department heads for parents, where remote work is reasonable and has no interruption to public services."
This fight isn't over, and members are now planning to schedule follow-up meetings individually with each member of the Board of Supervisors. If you'd like to participate or get involved, please email Sonoma County Chapter Vice President Travis Balzarini at travis.balzarini@seiu1021.org.
In the face of sluggish negotiations, workers at the Town of Tiburon show a unified front as they bond during negotiations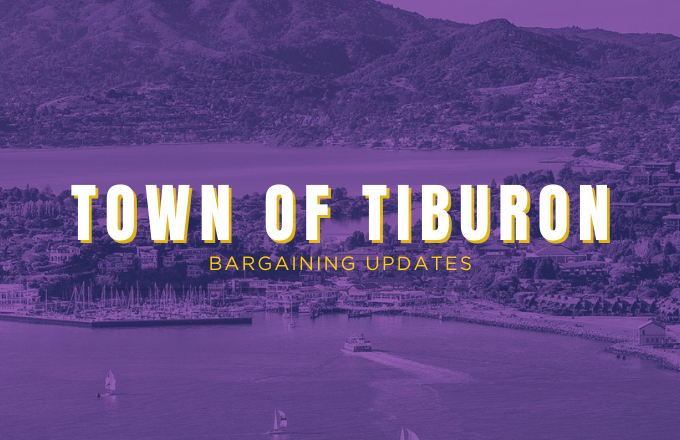 For the last few months, workers at the Town of Tiburon have been locked in an unusually long and drawn-out contract negotiation with the city. As negotiations continue to waver, workers haven't been deterred from taking their fight for COLA's and natural disaster leave to the boss by working together to secure another contract.
"Many of us live up north in the thick of the area where the wildfires happen. When there is a natural disaster, people oftentimes have to evacuate to safer places so, paid leave for natural disasters is important. We may need a few days to relocate and that often means moving and relocating our families to hotels or other places to stay which takes time. We can feel the effects of the wildfires and experience more than just visual aspects of a natural disaster. If there is an emergency, it is important that the city assists workers in getting to safety as soon as possible," said Pete Velles, SEIU 1021 Shop Steward and Sr. Maintenance Worker in the Streets Dept for the Town of Tiburon who has worked on the last 3 contract negotiations.
Support for workers is at an all-time high, which was evident at the last Board of Supervisors meeting where every member in the chapter spoke during the public comment which has never happened before. This public show of support was a clear testament to the fact that workers are fired up and bonding with each other as they challenge the city negotiation team for the benefits they deserve.