Why "Staff Up" is the theme of 2022 — and what it means for worker power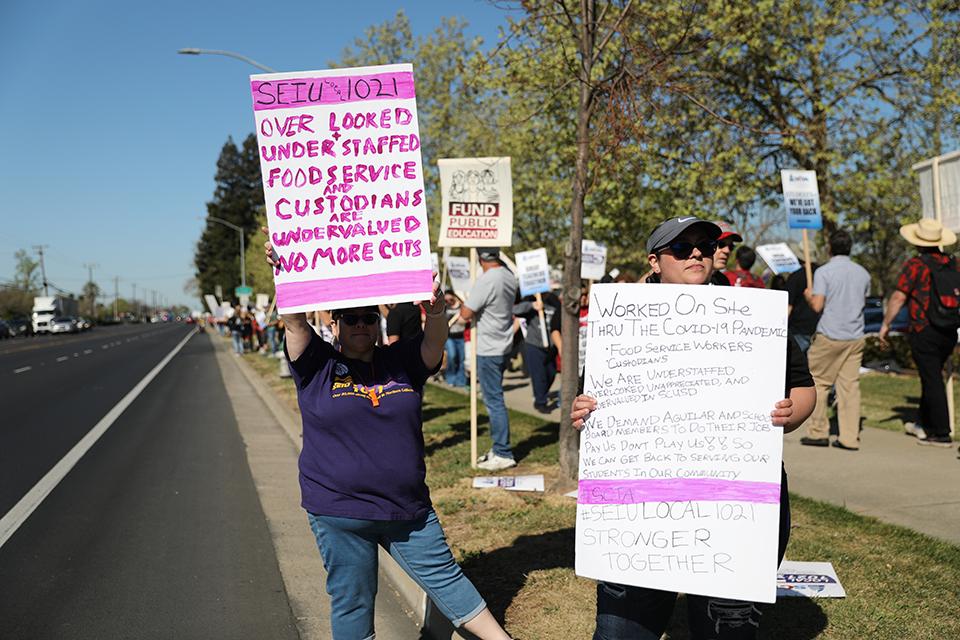 If you've been following the SEIU 1021 Newswire and/or social media accounts this year, you have undoubtedly noticed a common theme: From San Francisco to Mendocino County to Sacramento City schools, 1021 members are demanding their employers do more to alleviate severe staffing crises that are burning out workers and harming the public services they provide.
Short-staffing is an almost universal issue in all kinds of workplaces around California, fueled by what has been dubbed "the Great Resignation." The COVID pandemic and ensuing shutdowns and shifts in how work is being done has led large numbers of workers from a variety of industries to reconsider their priorities and seek new opportunities and career changes.
This is especially true for those who worked in the highest-risk, most turbulent fields during the pandemic: healthcare, education, childcare, social work, hospitality, retail, and other fields requiring in-person contact. Some found new lines of work while laid off or furloughed. Others have been leaving over the past year and a half, lured away in many cases by offers of better pay or benefits, more work-life balance, the opportunity to work from home, or simply less stressful jobs.
But the jobs they are leaving behind still have to be done — by someone. And the staff who remain in these important but increasingly undesirable jobs are having to take on heavier and heavier workloads — often with no increase in pay and little in the way of recognition.
That's why SEIU 1021 members are leading the charge to push their employers to do more to retain current staff and compete for workers in today's notoriously tight labor market by raising pay, improving benefits and working conditions, and using American Rescue Plan Act (ARPA) funding to provide bonuses in recognition of their sacrifice.
Uche Uzgebu-McGhee, a shop steward and social worker in Contra Costa County's Children and Family Services, said at a June rally, "We've been assaulted, we've been overworked, we've been harassed, and still we've stayed. During COVID, a lot of us went out in person, to see children and families and keep them safe, and still, after contracting COVID, we came back to work, and we're still here! It is high time that the County pay us what we deserve so we can afford to live in the community we serve day in and day out!
"I personally got COVID last year. I was pregnant, and I was still working. I had my baby at 29 weeks. He was in the NICU (newborn intensive care unit) for two and a half months and I came back to work, and even after that, still here; I stayed! There are many of you out there with countless stories of COVID and things happening to you and your family, and being harassed by your supervisors and managers for going out to care for those individuals. It is high time they started caring about us the way we care for our community. It is high time Contra Costa County staffs up, hires enough workers so that we don't feel overworked anymore, and pays us our fair share."
Contra Costa County workers' activism has succeeded in getting management to put substantial wage increases on the table — but not enough yet to remedy the staffing crisis, in members' estimation, and they are moving toward a potential strike. Members will be attending strike school this Thursday in preparation.
"The County currently has an overall vacancy rate of 27 percent and some departments are up to 40 percent," Mendocino County Chapter President Julie Beardsley, a senior public health analyst, told the county board of supervisors last week during public comment. "Why does Mendocino County have such a high vacancy rate? We pay below-market wages, which makes it difficult to fill positions, and employees in understaffed departments are buried under excessive workloads so they end up leaving, burned out. The result? Long wait times for things like building permits; insufficient staff to enforce regulations and collect revenues; over-worked, burned out staff resulting in less effective services for county residents. The county needs to bring wages up and hire more staff to provide the services residents expect."
Mendocino County workers are escalating, as the County has continued to cry poverty without evidence, so far offering a zero percent COLA while refusing to provide basic financial information after months at the table. This is despite some crucial departments like Children and Family Services are being battered by vacancy rates as high as 40 percent.
"My caseload involves end-of-life patients. With the current vacancy issues, I can't serve Alzheimer's or Parkinson's patients. It's frightening and leaves the patients in our program without the safety that they deserve to live as long as possible in their homes," said Melissa Lamattina, an in-home supportive services social worker (IHSS) for Napa County, ahead of last Tuesday's march in downtown Napa. Napa County workers are facing the same issue: short-staffing that is harming workers and residents alike, and a county administration unwilling to take the kind of dramatic action needed to stop the bleeding.
"Our bus drivers, the first people the kids see in the morning, have been depleted by over 50%," said SEIU 1021 Sacramento City Unified School District (SCUSD) Chapter President Karla Faucett at a rally during their strike in March. "We have instructional aides having to help write curricula because we're so short-staffed on teachers. We have kids smashed in gymnasiums, supposedly getting a quality education. We have custodians who cannot get the schools clean. Where we used to have 16 at a site, we now have two or three. And now they're asking them to cross over to other school sites."
The situation there came to a head in March, when SCUSD classified workers and teachers struck for eight days. Holding the line paid off: SEIU 1021 members went back to work with a 4 percent COLA, between $7,000 and $11,000 in one-time stipends, and other improvements to benefits and contract language.
"My team provides services to people living in supportive housing, all of whom have a history of homelessness. We help people access food and healthcare, do wellness checks when clients haven't been heard from, and much more. When we're this understaffed, it causes a significant reduction in the services we can provide. Short-staffing puts the people we serve at serious risk. Filling these vacancies and staffing our department will help us provide the services our clients need; without adequate staffing we can't provide enough support," said Leslie Kupper, an SEIU 1021 member and behavioral health clinician with the Department of Homelessness and Supportive Housing, ahead of a massive march down San Francisco's Market Street in March.
San Francisco City and County workers united under the Staff Up SF banner won the largest two-year wage increase in history.
"The pandemic isn't over," Program Administrator and Public Health Emergency Preparedness Coordinator Heidi Corrado said at the Mendocino County Board of Supervisors meeting July 12. "Fire season is pretty much year-round now. We have concurrent disasters. We are the boots on the ground. We are the faces your county constituents see when they need services from this government. We are your right and left hands in an emergency. We know the challenges around recruitment, hiring, retention, because we are the ones still here. We are still making sure the work is done, because it's needed. These employees, human beings, this family of coworkers, have sacrificed and come to work, even when they themselves were evacuated and living in a shelter, worked from home when they were sick with covid—it's true that you cannot buy that kind of work ethic. It's true you cannot buy that kind of loyalty. But it should be rewarded."