Napa County workers march in downtown Napa to urge the board of supervisors to address the countywide vacancy problems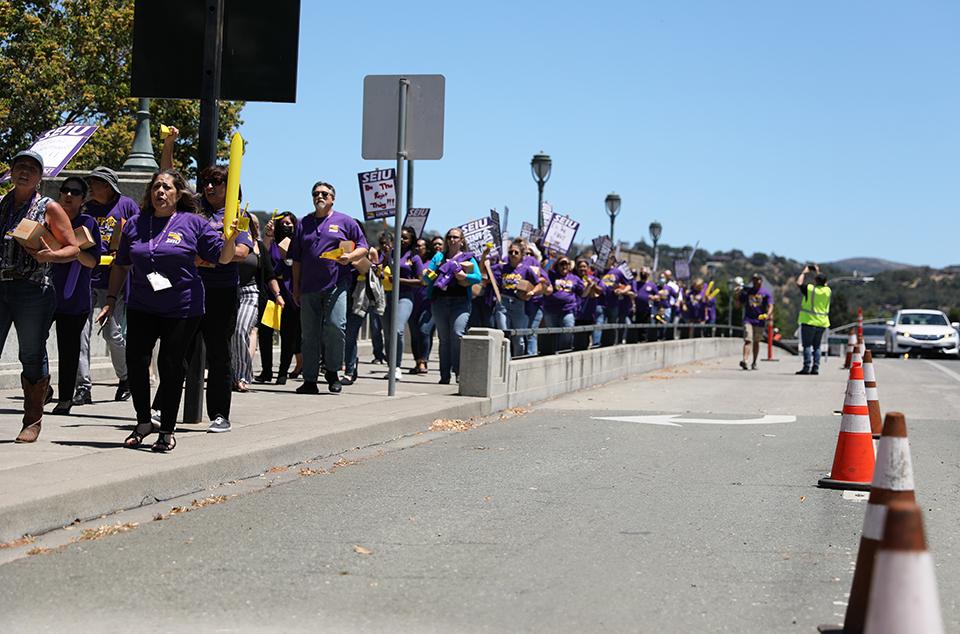 Hundreds of Napa County workers marched and rallied outside the Napa County administration building today, speaking out on the county worker staffing crisis. SEIU 1021 members attested to how understaffing — including of nurses in the Public Health Department, public health workers at Communicable Diseases, social workers at Child Protection Services and Comprehensive Services for Older Adults, and workers in the Mental Health Department – is hurting residents.
"My caseload involves end-of-life patients. With the current vacancy issues, I can't serve Alzheimer's or Parkinson's patients. It's frightening and leaves the patients in our program without the safety that they deserve to live as long as possible in their homes," said Melissa Lamattina, an in-home supportive services social worker (IHSS) for Napa County.
Teresa Trejo, communicable disease investigator at the Communicable Disease Control Department for Napa County said, "We're operating half capacity. We've lost three nurses in almost two years who have left for San Francisco or Marin County because of competitive pay. The last one we lost was our bilingual nurse. That position was offered to a monolingual speaker. Having a Spanish-speaking nurse is essential."
Workers called on the board of supervisors to take action to make the county administration settle a contract that will address workers' staffing concerns and make real improvements to stop the continued exodus of county workers amid a housing crisis and skyrocketing inflation.