The vote is in—SF Citywide members have voted overwhelming by 96% to accept our tentative agreement with the City!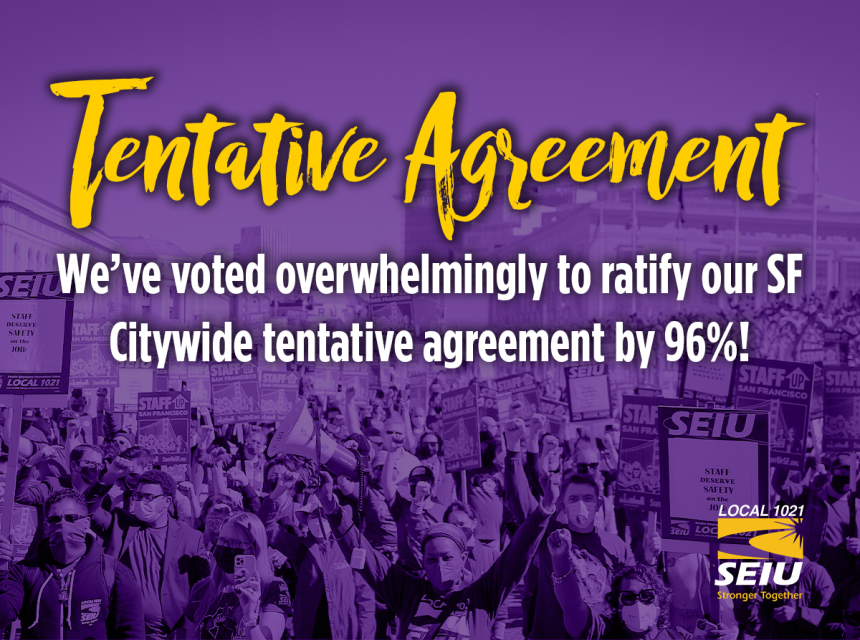 On April 18, we reached a tentative agreement with the City and County of San Francisco for our next Citywide contract. The 10% wage increase we won is the largest two-year wage increase that San Francisco workers have ever received.
This agreement was only possible because of the hard work and participation of union members who stepped up and got involved in our campaign #StaffUpSF and ensure that San Francisco made a strong investment in public services and the workers who provide them. It also would not have been possible without the tireless dedication and hard work of our bargaining team.

This victory would not have been possible without the collective participation and involvement of members across San Francisco. Here's how we won:
We elected dozens of our coworkers to represent us at the bargaining table

We flooded SF's airwaves and billboards with messages featuring our members

We held a February rally with unions across SF at City Hall to #StaffUpSF

We rallied against unsafe staffing & other issues at SF General Hospital

We marched down Market St to alert the community to our concerns

We told our stories to local & national reporters to put pressure on City leadership to take action
"This year's negotiations were a chance for us to help guide San Francisco towards decisions that will best benefit workers and residents alike. We rallied in the streets, at our workplaces, spoke to reporters, and made our voices heard in every corner of this city. I am so proud of every member who stood up and got involved in our campaign. Now we have a strong agreement that will help staff up our essential services and invest in the greatest resource our city has—its workforce. Together we continue to work toward building healthy communities, where everyone has a chance to succeed and to thrive and where workers are respected and valued no matter the color of their skin, their ethnicity their sexual orientation or their religion. I am reminded of the words of Nelson Mandela, who said, 'A good head and a good heart are always a formidable combination.' When we work together collectively for the good of one another, we change lives and we change the world," said Theresa Rutherford, SEIU 1021 Vice President of San Francisco.
Over recent weeks, SEIU 1021 members covered by the San Francisco Citywide contract have had the opportunity to review the tentative agreement that we reached with management. We've distributed booklets summarizing our victories, provided the full text of our agreements with management, and hosted worksite meetings across the city to allow members a chance to ask questions and learn more.

Between May 2 and May 10, we held a vote so that every member would have the opportunity to cast a ballot on whether or not to accept the full tentative agreement that would become our new contract. San Francisco workers in the Citywide bargaining unit have voted overwhelmingly by 96% to accept our new agreement.
Our new agreement will go into effect July 1, 2022.