San Francisco Citywide TA Summary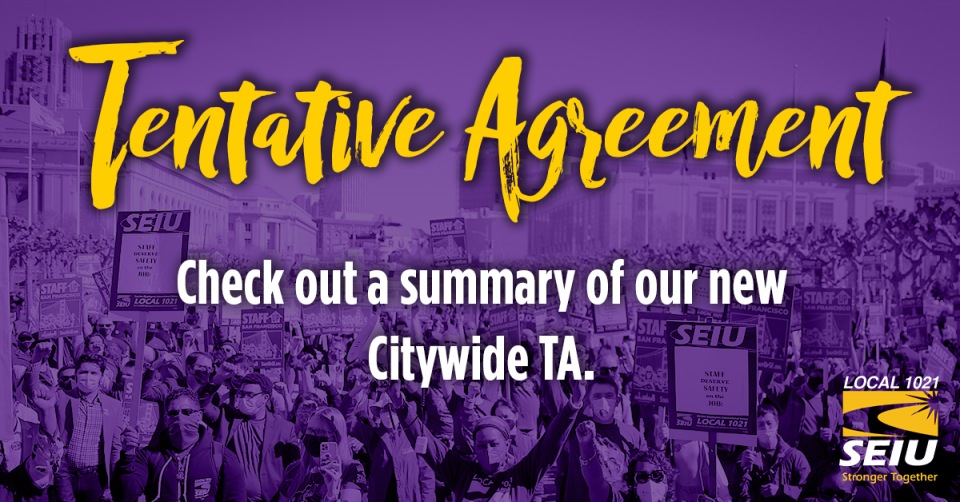 We are excited to announce that our SEIU 1021 San Francisco Citywide bargaining team has reached a tentative agreement (TA) with the City! Our TA includes significant progress on the priorities identified by members and will help recruit and retain staff to make our public services strong.
We got to this TA as a result of years of advocating for stronger revenue and investment for public services, and by staying united with our union allies across San Francisco as we shared our collective message into the streets, in the news, and in our worksites.
Click below to read a summary of our historic agreement.
English
Wage increase: A historic 10% wage increase over 2 years. This is the highest wage increase in the last 18 years and would not have been possible without solidarity and cooperation across San Francisco's other public sector unions.

Year 1: 5.25% on July 1, 2022
Year 2: 2.50% on July 1, 2023* and 2.25%* in Jan. 2024 (*6 month offramp in case of $300+ mil deficit)
Due to positive pension fund results, employee contribution to the pension will be reduced by around 1%, resulting in an additional appx. 1% wage increase (actual increase will vary)

Longevity Pay: Increase from $0.30 to $0.50 cents (first increase since 1995).

Equity: Pay adjustments will be made for 10 classifications. Full list at www.seiu1021.org/equities

Classification & equity adjustment studies: A study will be completed by January 1, 2024 to address recruitment & retention problems, salary compaction, and disparities for a number of classifications. You can see the full list of classifications to be included in this study at seiu1021.org/equities

Uniforms: Increased uniform and shoe allotment for 2700-series custodians at AIR. Sheriff's Department 8202, 1705, 8217 and 8300 uniform allowance increase to $675. Footwear provided by City for School Crossing Guards. Increase to $265 uniform allowance for many DPH classifications, increase to $150 for uniform maintenance for hospital eligibility workers.

Telecommuting: Makes bargaining unit members eligible for telecommuting policy ongoing. Adds telecommuting language into the MOU and denied requests for arbitrary or capricious reasons may be appealed to HR Director.

Temporary worker pathway and hiring: Agreement to expedite hiring to the extent permissible under SF Charter and CSC Rules and seek ways to make easier for Cat 18 employees to seek PCS appointments.

Workforce Development and Career Ladders: Review classifications to promote career ladders and promotional pathways while identifying barriers to upward mobility. Increase access to career counseling services and provide PCS and Category 18 members 4 hours of release time annually to attend City or departmental workforce development trainings and in-service.

20/20 Program (SEIU Work Training Program): Double annual funding from $200,000 to $400,000 annual for members to be released from work to attend college courses.

No Discrimination/Reasonable Accommodation: Removal of single remedy election to allow employee to file a grievance and EEO complaint, pursuant to Gould Report recommendations. Allow reasonable accommodation decision appeal to both HR Director and grievance process.
Acting Assignment Reform: Acting assignment shall not last longer than 6 months without DHR approval and notice to union. Upon request, provide a list of members currently in acting assignments.

Legal Holidays for Part-Time Employees: Part-time employees shall receive holiday based upon ratio of 1/10 total number of hours the employee is regularly scheduled to work in a biweekly pay period, regardless of hours missed in pay period prior to holiday.

Saturday Holidays: Employees who work on a Friday, which is observed as a holiday in lieu of a holiday falling on Saturday, shall be allowed a day off in lieu thereof a scheduled within the current or next fiscal year. (Changed from (1) calendar year.)

Mandatory Overtime: City shall make good faith efforts to utilize voluntary OT. No sooner than 10/21/22 the City shall track voluntary vs. mandatory OT by dept and provide an annual report.

Health & Safety: The city shall post contact info of safety officers and update any changes and signage to the public regarding penalties for assaults on workforce. City commitment to expand EAP capacity, establish Tenderloin Safety Committee, PPE/Safety Labor Management Committee, provide anti-fatigue mats in certain DPH work areas, provide needle stick clean up equipment, provide radios for transporting patients. FAM and AAM meet and discuss seating for museum guards, to be provided by 2023.

Disaster Service Worker Reform: City shall adopt a disaster staffing plan identifying examples of duties and responsibilities during a disaster, employee safety and training requirements. City to provide annual training to all employees on duties in case of disaster. Establish a command center during an emergency as well as a process to address employee issues, complaints and concerns regarding DSW assignments and scheduling. During declared emergency, bilingual employees who are not yet certified will be scheduled for the exam, however, while the exam is pending these workers shall receive the premium. The city will rotate deployments among qualified applicants to the extent possible.

Health Worker Class Series Committee: Establish a committee to review the Health Worker series and career ladder to allow greater upward mobility. Create new classification for medical interpreters.

Training for Workers in Certain Classifications:

Human Service Workers: Prior to adopting new software, employees shall receive training in alignment with vendor, state or federal guidance and mandates.
DPH Supervisor Training: Establish workforce development committee to look at staff development. All new DPH employees required to use EPIC will receive adequate training.
Youth Guidance Center Workers: Counselors shall receive no less than one additional day of training per year in working with adult (18-25) populations including defensive tactics and extraction techniques. Protective equipment will be provided, including helmets, shields, shin guards and knee guards.
Department of Homeless & Supportive Housing: All HOM employees required to access CareLink as part of their job will receive training.

Eligibility Worker Working Conditions: Adds task load to section on equitable distribution of workload and criteria.

Radiologic Tech pay discrepancy: Amends pay matrix for 2471, which will result in additional step increases for some incumbent 2471s.

Department of Homeless and Housing: City will provide training in 5150 certifications for those who conduct 5150's.

SEIU 1021 Officers Release and Reimbursement: Guarantees elected union officers on leave to receive pension and benefits.

Juneteenth Holiday: Recognizes Juneteenth (June 19) Holiday in MOU.
中文
漲薪:工資在2年內增長10% —— 歷史新高。這是過去18年來最高的工資漲幅,這離不開沒有舊金山其他公共部門工會的團結與合作。

第1年:2022 年7月1日增長5.25%
第2年:2023年7月1日增長2.50% * , 2024年1月增長 2.25% (*如果出現3億美元以上的赤字 ,則以6個月為期)
由於養老基金業績較好,員工的養老金扣款將減少1%左右,導致工資增長約1% (實際增長情況會有所不同)

工齡薪資:從$0.30增加到$0.50 (1995 年以來首次增長)。

股權:將對10個職類進行薪資調整。完整列表在:seiu1021.org/equities

職類和股權調整調查:將於2024年1月1日完成一項調查,以解決人員招聘和留用問題、薪資縮減和一些職類的懸殊差異。您可以在seiu1021.org/equities查看本調查包含的完整職類清單

制服:提高AIR 2700序列監管人員的制服和鞋子配額。治安部門的8202、1705、8217和8300序列的制服津貼增加到$675。市政府為校區交通督導員提供鞋靴。多數DPH類職位的制服津貼增加至$265,醫院福利審核人員的制服維修費增加到$150。

遠程辦公:使談判團隊成員符合電子通勤政策的資格。在諒解備忘錄中增加了遠程辦公條款,因任意原因或反覆無常之緣由被拒絕的請求,可以向人力資源主任提出上訴。

臨時工通道及招聘:同意在SF Charter 和CSC 條例允許的範圍內加快招聘速度,並尋求方法簡化Cat 18員工尋求PCS任命的方式。

員工發展和職業階梯:進行職類評審,以促進職業梯級和晉升途徑,同時找出阻礙向上流動的障礙。增加獲得職業諮詢服務的機會,併為PCS和Category 18成員提供每年4小時的寬鬆時間,以參加市政府或部門員工發展培訓和在職培訓。

20/20計劃(SEIU工作培訓方案):每年用於會員離開崗位參加學校課程的資金翻倍,從$200,000增至$400,000。

無歧視/合理安置根據Gould Report建議,取消單一補救辦法選擇,允許僱員提出申訴和平等就業機會投訴。允許通過人力資源主任和申訴程序提交合理安置請求。

代理職責改革:未經人力資源主任批準並知會工會,代理職責時長不得超過6個月。根據需求,提供目前擔任代理職責的成員名單。

兼職僱員的法定假期:兼職僱員有權享受假期,其假期時長根據其在雙週工資期內定期工作安排的總小時數1/10之比例而定,不論其在假期前非在崗時間為多少。

週六假期:如因恰逢週六為法定假日,週五被視為是這被視為節假日,則星期五工作的僱員應允許在當前或下一個財政年度內安排一天假期。(原為(1)日曆日)

強制加班:市政府應當善用自願加班。不遲於10/21/22市政府應通過部門跟蹤自願與強制性口頭傳統的情況,並提供年度報告。

健康與安全:市政府應公佈安全官員的聯繫信息,並向公眾更新任何更改和標誌,以便對勞動力攻擊行為的處罰。城市承諾擴展EAP能力,成立Tenderloan安全委員會、PPE/安全勞動管理委員會,為部分DPH工作區域提供抗疲勞墊,提供針刺清潔設備,提供病人搬運提供無線電。FAM和AAM會面並討論博物館警衞座位事宜,並將於2023年落實。

救災服務人員改革:市政府應制定救災人員配置計劃,確定災害期間的職責、員工安全和培訓要求的實例。市政府為所有救災人員每年提供救災職責相關的培訓。建立應急指揮中心,制定相關流程處理DSW任命及安排相關的員工問題、投訴及問題。在已公佈的緊急實踐中,尚未獲得認證的雙語僱員將被安排參加考試,在考試開始之前,這些員工將可領取保險費。市政府將儘可能安排合格申請人輪換部署

衞生工作者職級委員會:成立一個委員會,審查衞生工作者序列和職業階梯,以便更大程度地向上流動。為醫療口譯員創建新的分類。

針對部分職類工作人員的培訓:人力服務工作者:在採用新軟件之前,員工應按照供應商、州或聯邦的指導和要求接受培訓。DPH主管培訓:成立員工發展委員會,審視員工的發展。所有需要使用EPIC的DPH新員工都將接受適當的培訓。青少年指導中心工作人員:輔導員每年應接受至少一天有關以便與成年人 (18-25歲) 共事的培訓,包括防禦術和抽取技術。將提供防護設備,包括頭盔、盾牌、護腿和護膝。無家可歸及支持性住房部:所有因工作需要,須訪問CareLink的HOM員工將接受培訓。

福利審核員的工作條件:將任務負載添加到關於公平分配工作量和標準的部分。

放射科技工資差異問題:修訂2471序列的薪金矩陣,這將導致部分在職2471序列員工基本工資增加。

無家可歸者和房屋部:市政府將提供為從事5150序列工作的人員提供5150認證培訓。

SEIU 1021序列官員休假和報銷:保障選舉產生的工會官員休假期間領取養卹金和福利。

六月節假日:在諒解備忘錄中確認六月節(6月19日)假期。
Español
Aumento salarial: un aumento salarial histórico del 10% en 2 años. Este es el aumento salarial más alto de los últimos 18 años y no habría sido posible sin la solidaridad y la cooperación de las demás uniones del sector público de San Francisco.

Año 1: 5.25% el 1 de julio de 2022
Año 2: 2.50% el 1 de julio de 2023* y 2.25% * en enero de 2024 (*6 meses de descuento en caso de déficit de más de $300 millones)
Debido a los resultados positivos del fondo de pensiones, la contribución de los empleados a la pensión se reducirá en aproximadamente un 1%, lo que resultará en un aumento salarial adicional aproximado de 1% (el aumento real variará)

Sueldo por longevidad: incremento de $0.30 a $0.50 centavos (primer aumento desde 1995).

Equidad: se harán ajustes salariales para 10 clasificaciones. Puede encontrar la lista completa en seiu1021.org/equities

Estudios de clasificación y ajuste de equidad: se completará un estudio antes del 1 de enero de 2024 para abordar los problemas de contratación y retención, la compactación salarial y las disparidades para una serie de clasificaciones. Puede ver la lista completa de clasificaciones que se incluirán en este estudio en seiu1021.org/equities

Uniformes: aumento de la asignación de uniformes y zapatos para los custodios de la serie 2700 en AIR. La asignación de uniformes 8202, 1705, 8217 y 8300 del Departamento del Sheriff aumenta a $675. City for School Crossing Guards suministra el calzado. Aumento de la asignación de uniformes a $265 para muchas clasificaciones del DPH, y aumento a $150 para el mantenimiento de uniformes para los trabajadores elegibles de hospitales.

Teletrabajo: hace que los miembros de la unidad de negociación sean elegibles para la política de teletrabajo en curso. Agrega texto sobre el teletrabajo al MOU y las solicitudes denegadas por razones arbitrarias o caprichosas pueden apelarse al Director de Recursos Humanos.

Trayectoria y contratación de trabajadores temporales: acuerdo para acelerar la contratación en la medida permitida por los Estatutos de San Francisco y las Reglas de CSC, y buscar formas de facilitar a los empleados de la Categoría 18 la búsqueda de citas de PCS.

Desarrollo de la fuerza laboral y escalas profesionales: revisión de las clasificaciones para promover las escalas profesionales y las vías para los ascensos, al mismo tiempo que identifica las barreras para la movilidad ascendente. Aumentar el acceso a los servicios de orientación profesional y proporcionar a los miembros de PCS y de la Categoría 18, 4 horas de tiempo de permiso al año para asistir a capacitaciones de desarrollo de la fuerza laboral de la ciudad o departamento y en servicio.

Programa 20/20 (Programa de Capacitación Laboral de SEIU): doble financiación anual de $200,000 a $400,000 al año para que los miembros reciban permisos en el trabajo para asistir a cursos universitarios.

Sin discriminación/ajustes razonables: eliminación de la elección de recurso único para permitir que el empleado presente una queja y una reclamación de EEO, de acuerdo con las recomendaciones del Informe Gould. Permitir la apelación de la decisión de adaptación razonable tanto al director de recursos humanos como al proceso de quejas.

Reforma de asignación de responsabilidades adicionales: la asignación de responsabilidades adicionales no durará más de 6 meses sin la aprobación del departamento de Recursos Humanos y sin notificación a la unión. Previa solicitud, proporcionar una lista de miembros actualmente en asignaciones de responsabilidades adicionales.

Días festivos legales para empleados a tiempo parcial: los empleados a tiempo parcial recibirán los días festivos en función de una proporción de 1/10 del número total de horas que el empleado tiene programado trabajar regularmente en un período de pago quincenal, independientemente de las horas perdidas en el período de pago antes del día festivo.

Sábados festivos: a los empleados que trabajen un viernes, que se acate como festivo en lugar de un día festivo que cae el sábado, se les permitirá un día libre en lugar de un día programado dentro del año fiscal actual o siguiente. (Cambiado de (1) año calendario.)

Horas extras obligatorias: la Ciudad hará esfuerzos de buena fe para utilizar las horas extras voluntarias. No antes del 10/21/22, la Ciudad realizará un seguimiento de las horas extras voluntarias frente a las obligatorias por departamento y proporcionará un informe anual.

Salud y seguridad: la Ciudad publicará la información de contacto de los oficiales de seguridad y actualizará cualquier cambio y señalización al público con respecto a las sanciones por agresiones a la fuerza laboral. Compromiso de la ciudad de ampliar la capacidad de EAP, establecer el Comité de Seguridad de Tenderloin, el Comité de Gestión Laboral de Seguridad y PPE, proporcionar tapetes antifatiga en ciertas áreas de trabajo del DPH, proporcionar equipos de limpieza para pinchazos con agujas y proporcionar radios para transportar pacientes. FAM y AAM se reúnen y discuten los asientos para los guardias de museos, que se proporcionarán para 2023.

Reforma de trabajadores de servicios en caso de desastres: la Ciudad adoptará un plan de personal para casos de desastre que identifique ejemplos de deberes y responsabilidades durante un desastre, seguridad de los empleados y requisitos de capacitación. La Ciudad proporcionará capacitación anual a todos los empleados sobre los deberes a realizar en caso de desastre. Establecer un centro de comando durante una emergencia, así como un proceso para abordar los problemas, quejas e inquietudes de los empleados con respecto a las asignaciones y la programación de DSW. Durante la emergencia declarada, los empleados bilingües que aún no estén certificados se programarán para el examen; sin embargo, mientras el examen esté pendiente, estos trabajadores recibirán la prima. La Ciudad rotará las implementaciones entre los solicitantes calificados en la medida de lo posible.

Comité de la serie de trabajadores de salud: establecer un comité para revisar la serie de trabajadores de la salud y la escala profesional para permitir una mayor movilidad ascendente. Crear una nueva clasificación para los intérpretes médicos.

Capacitación para trabajadores en ciertas clasificaciones: Trabajadores de servicios humanos: antes de adoptar un nuevo software, los empleados deben recibir capacitación en consonancia con las directrices y los mandatos del proveedor, estatales o federales. Capacitación para supervisores del DPH: establecer un comité de desarrollo laboral para abordar el desarrollo del personal. Todos los nuevos empleados del DPH que deban usar EPIC recibirán la capacitación adecuada. Trabajadores del centro de orientación juvenil: los consejeros recibirán no menos de un día adicional de capacitación por año para trabajar con poblaciones adultas (18-25), incluidas tácticas defensivas y técnicas de extracción. Se proporcionará equipos de protección, incluidos cascos, protectores, espinilleras y rodilleras. Departamento de Asistencia de Vivienda para Personas sin Hogar: todos los empleados del HOM que tengan que acceder a CareLink como parte de su trabajo recibirán capacitación.

Condiciones laborales de los trabajadores elegibles: agrega la carga de tareas a la sección sobre distribución equitativa de la carga de trabajo y los criterios.

Discrepancia salarial de tecnología radiológica: modifica la matriz salarial para 2471, lo que resultará en aumentos en escala adicionales para algunos 2471 titulares.

Departamento de Personas sin Hogar y Vivienda: la Ciudad brindará capacitación en certificaciones de la 5150 para quienes realicen labores de la 5150.

Permisos y reembolso para funcionarios de SEIU 1021: garantiza que los funcionarios electos de la unión en licencia reciban pensiones y beneficios.

Día festivo del 19 de junio: reconoce el día festivo de Juneteenth (19 de junio) en el MOU.