Solano County Health & Social Services members rally for SB 525 and score a victory
SB 525 passed the Senate appropriations committee!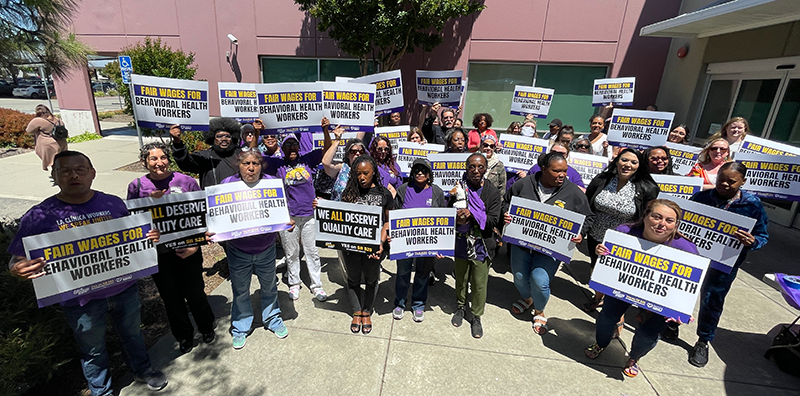 Essential healthcare and behavior health workers – from hospital janitorial staff to security officers, medical assistants, resident physicians, and nursing home caregivers – from Solano County Health & Social Services rallied last Thursday, May 18, in support of legislation that is essential to fixing California's patient care crisis. Senate Bill 525 by Senator Maria Elena Durazo (D-Los Angeles) would help California address the field's staffing crisis by establishing the nation's first $25 minimum wage for healthcare workers.
Healthcare and behavioral health workers are burned out and traumatized after the stress of the pandemic and the way their employers disregard staffing needs. Lack of adequate staffing produced tragic results during the pandemic, and healthcare workers are leaving their profession in alarming numbers. Low pay and poor working conditions mean that not enough new workers are willing to join the healthcare workforce.
"The stress of the pandemic was unbearable, and it hasn't let up. With so many workers leaving, those of us who remain are still doing the jobs of two or three people. My patients deserve better. We have to raise wages to draw more diverse, talented workers into these critical jobs. That's why healthcare workers are fighting for a $25 healthcare minimum wage," said Katreena Dotson, an office assistant II at the Solano County Family Health Services Clinic.
Solano County Supervisor (District 3) Wanda Williams and Fairfield Councilmember K. Patrice Williams came to the rally to show support, spoke on the necessity of SB 525 for clinic workers, and promised to join the fight and rally this week in Sacramento.
As the rally came to a close and workers ended their lunch break, we received the great news that SB 525 passed the senate appropriations committee! When we fight, we win!