SEIU 1021's AAPI celebration continues to grow!
Counting down to Here All Year: Celebrating AAPI Heritage With Family on June 3rd

AAPI month is going strong, and we're busy gearing up for our own AAPI celebration on June 3!
Extending the festivities beyond May, SEIU 1021 is sponsoring a family-friendly event on Saturday, June 3, at Snow Park in Oakland. This celebration encompasses family fun with an emphasis on the importance of healthcare workers and their critical fight to raise wages to $25 an hour. Labor fights are intricately woven into Asian American and Pacific Islander heritage, and AAPI community members play a vital and continuing role in labor movements to this day.
In addition to esteemed community leader speakers and a solidarity march, this event will feature amazing food and a range of fun activities and performances! From Chinese to Filipino and Vietnamese cuisine and even American BBQ, we are proudly serving SEIU members and their families a variety of free, delicious meals to help honor and appreciate rich and diverse AAPI culinary options.
To round out the day, the event will have live entertainment, including Hmong dancers, Cambodian dancers, and Taiko drummers. When the numerous music and dance performances are not occurring, there will be a local DJ playing to keep the energy high.
We look forward to celebrating with SEIU members and their families at this joyous and informative event on June 3!
More details: Here All Year: Celebrating AAPI Heritage With Family, will be held on June 3 from 11 a.m. to 2:30 p.m. at Snow Park, Harrison St & 19th St, Lakeside Dr, Oakland, CA.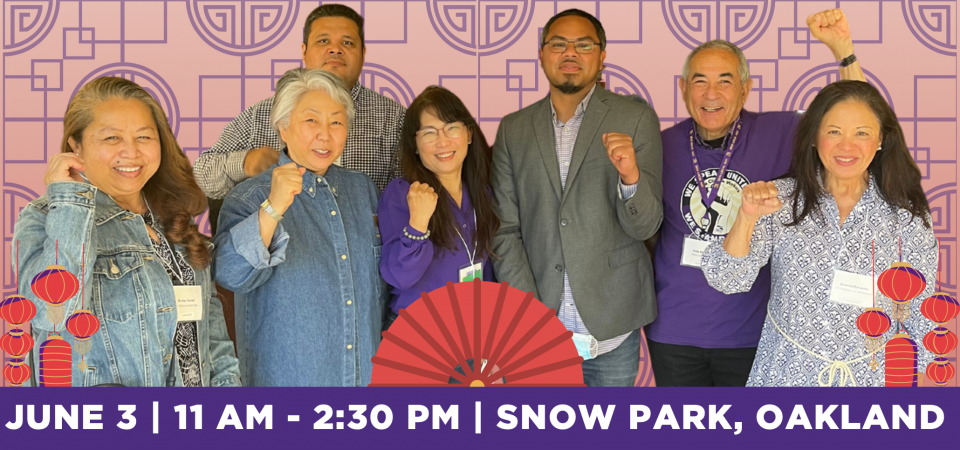 More ways to RSVP: