Santa Clara University adjuncts and lecturers win their union election in resounding victory!
Welcome to SEIU 1021!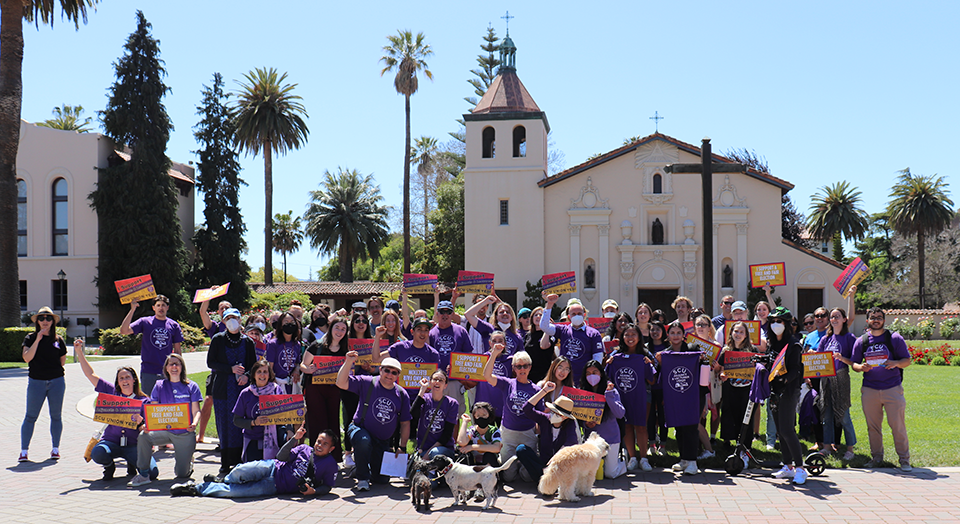 In 2017, adjunct faculty and lecturers at Santa Clara University began organizing to form a union. On June 21, 2022, votes from their union election were counted — and they won big, with over 72% of the votes cast for the union in an election with impressive turnout.
Andy Wolfe, a lecturer at SCU and a member of the organizing committee, said, "It's a big win for all the faculty at Santa Clara. We've been working toward this day for years, and we're not surprised by this outcome. We've been talking to our supporters and hearing their enthusiasm, and when it came time to vote, they showed up! We really feel that this result is representative of what the faculty wants, and we hope the administration takes this vote as a signal of what the faculty expects from them.
"We're looking forward to working cooperatively with the administration for a new contract. We're going to go talk to our members and survey them to set our priorities together and elect a team to represent us at the table."
SEIU Local 1021 Vice President of Organizing Brandon Dawkins said, "This win is a great testament to the work we do as a union. It was a very long campaign. We encouraged them to stay in the fight, with years of talking to folks and organizing, because it's our job as the labor movement to bring all workers up! If we're not engaged in bringing all workers up, our movement will die. We have to fight for every worker to get the things they need, like a living wage, healthcare, and a voice in the way their employer operates. As workers, we're the engines that make our organizations run, and we're proud to help bring these adjuncts and lecturers into our movement. Welcome to SEIU 1021!"