Coalition of SF City College Unions Urge Mayor Breed to Support Revenue Measure to Restore, Improve CCSF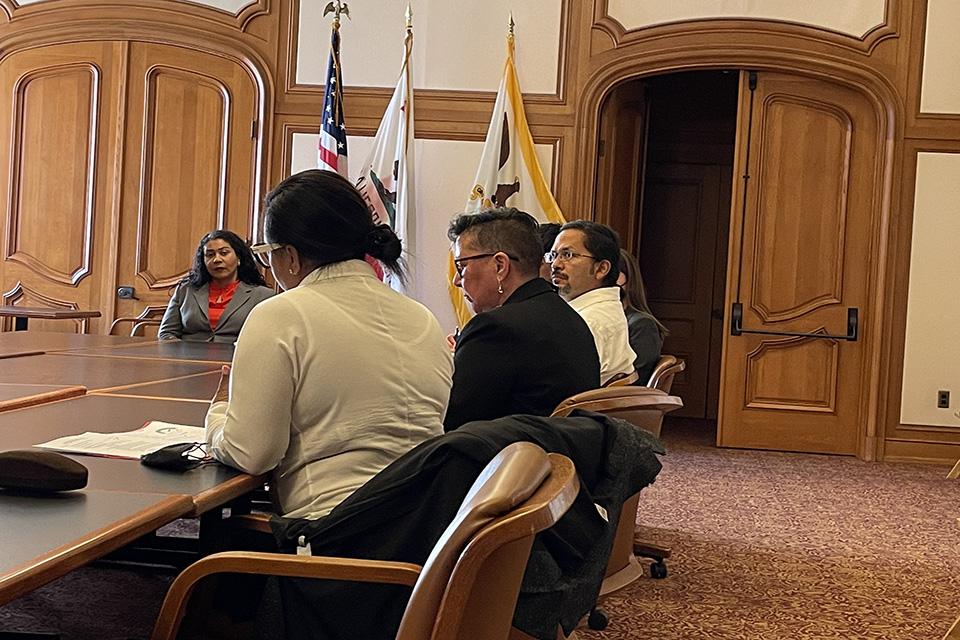 Friday afternoon, members of the San Francisco City College Revenue Unity Coalition, representing the unions that employees of SF City College (CCSF) belong to, met with SF Mayor London Breed. We introduced a plan to generate the annual $43.7 million they have identified as a gap between current revenue and what is needed to meet the minimum demand for CCSF programs and services.
"Our San Francisco City College Revenue Unity Coalition presented the first of our efforts sharing our vision with Mayor London Breed as she met with labor today," said CCSF Chapter President Athena Steff after the meeting. "Our intention was to get the mayor to support our vision. What a pleasant surprise for our first meeting. Mayor Breed listened, asked questions, and engaged with us in positive conversation."
The coalition has been working together for months to research and study what is needed to restore vital programs at CCSF, including workforce development. Programs like English as a second language, nursing, building trade programs, computer literacy, and more have been part of the focus, as well as wraparound services that allow students to fully participate and complete their educational goals. Those wraparound services include childcare, basic needs (like food and housing), counseling, student support, student jobs, and more. The coalition has also studied mechanisms for generating the revenue needed to provide these programs and services to every San Franciscan who needs them.
Over recent years, CCSF has faced deep cuts to programs and services. As classes and programs have been slashed, enrollment has dipped—kicking into gear a vicious circle of cuts. By offering a wide variety of foundational and workforce development programs that allow students and adults, particularly disadvantaged San Franciscans from low-income and immigrant communities of color, CCSF can increase enrollment. When coupled with improvements to the wraparound services and supports that help students stay in school, City College can better ensure that every San Franciscan has the opportunity to get a college degree and/or learn a trade that will open doors to well-paid jobs right here in San Francisco.
"Mayor Breed identified the need for data from SF City College administration, which has been problematic," said Athena. "She shared remembering when City College was vibrant across the city at all its locations. She assigned an aide to be our contact to her and expressed how important education is. We have much data to gather and study as we move forward and plan our next meeting with her."
View an executive summary of the San Francisco City College Revenue Unity Coalition's plan here.