"This is why we exist, to protect our members, to protect working people"
SEIU 1021 President Joseph Bryant Reflects on 2020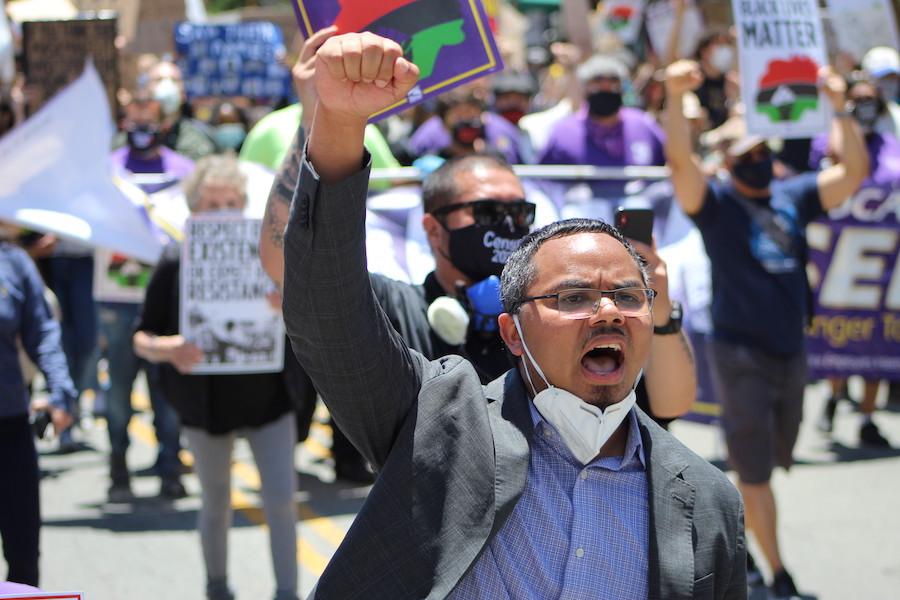 Check out a recap of the many victories our union won in 2020 by clicking here.
"The time is now" could not be a more fitting idiom to describe the spirit and intensity of a particularly unforgettable year. From unsafe working conditions, PPE shortages, and racial injustices, to a substantial political season, on top of COVID-19 – this year was a challenge. But in the midst of it all, SEIU 1021 members stood strong, side by side with our communities, riding out some of our toughest storms to date.
While most of the world was sheltering in place, our members were on the front lines risking their lives to serve our communities. "Our workers were the ones who ensured that society continued to run. We were the ones to make sure the lights were kept on, the water continued to run, the trash continued to get taken out, all health services were provided in the midst of a pandemic, and that our folks were risking their lives every day to ensure that things could still function as best as possible," said Joseph Bryant, reflecting on the challenges we've faced since shelter in place began.
The fight for PPE and safe working conditions continues to be a challenging situation, but, "that is what the labor movement is for, to meet the challenges that exist. To rise up and take on challenges that workers face," said Joseph, expressing his admiration and respect for the members of our union who have stood up and continued to save lives.
The same can be said for the progress SEIU 1021 made this year in the racial justice movement. "To see with our own two eyes a person's life being taken so heartlessly and in such a casual manner for no reason was a tipping point for most of us to say we have to do something." In June 2020, Under Joseph Bryant's leadership, SEIU 1021 helped organize and lead several "Say Their Names" campaigns and actions in San Francisco, the East Bay, and Sacramento. "There's a responsibility from an organizational perspective to say what is our role in this? We represent so many people of color, Black, brown, API, and we do have the infrastructure, the voice, the membership to be able to send a message, so we needed to play a part. We couldn't sit idle while this was happening," Joseph said.
As 2020 election results poured in last month, it became clear we didn't achieve every corporate accountability victory we'd hoped for but we still had cause to celebrate. Successfully electing worker-supportive public officials, raising $1.5 billion dollars in local revenue, creating hardship funds, hosting food giveaways, and stepping up for our most vulnerable members at the local, state, and national level are a few moments our president is proud of.
When asked about his plan to translate these triumphs into tangible change, president Joseph Bryant said, "just because it's in the budget doesn't mean it gets allocated automatically where it should go, or where it was intended to go. The work has to continue to make sure there is an application for those funds in the places that they need to go. The voice of power can't stop in the political arena."
Together, we surmounted considerable obstacles but we made it through the year and as we look to 2021 with a renewed perspective and clear ambitions, we close out with a few words of inspiration from our president. "We have to use the power that we have and who we are, which comes from our membership, to make change at every level—in politics, with our employers, and in our workplaces."