"Where will our patients go?" Members vow to do everything possible to save Laguna Honda Hospital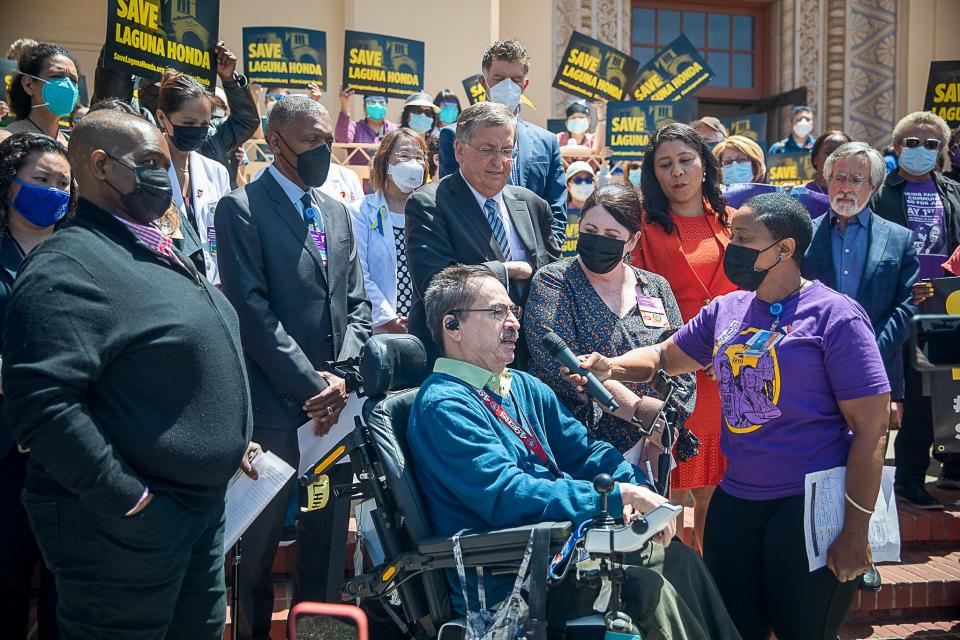 Laguna Honda Hospital is San Francisco's primary long-term care facility. The hospital provides San Franciscans with a complete continuum of care, including skilled nursing, rehabilitation, AIDS care, dementia services, hospice and acute care, as well as an adult day health care center and a senior nutrition program. It's a remarkably unique facility, unlike virtually any other long-term care facility in the United States.
These considerations made it all the more alarming when news broke last week that the facility could have its participation in the Medicare and Medicaid programs terminated, which are the hospital's main sources of funding. By law, the Centers for Medicare and Medicaid Services (CMS) are now requiring the hospital to implement a closure and patient relocation plan in order to continue receiving funding over the coming months.
In the wake of this news, SEIU 1021 members organized an emergency Save Laguna Honda rally and press conference on the steps of the hospital on Wednesday (view photos here). We were joined by elected officials including Mayor London Breed and Supervisors Myrna Melgar and Aaron Peskin, as well as DPH leaders such as Laguna Honda CEO Michael Phillips as well as current and former patients.
"Laguna Honda Hospital has served this community for over 150 years and we were a national leader in COVID safety. We have over 700 patients, many of whom have lived here for decades—where are they supposed to go?" asked Theresa Rutherford, SEIU 1021 Vice President of San Francisco and a Certified Nursing Assistant at Laguna Honda Hospital. "As a union, we're going to fight like hell to keep these doors open. We were healthcare heroes yesterday, but now we are fighting to get Laguna Honda recertified. We're going to do everything we can to protect our patients and make sure we can continue serving this city."
If Laguna Honda closes, it will trigger a San Francisco's Public Health system crisis. There are no other facilities available to house the more than 700 residents who live at Laguna Hospital — the only long-term skilled nursing facility of its kind in the U.S.
"It was a gut punch," said Felipe Martinez, a Laguna Honda patient upon learning of the possible transfer and closure. "Laguna Honda helps so many different people. Moving residents and closing the doors is like shutting the doors on some of the city's people most in need. It is very hard to find the quality of care that we have here at Laguna Honda."
SEIU 1021 members are ready to do everything we can to protect our patients and jobs by getting our hospital recertified so we can continue serving the residents who depend on us. We can save Laguna Honda hospital for ourselves and our patients, but only if frontline workers and management are committed to fighting.
Please sign and share our petition to Save Laguna Honda at www.savelagunahonda.org.