Students, Alums, Staff, and Adjunct Faculty Rally at California College of the Arts to Protest Unfairness, Financial Mismanagement and Cuts to Student Services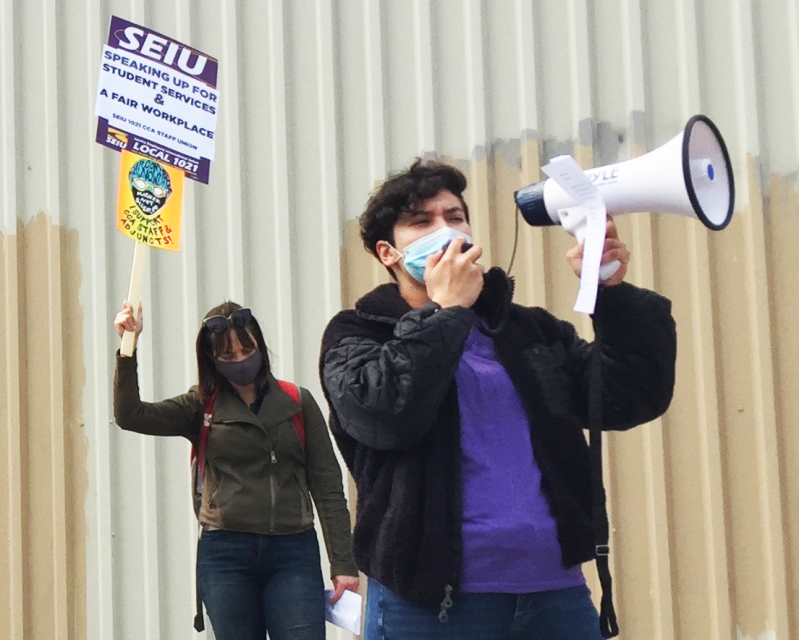 More than a year ago, staff workers at California College of the Arts overwhelmingly voted to form a union. These roughly 150 workers provide a wide range of student services at the school, from clerical and IT work to library staffers and artists in the school's studios. Since their ratification vote in April of 2019, these staffers have worked to bargain their first contract with CCA administration.
These efforts have been met with stonewalling and endless delays from management. That's why on Sunday, August 30 CCA staff members, students, alums, and adjunct faculty rallied to demand a fair contract for staffers and an end to student service cuts that are driven by financial mismanagement.
CCA staffers also pointed to an unfair working environment, with inconsistent work assignments, and high turnover. Kate Goyette, a Printmaking Studio Manager with CCA for nearly three years, said, "We want to make sure the folks who work here at CCA can live here in the Bay Area. CCA focuses on hands-on, experiential learning in the arts, and much of this happens outside class time, in the spaces that staff runs. We are crucial here, and we demand consistency and fairness from the administration."
Meanwhile, administration's financial mismanagement has begun to make national news. Recently, both Bloomberg and Hyperallergic published stories showing how CCA has mortgaged its academic buildings and signed away its revenue to banks and property developers. CCA did this without informing or involving its workers, including both the staff workers and the adjunct faculty members who are also represented by SEIU 1021.
CCA's administration says these decisions are normal in higher education, but our members know that what's really going on is that students and workers are being starved of resources while the banks pile up money. Our members at San Francisco Art Institute and Notre Dame de Namur, two other local schools, have seen those institutions collapse because of decision-making like this, and across the area, they're speaking up against this kind of mismanagement.
Ari Farrokhzad, a CCA illustration student, said, "Through my entire time at CCA, starting in 2013, I have seen issues with the entire institution. Everything the staff stands for centers on student services. They care about student experiences. Everything they're fighting for will improve student experiences as well. Our struggle is their struggle. Staff, adjuncts, and students are speaking as one to call for a fairer CCA."