STRIKE: Fast-food workers statewide fight to win FAST Recovery Act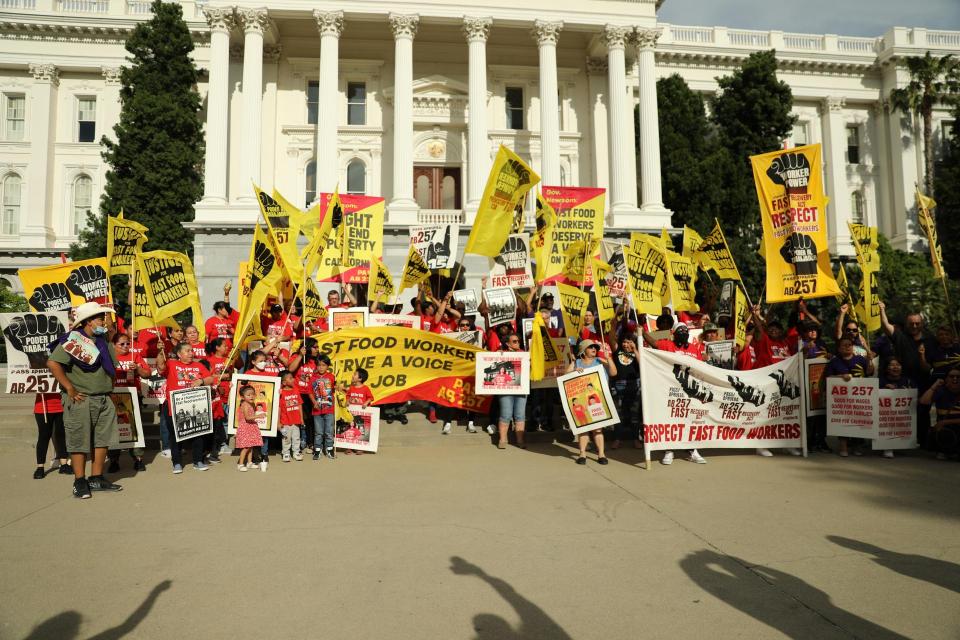 On Thursday, June 9, 2022, Fast-food workers across California served up an order or worker rights. From San Diego to Los Angeles and Oakland to Sacramento, fast-food workers walked off the job and into the streets. Their demand? Have California state senators pass Assembly Bill 257 – the Fast Food Accountability and Standards Recovery Act or FAST Recovery Act, and have Governor Gavin Newsom sign it into law.
Hundreds of fast-food workers and SEIU 1021 members rallied at Oscar Grant Plaza in front of Oakland City Hall and the state capital building in Sacramento. AB 257 - the FAST Recovery Act would be a game-changer for labor. The bill would create a statewide Fast-Food Sector Council, which would include worker, government, and industry representatives, to set minimum health, safety, and employment standards across the California fast-food industry. If passed and signed into law, AB 257 would require fast-food giants to ensure all their restaurants have the necessary resources to operate safely. Additionally, the FAST Recovery Act would ensure that franchisees can provide good jobs with benefits without being undercut by corporate franchisors.
"Fast-food is an essential part of California's economy, and our jobs should support healthy families and strong communities — not keep us tired and hungry," said Ingrid Vilorio, a Jack in the Box worker in Castro Valley. "But as long as big corporations have the power to steal our wages and refuse responsibility for violence and discrimination taking place in our stores, communities like mine will never be able to succeed. I'm fed up with waiting for these companies to change. I'm going on strike to win the power to sit at the table and demand our elected officials support our fight to improve our industry and build a better California for all."
The bill passed the California State Assembly on January 31 and is up for a vote this summer in the upper chamber. The statewide June 9 strike is just the latest by SEIU locals across California to bring attention to wage theft, COVID-19 risk at the worksites, and workplace violence.