SEIU Local 1021 President Joseph Bryant speaks about the fight for fast-food workers' rights on national Our Revolution broadcast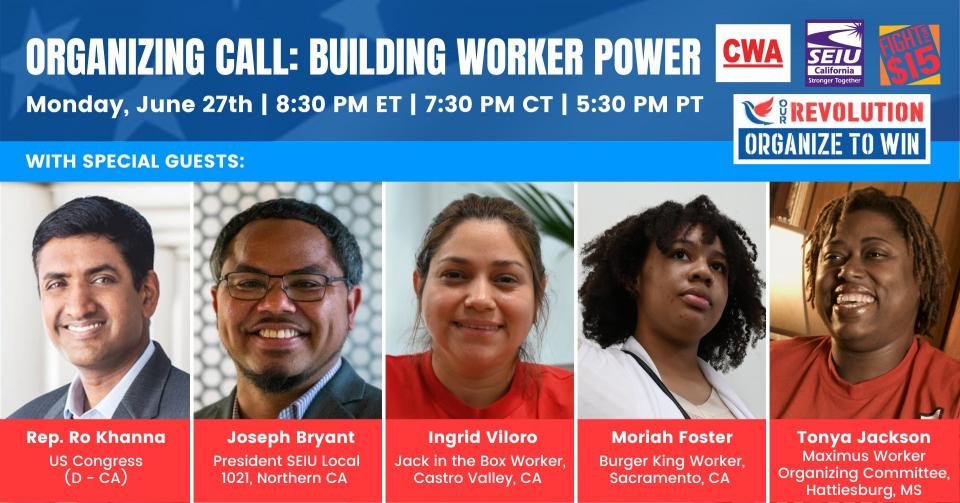 If unionizing your workplace is anything, it is a revolutionary act that unites us across racial, ethnic, religious, gender, and class lines. Last week Our Revolution, the progressive political action organization spun out of U.S. Senator Bernie Sanders' 2016 presidential campaign, hosted an organizing call titled Building Worker Power. SEIU Local 1021 President Joseph Bryant, speaking alongside fast-food workers, members of the Communications Workers of America, and U.S. Representative Ro Khanna, discussed the impact of passing Assembly Bill 257 – the FAST Recovery Act.
"For nearly ten years, SEIU has stood by fast-food workers in the Fight for $15 and a Union movement," said SEIU Local 1021 President Joseph Bryant. "Winning $15 an hour was only half of the battle. These workers are on the verge of winning a seat at the table with AB 257 – the FAST Recovery Act. We believe this legislation is of critical importance to anyone who cares about the future of workers' rights and racial and gender justice. It represents a potential breakthrough that would empower hundreds of thousands of California fast-food workers and set a new standard for how state governments can address workplace injustice and economic inequality."
President Bryant continued about the unique challenges of organizing the fast-food industry, "As the president of a local union, I know traditional workplaces and how unions can function well, but that's not the case in the fast-food industry. There's a reason union density is effectively zero for fast-food workers, and that's why enforcement alone won't work. Current laws are not sufficiently protecting these workers – they need a path to having a stronger voice."
Passing AB 257 – the FAST Recovery Act would be an enormous and much-needed racial and economic victory on the heels of the pandemic. Fast-food workers are eighty percent workers of color, with two-thirds being women. California's fast-food workers are more than twice as likely to live in poverty than other workers in the state. Many California fast-food workers are paid so little that they qualify for public benefits to simply feed and house their families, costing California taxpayers $4 billion annually.
AB 257 – the FAST Recovery Act gives workers a seat a the table and a voice on the job. Not only that but the FAST Recovery Act includes small business franchisees feeling the squeeze from big corporate chains. With AB 257, lawmakers have the opportunity to meet the needs of both working-class Californians and small business owners.
"Even in a triple blue state like California, we are in for a real fight to score a huge victory with fast-food workers," President Bryant said while closing out his remarks. "We need everyone, everywhere, all in with us. We'll be in touch with how to get involved in call-in days to senators, ways to engage the governor, and more ways to lift up the stories of workers."