SEIU 1021 Lavender Solidarity Committee Stands in Solidarity with LGBTQ Community of Colorado Springs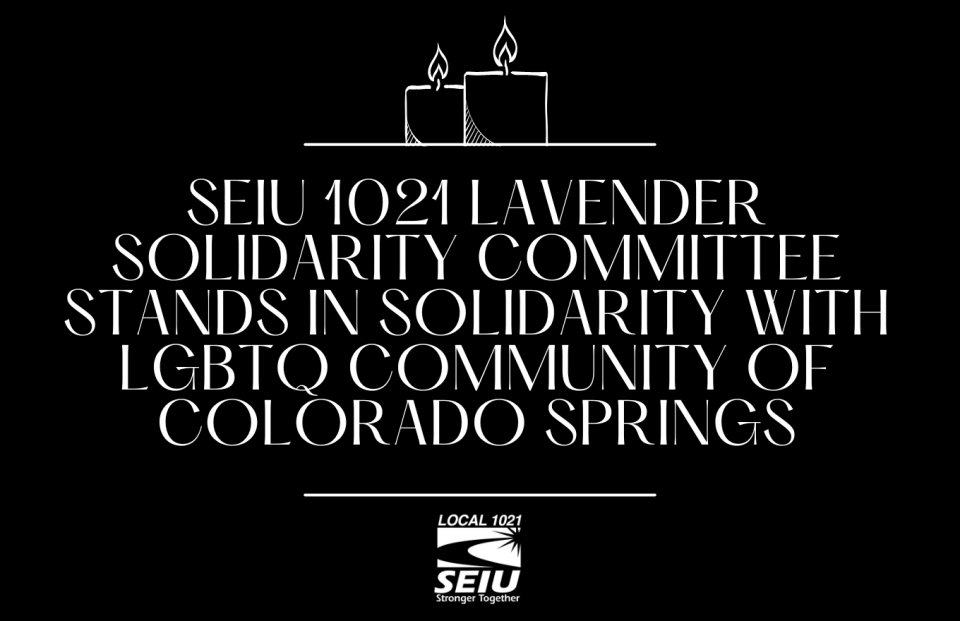 Club Q, one of only two LGBTQ nightclubs in Colorado Springs, was known as a safe space where members of the local LGBTQ community could let loose and be themselves while dancing the night away. Saturday, in a devastating echo of the Pulse Nightclub tragedy of 2016, that safety was shattered by yet another heavily armed young man with a history of making bomb threats. Five beautiful, promising lives were violently stolen, at least 17 others injured, and irreparable trauma was inflicted upon everyone who was at Club Q that night and all of their loved ones. This horrific attack on the eve of Transgender Day of Remembrance is yet another grim reminder of the toxic hatred and violence that endanger the LGBTQ community.
This kind of violence is fed and fueled by the hateful rhetoric all too prevalent on the political right as cynical politicians try to burnish their conservative credentials by pushing legislation that discriminates against and even criminalizes people for their gender identity and sexual orientation. This includes policies such as the "Don't Say Gay" bill signed into law this year in Florida and which is being mimicked by several other state legislatures. Bills in several other states threaten to block access to essential medical care for transgender kids. We have also seen legislation banning trans youth from participating in school sports and so much more. When politicians and pundits target LGBTQ people, this is the tragic but predictable result.
The SEIU 1021 Lavender Solidarity Committee extends our heartfelt condolences to everyone who lost a loved one in Saturday's attack, as well as our deepest solidarity with the survivors and their friends and families. We are committed to fighting that much harder for equal rights for all LGBTQ people, including the right to go out and have a good time with friends without fear of being massacred. As long as our community continues to be attacked through rhetoric, policy, and physical violence, we will stand up to those who seek to silence us and fight for a country and a world where no one is attacked for who they are or whom they love. To join the Lavender Solidarity Committee, please contact Chair Eileen Berkun at eberkun@comcast.net.