SEIU 1021 joins Oakland Mayor-Elect Sheng Thao, IFPTE 21, Hayward USD and YMCA Head Start To Pack School Bus with Toys for Children In Need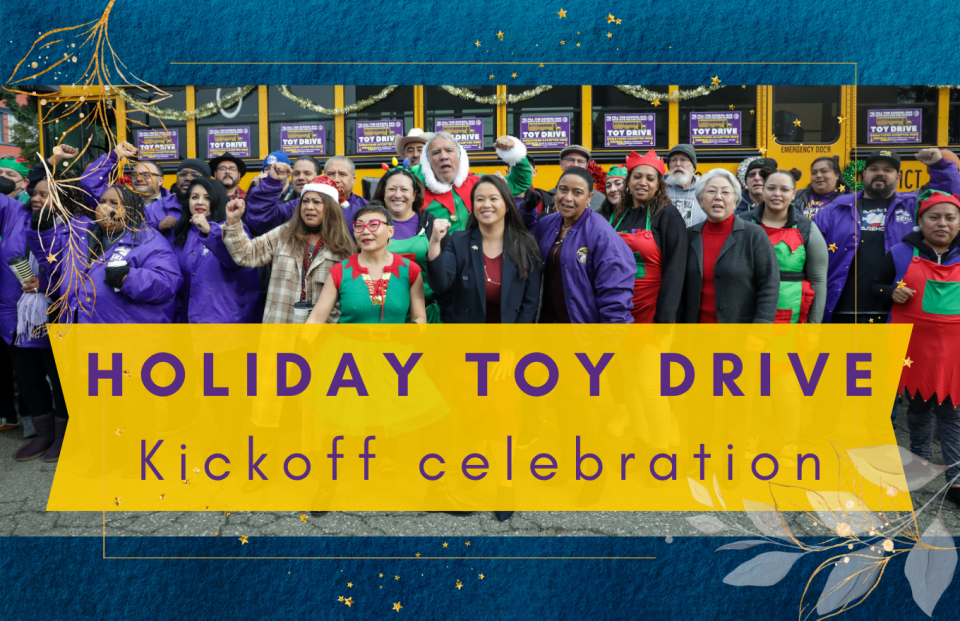 ***If you know anyone who may be in need of toys this holiday season: the children must be registered to receive a toy. Contact Sandra.Lewis@seiu1021.org or call 510-388-2505. You can also learn more at www.fillabus.org***
On Thursday, December 8, Oakland Mayor-Elect Sheng Thao joined members and leaders of SEIU Local 1021, IFPTE Local 21, and community allies for our annual holiday toy drive kickoff celebration.
"This year, we are proud to partner with Oakland Mayor-Elect Sheng Thao, IFPTE 21, and Hayward Unified School District, along with community groups like YMCA Head Start and First Mt. Sinai Church and many other community organizations to extend our goal to fill this bus. Over the next nine days, we'll be collecting toys at union halls across northern California, including right here at 100 Oak Street, from 9 am – 5 pm," said Yeon Park, SEIU 1021 East Bay VP.
The kickoff event featured a nondenominational prayer given by former SEIU 1021 President Damita Davis-Howard, who currently serves as Director of Ministries and Assistant Pastor at First Mt. Sinai Church. "May there be bread for the hungry, love for all, healing for the sick, protection for our children, and wisdom for our youth. Close the door of hate and injustice and open the door of love all over Oakland. Let kindness come with every gift and good blessings with every donation," said Damita.
The event featured caroling and singing, and attendees and local media heard from SEIU 1021 President Theresa Rutherford and VPs Yeon Park and Sandra Lewis. IFPTE 21's Oakland Vice President Julian Ware, Oakland Mayor-Elect Sheng Thao, and Hayward USD Assistant Superintendent Allan Garde also shared remarks of their own.
"I'm personally a grandmother of 17 grandchildren. Those toys—for what I used to be able to get for $13.99, I'm now paying $25. We don't want to turn any family away," said Sandra Lewis, SEIU 1021 VP of Representation and a co-organizer of our annual toy drive.
Over the past three years, the annual SEIU 1021 toy drive has successfully distributed over 10,000 toys to East Bay families. The Hayward Unified School District has donated a school bus for use in this year's holiday toy drive, which we hope to fill with gifts donated by union members and the community at large. We are soliciting toy donations at union halls across Northern California from December 8 through 16 from 9 – 5 pm daily. Toys will then be distributed to children and families in need, as identified by community organizations, on Saturday, Dec. 17.
"This is the epitome of where my values come from. My father always said, 'yes, we may not have a lot but there are always others who are suffering more and we always can give back. When I was a single mom, I was in those lines [at toy drives] for many years," said Oakland Mayor-Elect Sheng Thao, remembering some of her own challenging years raising a family as a single mom. "This is just the beginning—come this time again next year, you know that we have the Mayor's toy drive? Well I can tell you right now that I want to partner with you and merge the Mayor's toy drive with SEIU 1021, with Local 21, and many others to make it a fantastic event for our Oaklanders and families in the East Bay."
If you know anyone who may be in need of toys this holiday season, please contact Sandra.Lewis@seiu1021.org, call 510-388-2505, or visit www.fillabus.org to learn more. Children must be registered in advance before being able to pick up a toy on December 17.