Rising gas prices underscores the need for gig workers to unionize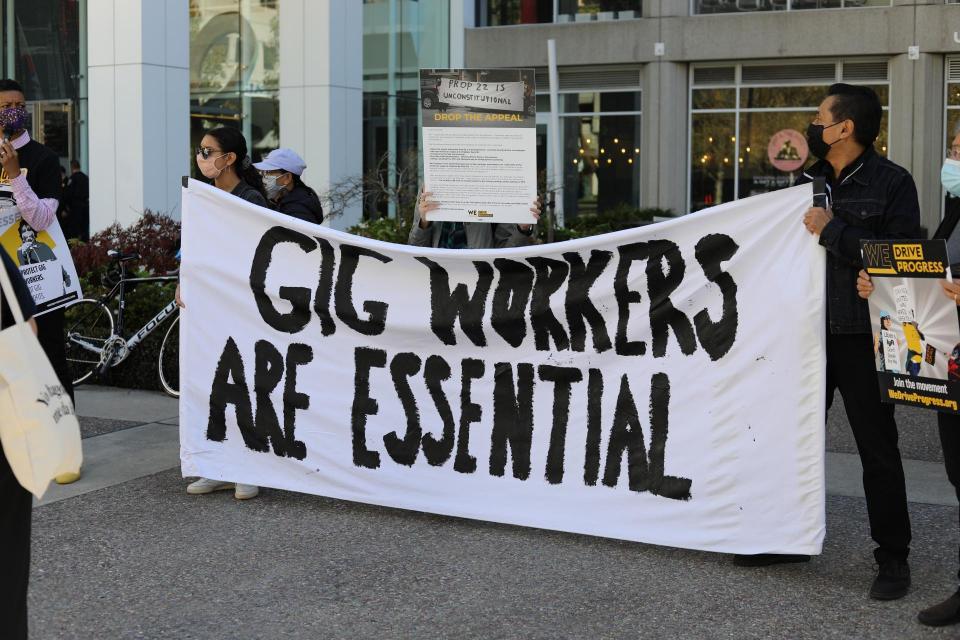 With rising gas prices comes heating tensions. Already struggling with the effects of California's Proposition 22 and the ongoing COVID-19 pandemic, gig workers for Uber, Lyft, DoorDash, Instacart, and beyond face a new obstacle: the gas pump.
Gig workers who drive for ridesharing and food delivery companies like Uber, Lyft, and DoorDash have been struck by rising gas prices because their ability to earn money is tied directly to driving hundreds of miles each week. Because of anti-worker legislation like Proposition 22, where drivers are misclassified as independent contractors rather than employees, the companies do not reimburse them for the cost of fueling up.
Drivers say they have had enough, and gas' added cost is making an already difficult financial equation untenable. According to AAA, the national average price of a gallon of gas peaked at a record $4.33 in mid-March.
"Because gig workers have no workplace protections, they're at the mercy of volatile market fluctuations," said Brandon Dawkins, the new SEIU Local 1021 Vice President of Organizing. "Rising gas prices are making a difficult situation even worse. Not only do gig workers have zero workplace protections, lack benefits on health care, paid time off, paid sick leave, and face health and safety issues every day, but now they will have to shell out even more money to keep afloat. Companies like Lyft giving a $0.55 per trip surcharge is an insult to the drivers. The fuel surcharge does not do enough to make any material difference, not with inflation rising faster than what the fuel surcharge covers. Gig workers are what makes those gig companies worth billions of dollars. It's not the CEO, like Dara Khosrowshahi for Uber or Logan Green and John Zimmer for Lyft; it's the workers. It's always been the workers. It always will be the workers. It's the gig workers who are responsible for the billions these companies and their investors pocket. That's why fighting for a union for gig workers under We Drive Progress is absolutely vital. With gas prices rising, gig workers are having an even harder time making a living wage. Workers can fight back against the bosses and win material victories with a union. We can create a better life for drivers and our loved ones. We can negotiate for better wages and adequate fuel surcharges because we sure as hell know the companies can afford it."
It is hard to calculate the average rides per driver per day, but to put the fuel surcharges in perspective, if a driver averages fifteen fares per day, they will get an additional $8.25 per day at the $0.55 surcharge rate.