Nurses and Healthcare Workers Sound the Alarm on Short-Staffing, Increased Pressures on Public Health Services Resulting from Rising Income Inequality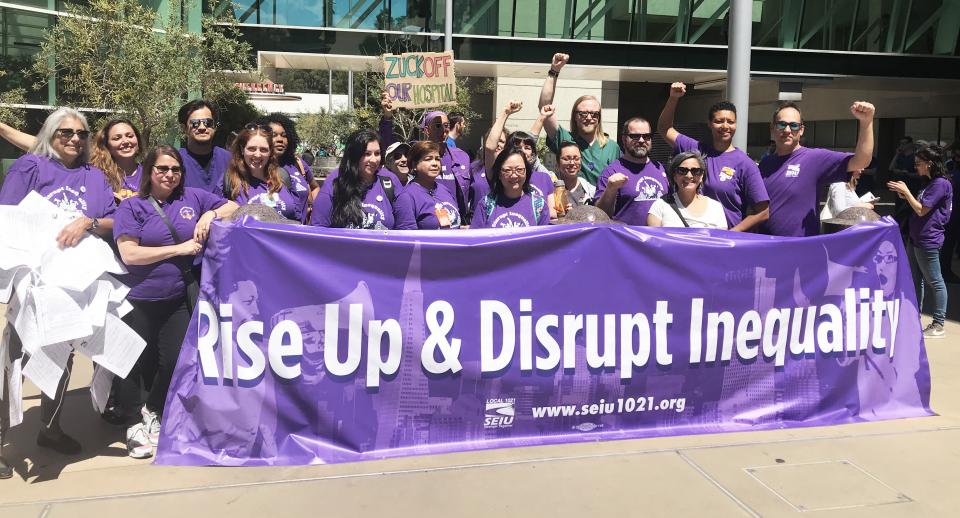 SF Healthcare Workers Demand Mayor Breed Invest in Programs and Workforce that Address Complex Mental and Physical Health Needs Stemming from Growing Public Health Crisis
On Tuesday, April 23, hundreds of nurses and healthcare workers protested outside San Francisco General Hospital to bring attention to the city's inadequate response to the public health consequences of rising inequality. Tuesday's protest focuses on San Francisco Department of Public Health's failure to fix persistent understaffing, cuts to supportive mental health programs, and failure to invest in comprehensive, integrated services that address the complex mental and physical health needs of chronically homeless patients.
From the psych department to the emergency room, nurses are seeing and feeling the effects of an increased patient load but not the funding to support hiring and retaining more full time nurses.
"We're so overwhelmed with patients in the emergency room that we're holding patients there for hours and hours, stacked up in the hallways, hoping something doesn't go horribly wrong. Without enough nurses, PCAs, and other operations staff. The City's only trauma center is a gorgeous building that can only fulfill its mission by burning out the staff, said Will Carpenter," SFGH Emergency Room Registered Nurse.
In the Psychiatric Department department, staff work round the clock with numerous needs and treatment challenges to help the homeless population.

"I'm painfully aware of the shortage of psychiatrists in the department, I'm even more acutely aware of the shortage of the people who do most of the work there, nurses. We have the most patient contact and do the heavy lifting of delivering care to the mentally ill community in San Francisco, said Meg Brizzolara, a registered nurse working 32 years in the Department of Psychiatry. "Our inpatient psych services have been cut in half, and we've lost a lot of our specialized culturally-competent programs for specific vulnerable communities."
As a result of record-breaking housing costs and the high cost of living, two-thirds of SFGH registered nurses must commute long hours to San Francisco. Many of them struggling to make ends meet.
Registered nurses say Mayor London Breed and city administrators are relying largely on temporary registered nurses, and failing to bargain contracts that invest in services that residents rely on or that prevent the displacement of working families from San Francisco.
Nurses and healthcare workers are calling on Mayor London Breed and city leaders to invest in programs that tackle the effects of homelessness at every level and the workforce that provides these vital services. Nurses and healthcare workers, along with 14,000 City and County workers represented by SEIU 1021 are currently in contract negotiations with the City.