November 3 Endorsements
Make A Difference--Volunteer Now!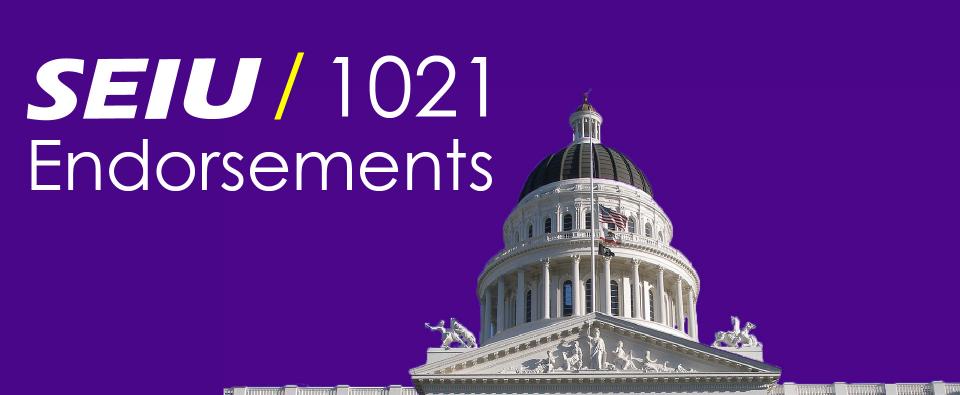 Now, just like in every election year, we need to elect candidates and pass measures that will protect those vital services and honor our work. But this year, the stakes are higher than they have ever been.
We understand the importance of winning the economic, racial, environmental, and immigrant justice that we all deserve. That is why we participate in the political process by volunteering and voting for these endorsements to help elect candidates and pass measures that bring us closer to that goal.
Make a difference: Volunteer Now!
It is Election Day! Volunteer to get the vote out locally, and in the battleground state of Nevada– where early voting numbers are lower than expected.

We are asking members to participate in phone banking and other outreach initiatives to help us elect candidates who will fight for us and pass measures that will benefit working families.
Text and Call Voters
Sign up and volunteer now to help get out the vote locally! Visit SEIU1021.org/Volunteer for more information.
Click the links below to see what candidates and measures SEIU 1021 members have endorsed for the November 2020 elections (NOTE: if you see a "read more" message below the links, you'll need to click that in order for the navigation to function):
NATIONAL ELECTION:
President: Joe Biden
Vice President: Kamala Harris

NATIONAL ELECTION: President and Vice President

Joe Biden and Kamala Harris
Prop 15: Schools and Communities First – Vote YES

Prop 16: Opportunity for All – Vote YES

Prop 17: Restore Voting Rights for Parolees - Vote YES

Prop 18: Expanding Access to Voting for Young People – Vote YES

Prop 20: Repealing Criminal Justice Reform – Vote NO

Prop 21: Rent Control - Vote YES

Prop 22: Eliminating Protection for App-Based Workers - Vote NO

Prop 25: Ending Money Bail - Vote YES
US HOUSE OF REPRESENTATIVES

Nancy Pelosi – District 12

Jackie Speier – District 14

STATE SENATE

Scott Wiener – District 11

STATE ASSEMBLY

David Chiu – District 17

Phil Ting – District 19

BOARD OF SUPERVISORS

Connie Chan – District 1

Aaron Peskin. – District 3

Dean Preston – District 5

Vilaska Nguyen (1st Choice) – District 7

Myrna Melgar (2nd Choice) – District 7

Hillary Ronen – District 9

John Avalos – District 11

BART BOARD OF DIRECTORS

Lateefah Simon – District 7

Bevan Dufty – District 9

BOARD OF EDUCATION (FOUR SEATS)

Matt Alexander

Kevine Boggess

Jenny Lam

Mark Sanchez

COMMUNITY COLLEGE BOARD (FOUR SEATS)

Shanell Williams

Alan Wong

Han Zou

Tom Temprano

LOCAL BALLOT MEASURES

Prop A: Health and Homelessness, Parks, and Streets Bond - No Position

Prop B: Department of Sanitation and Streets, Sanitation and Streets Commission, and Public Works Commission – Vote YES

Prop C: Removing Citizenship Requirements for Members of City Bodies – No Position

Prop D: Sheriff Oversight – Vote YES

Prop E: Police Staffing - Vote YES

Prop F: Business Tax Overhaul - Vote YES

Prop G: Youth Voting in Local Elections – Vote YES

Prop H: Neighborhood Commercial Districts and City Permitting – Vote NO

Prop I: Real Estate Transfer Tax - Vote YES

Prop J: Parcel Tax for San Francisco Unified School District - Vote YES

Prop L: Business Tax Based on Comparison of Top Executive's Pay to Employees' Pay – Vote YES

Prop RR: Caltrain Sales Tax – Vote YES
EAST BAY

US HOUSE OF REPRESENTATIVES

Barbara Lee – District 13

Eric Swalwell. – District 15

Ro Khanna – District 17

STATE SENATE

Nancy Skinner – District 9

STATE ASSEMBLY

Buffy Wicks - District 15

Rebecca Bauer-Kahan – District 16

Rob Bonta – District 18

Bill Quirk – District 20

Alex Lee – District 25

COUNTY BOARD OF SUPERVISORS

SUPERIOR COURT JUDGE

OAKLAND CITY COUNCIL

Dan Kalb – District 1

Stephanie Walton – District 1 (#2 endorsement)

Carroll Fife – District 3

Noel Gallo – District 5

Richard Raya - District 5 (#2 endorsement)

Marchon Tatmon - District 7

Treva Reid – District 7 (#2 endorsement)

Rebecca Kaplan - At Large

OAKLAND CITY ATTORNEY

CITY OF BERKELEY MAYOR

BERKELEY CITY COUNCIL

Cheryl Davila – District 2

Ben Bartlett – District 3

Sophie Hahn – District 5

Richard Illgen – District 6

CITY OF BERKELEY RENT BOARD

Xavier Johnson

Andy Kelley

Mari Mendonca

Leah Simon-Weisberg

Dominique Walker

ALAMEDA CITY COUNCIL

HAYWARD CITY COUNCIL

UNION CITY MAYOR

UNION CITY CITY COUNCIL

Gary Singh – Dual Endorsement

Sandra Holder-Grayson – Dual Endorsement

OAKLAND UNIFIED SCHOOL DISTRICT BOARD OF TRUSTEES

Sam Davis – District 1

VanCedric Williams – District 3

Mike Hutchinson – District 5

Ben Tapscott – District 7

HAYWARD SCHOOL BOARD

Luis Reynoso

William McGee

Sara Prada

PERALTA COLLEGES BOARD OF TRUSTEES

Nicky G Yuen – Area Four

Kevin Jenkins – Area Two

Jeff Heyman – Area One

CHABOT – LAS POSITAS COLLEGE BOARD OF TRUSTEES

Luis Reynoso – Area One

Maria Heredia – Area Four

Tim Sbranti – Area Five

BART BOARD OF DIRECTORS

Rebecca Saltzman – District 3

John McPartland – District 5

Lateefah Simon – District 7

ALAMEDA-CONTRA COSTA TRANSIT BOARD

BALLOT MEASURES
US HOUSE OF REPRESENTATIVES

Mark DeSaulnier - District 11

STATE SENATE

Nancy Skinner – District 9

STATE ASSEMBLY

Buffy Wicks – District 15

Rebecca Bauer-Kahan – District 16

board of supervisors

Federal Glover – District 5

RICHMOND CITY COUNCIL

Melvin Willis – District 1

Gayle McLaughlin - District 5

Claudia Jimenez – District 6

EL CERRITO CITY COUNCIL

Tessa Rudnick

Paul Fadelli

Lisa Motoyama

CONCORD CITY COUNCIL

Hope Johnson – District 2

ANTIOCH CITY COUNCIL

​Tamisha Walker – District 1

BART BOARD OF DIRECTORS

Jamie Salcido – District 1

Lateefah Simon – District 7

ALAMEDA-CONTRA COSTA TRANSIT BOARD

PITTSBURG UNIFIED SCHOOL DISTRICT BOARD

Heliodoro Moreno

Taylor Sims

Ballot Measures

Richmond Measure U – Vote YES
County Measure X - Vote YES
US HOUSE OF REPRESENTATIVES

Audrey Denney – District 1

Josh Harder – District 10

STATE SENATE

Susan Eggman – District 5

STATE ASSEMBLY

Elizabeth Betancourt – District 1

Jim Wood – District 2

Kevin McCarty – District 7

Katherine Miller – District 13

SAN JOAQUIN COUNTY BOARD OF SUPERVISORS

Rhodesia Ransom – District- 3

CITY OF STOCKTON MAYOR

STOCKTON CITY COUNCIL

Kimberley Warmsley – District 6

SACRAMENTO COUNTY BOARD OF SUPERVISORS

Gregg Fishman – District 3

SACRAMENTO CITY COUNCIL

​SACRAMENTO CITY UNIFIED SCHOOL DISTRICT

Gracie Phillips – Area 7
Nailah Pope-Hardin – Area 4
Chinuah Rhodes – Area 5
Jose Navarro – Area 3

SACRAMENTO BALLOT MEASURES

Measure C: Rent Control – Vote YES

Measure A: Strong Mayor - Vote NO

LOS RIOS COMMUNITY COLLEGE DISTRICT

Tami Nelson - Area 7
Chris Yatooma – Area 3
Kelly Wilkerson - Area 4

CHICO CITY COUNCIL

Calaveras County Water District
MENDOCINO COUNTY BOARD OF SUPERVISORS

Glenn McGourty – District 1

Maureen Mulheren – District 2

SANTA ROSA CITY COUNCIL

Eddie Alvarez – District 1

Natalie Rogers – District 7

SANTA ROSA JUNIOR COLLEGE BOARD OF TRUSTEES

Mariana Martinez – Areas 3, 4, 5

Caroline Banuelos – Areas 3, 4, 6

ROHNERT PARK CITY COUNCIL

Willy Linares – District 1

Gerard Giudice – District 3

Jackie Elward – District 4

SANTA ROSA CITY SCHOOLS BOARD OF EDUCATION

SONOMA COUNTY BALLOT MEASURES

Measure O: Sonoma County Behavioral Health and Homeless Services: Vote YES

Measure P: Strengthen IOLERA authority over the Sheriff's Department – Vote YES

​San Rafael Ballot Measures

​Measures R: Increasing the local sales tax rate by one-quarter percent to help preserve city services – Vote YES

MARIN MUNICIPAL WATER DISTRICT BOARD

Mark Lubamersky – Area 2

Larry Russell – Area 5

SAUSALITO CITY COUNCIL

Melissa Blaustein

Janelle Kellma

CITY OF NAPA MAYOR

NAPA CITY COUNCIL

Beth Painter – District 2

CITY OF VALLEJO MAYOR

VALLEJO CITY COUNCIL

Rozzana Verder-Aliga – District 1

FAIRFIELD CITY COUNCIL

Rick Vaccaro – District 4

Doriss Panduro – District 5

Pam Bertani – District 6

VACAVILLE UNIFIED SCHOOL DISTRICT GOVERNING BOARD

Daniel Santellan – Area 2

Joseph "Cecil" Conley – Area 4

Kelly Welsh – Area 6