No Hate in Healthcare
Nurses Condemn U.S. Department of Health and Human Services Rule Enabling Discrimination in Healthcare Services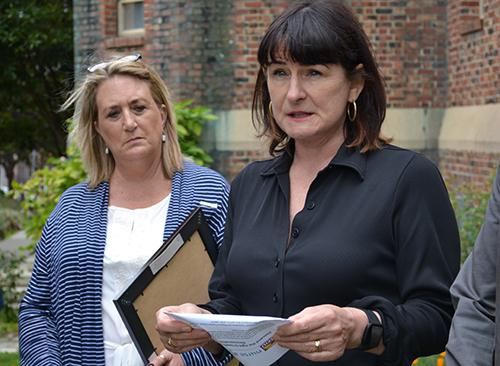 Today nurses, joined by community allies, gathered in front of SF General Hospital's historic Ward 86—the first dedicated AIDS clinic in the country—to speak out against the Trump Administration's "conscience in healthcare" rule. The rule allows healthcare providers, insurance companies, hospitals and pharmacies to refuse healthcare based on personal beliefs.
"These bigoted rules are immoral, deeply discriminatory and downright deadly, greenlighting open discrimination in healthcare against LGBTQ Americans and directly threatening the well-being of millions," said Speaker Nancy Pelosi, is a statement in support of the nurses' protest of the Trump Administration's new Department of Health and Human Services rule. "Make no mistake, this is an open license to discriminate against Americans who already face serious, systemic discrimination."
Upon the rule's introduction, SEIU Nurse Alliance of California created a petition to Congress to put a halt to the Trump Administration's efforts to codify discrimination in the Department of Health and Human Services rules. The petition has garnered 11,501 supporters to date.
San Francisco City Attorney Dennis Herrera has also filed suit against the Trump Administration to invalidate the rule, citing its unconstitutionality, potential to increasing discrimination in healthcare, and threat of defunding San Francisco's healthcare system of up to $1 Billion.
"Instead of expanding protections that ensure quality care to everyone, the Trump Administration is creating greater barriers to access life-saving care for women, LGBTQI, and people of color," said Sasha Cuttler, a nurse at San Francisco General Hospital and Registered Nurse Industry Chair of SEIU 1021. "The Trump Administration is putting lives at risk with this rule by opening up the door for dangerous denials of care."
"It is patients who need protection and a guarantee that they will be treated with dignity and will have access to quality care; care as excellent and as a thorough as the next person. I stand with my colleagues, my union SEIU 1021, my employer of 32 years- the SF dept. of Public Health, City Attorney Dennis Herrera, Speaker Nancy Pelosi in demanding that these egregious rules be rescinded. Healthcare is a right and their is no place for hate in health care," said Mary Magee, a registered nurse with the San Francisco Department of Public Health for 32 years.