With the June primary behind us, we look toward the general election in November and plan to support pro-worker candidates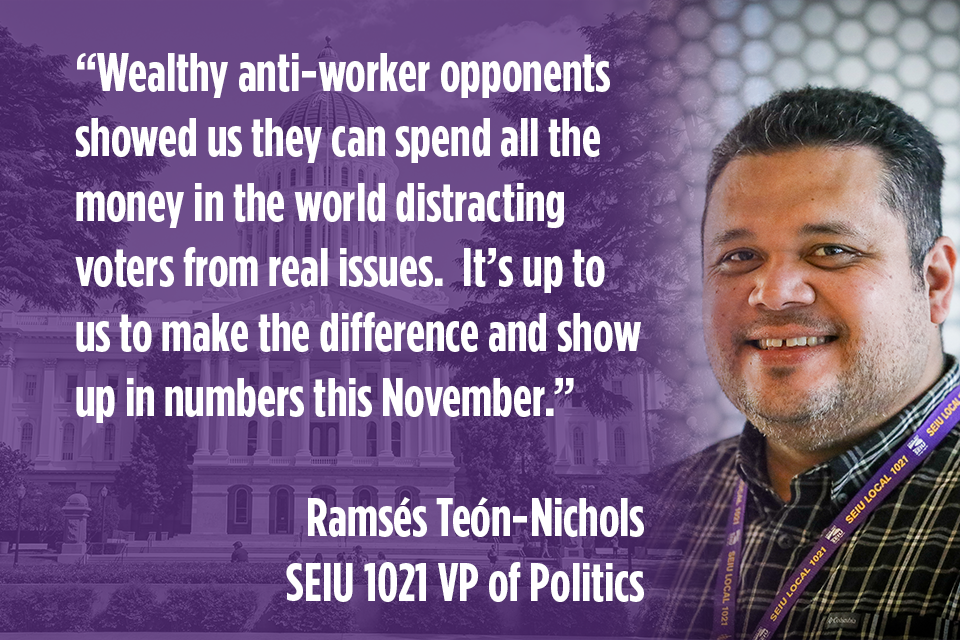 The work of best representing our members takes place on a number of levels. There are contract negotiations, grievances, and sometimes even strikes. We have legal battles and fights to protect our rights in the courts. We organize new members into the union to protect the standards we set in bargaining and raise the bar for everyone. And then there is politics and the work we do at election time.
Nothing we do exists in a vacuum, and each piece of the puzzle is essential to improving the lives of members at work. The decisions that affect our lives are made not just at the bargaining table but at school boards, city councils, county boards of supervisors, in the state capitol, and beyond.
"The 2022 June primary has concluded, and we saw progress with many of our local, state, and federal pro-worker candidates outright winning or on their way to November election runoffs. But we cannot take November's election for granted, we have work to do," said Ramsés Teon-Nichols, SEIU 1021's Vice President of Politics. "Candidates and important ballot measures supporting schools and public services, and our union's thousands of members, will be on the ballot. Wealthy anti-worker opponents showed us they can spend all the money in the world distracting voters from real issues. It's up to us to make the difference and show up in numbers this November."
It's critically important that the voices of working people are heard at all levels. We know that who we elect and what they do when they are in office determines much in our everyday lives—from our livelihoods to our health and safety. We know when we speak with one voice about what working people need, our elected officials listen.
This is where our Committee on Political Education (COPE) comes in. COPE is made up of SEIU members, staff, and retirees who voluntarily contribute an additional amount monthly above and beyond their dues to ensure that we have the money and resources to build political power. By electing and supporting pro-worker candidates instead of those who will only do the bidding of corporations and the wealthy, we can protect our hard-earned political and legislative victories that improve public services and the lives of working families.
These same members also vote democratically on who our union endorses in races all across Northern California, and how the money people donate to COPE gets spent. SEIU 1021 is a democratic, member-driven union and our COPE processes are no different. If you'd like to have a voice in who our members endorse at election time and how our COPE money is spent, you can join today by updating your membership card to include a monthly COPE donation.