Hundreds of Union Members Will Rally for Contra Costa County Services
Join us on Tuesday, June 21 at noon!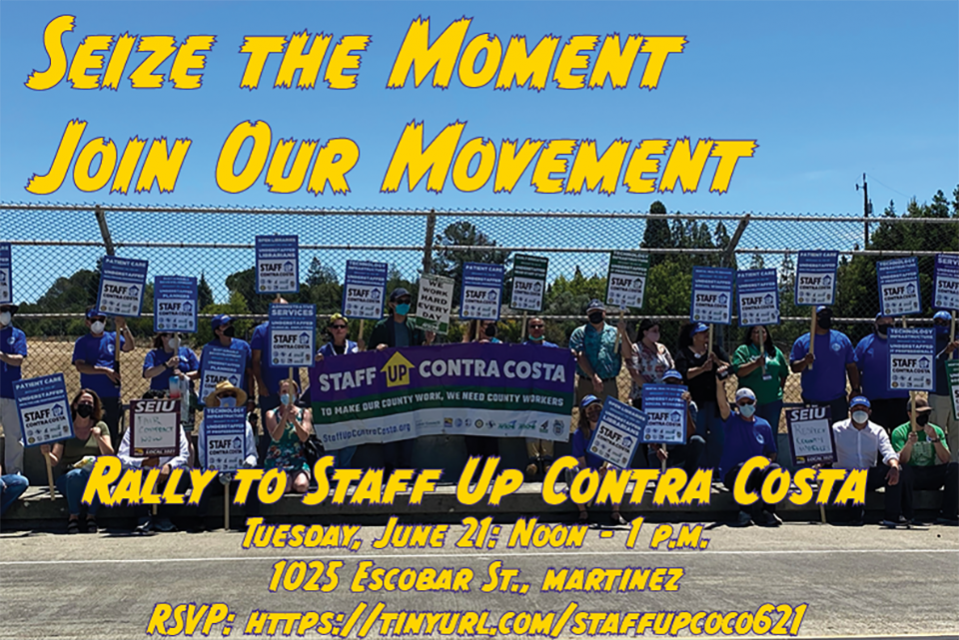 Contra Costa County workers have dealt with an epidemic of understaffing for far too long. That's why a huge union coalition of nine unions—representing more than 6,200 County workers—has rallied across the county's worksites for weeks to call attention to the staffing crisis and force the Board of Supervisors to take action.
The effort started with a massive rally outside the Board of Supervisors meeting on Tuesday, April 26. Lorena Gonzalez, a former California State Assemblymember and incoming Secretary-Treasurer of the California Labor Federation, joined Bay Area labor leaders to speak out at that rally about the nearly 2,000 unfilled positions and the urgent need to fill them. Since that date, the workers have rallied another dozen times, from locations in Martinez and Pleasant Hill to Antioch, Hercules, Richmond, Concord, and more.
Now, they're preparing to rally and hold a press conference outside the next Board of Supervisors meeting on Tuesday, June 21 at noon. After, workers will speak at the meeting to demand the County invest in its dedicated workforce so that it can staff up and deliver needed services to Contra Costa residents. Especially pressing are the vacancies in County Health, where the workers strive to address the County's dire needs during the deadly COVID-19 pandemic.
Okee Nwadigo is a Medical Social Worker with the County. He said, "I've been here for the past 12 years. Understaffing is a constant problem we've experienced. My message to the Board of Supervisors would be to find out how they can retain staffing and create job opportunities that are competitive with our counterparts like Kaiser."
If you want to show your union solidarity and help Contra Costa County residents get the services they need, RSVP for Tuesday's rally at https://tinyurl.com/staffupcoco621!