Gig workers with We Drive Progress set up Support Hub at San Francisco ghost kitchen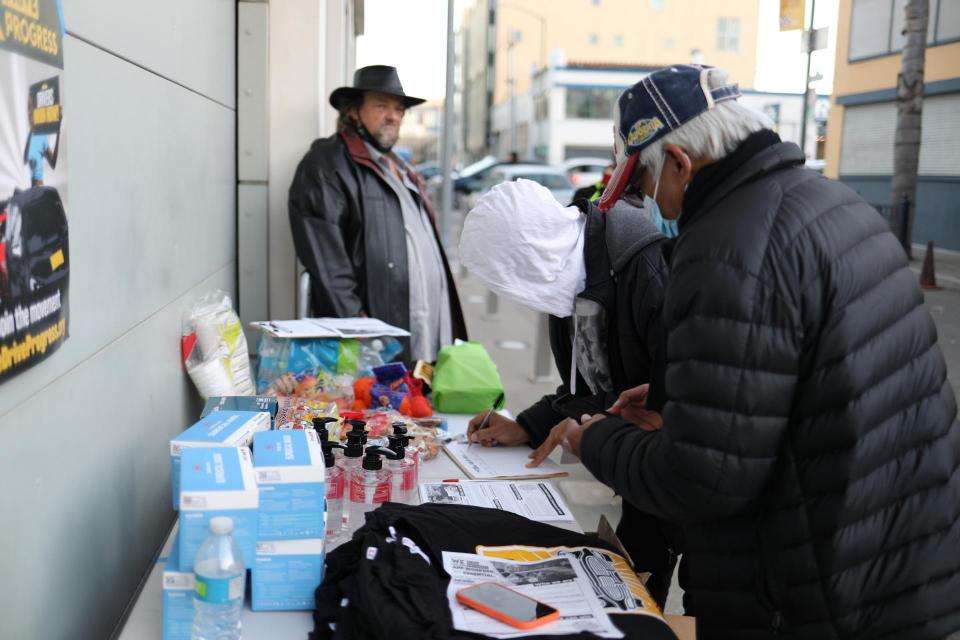 In conjunction with app-based drivers across Los Angeles, Brussels, and cities across nine different countries, and amid an international swell of worker protests, workers with We Drive Progress (WDP) set up Support Hubs in San Francisco, including at a popular South of Market ghost kitchen. Ghost kitchens are food preparation and cooking facilities set up to prepare delivery-only meals that are often utilized by food-ordering and delivery apps, including Uber Eats, DoorDash, Postmates, Grubhub, Club Feast, and more.
WDP is demanding that gig companies establish Support Hubs in all the Northern California cities where their platforms are operational. The goal is to have these Support Hubs located no more than one mile from each other, where food-delivery workers and ride-share drivers can stop to rest, cool off, drink water, use the restroom, charge their cell phones, and have access to basic mechanical equipment for emergency vehicle repair services. WDP handed out refreshments at the ghost kitchen, including hot coffee, snacks, and materials that raise awareness of workers being persecuted for organizing.
"Food-delivery workers and ride-share drivers carry out their work in the streets, generally in uninterrupted shifts for many hours, without a fixed workspace, regardless of the weather conditions," said Ryan Greenberg, a WDP food-delivery worker for DoorDash and Uber Eats. "Meanwhile, gig companies and their executives amass billions on the backs of these workers and continually refuse to abide by basic labor protections or make the minimal investment to ensure their workers' basic needs are met while on the job. We are out here demanding that these Support Hubs include the following: access to restrooms; repair services for bicycles and vehicles; phone-charging stations; hand sanitizer, masks, plexiglass partitions, and other PPE."
App-based workers are also demanding training classes provided by the gig companies, including first aid, knowing your rights, self-defense courses.