Gig workers score victory with $5.3 million+ DoorDash settlement
November 29, 2021: App-based workers scored a significant material victory last week when San Francisco City Attorney David Chiu, San Francisco Office of Labor Standards Enforcement (OLSE) Director Patrick Mulligan, and San Francisco Supervisor Aaron Peskin announced that the City secured an over $5.325 million settlement from DoorDash after an OLSE investigation into alleged violations of two San Francisco labor laws.
DoorDash, the San Francisco-based food ordering and food delivery platform, was forced to pay the City and County of San Francisco over allegations that the company failed to provide the required healthcare benefits and paid sick leave to approximately 4,500 delivery drivers. While DoorDash refused to admit any wrongdoing, the $5.3 million payout will be going to drivers who worked for the company in San Francisco between 2016 and 2020, before the anti-worker Proposition 22 took effect in 2021.
This public humiliation of DoorDash continues the recent momentum of app-based workers fighting for the right to a living wage, benefits, and a union. On November 3, We Drive Progress, a movement of Northern California app-based drivers working to form a union, held an action in front of the corporate headquarters of DoorDash. Workers, community allies, and the public showed up to support app-based workers fighting for rights and workplace protections, including paid sick leave, overtime pay, unemployment insurance, access to workers' compensation, and the right to join together in a union.
Upon hearing the recent news of DoorDash giving out a multimillion payout, Serena Hughes, an app-based worker and organizer for We Drive Progress, spoke about the momentum the gig worker movement is having and how the fight continues: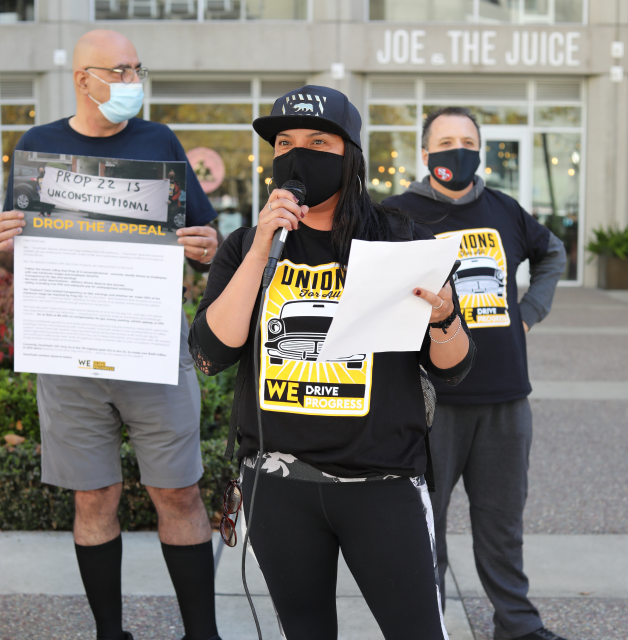 "Last week's news about San Francisco forcing DoorDash to pay $5.3 million to its workers across the city is a tremendous victory for our movement of app-based drivers working to form a union. We need to continue to hold DoorDash and all app-based companies accountable. Last year, DoorDash's revenue was $2.886 billion, which was during the height of the COVID-19 pandemic. So, $5.3 million is a great start, but make no mistake: It's still just a start. The gig companies are now fighting the State of California in appealing the recent Superior Court's ruling declaring what we drivers already know: that Proposition 22 is unconstitutional.
"This victory continues to make the case for gig workers to be proactive, join together, and form a union. We are what made DoorDash and the rest billions. Now, we need a seat at the decision-making table and to be treated as employees. Our work is not over. We will continue to fight for a strong voice in our workplaces; rights that every single worker, no matter the background, should have; and a union so that we can negotiate better pay and better protections. We have a way to make sure that companies are following the law. We Drive Progress is not just a saying; it is a fact. We push forward and advance so much of what has made our communities endure during the past 20 months. Now is not the time to take our foot off the pedal. Last week's development with DoorDash is only the beginning."